Coming soon to your Albuquerque – Santa Fe area bookstores and outdoor retailers: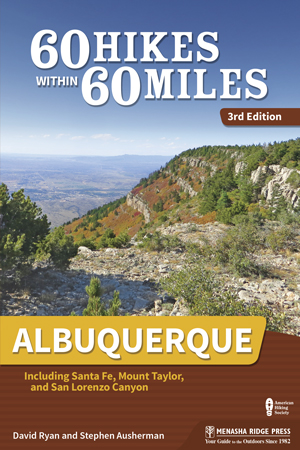 The 3rd Edition of 60 Hikes Albuquerque (published January 2019) builds upon the 1st and 2nd Editions of the book. When Stephen Ausherman, the author of the first two editions, invited me to participate in this new edition we both knew that many of the hikes in the previous editions had to be replaced because of access and other issues. And between the two of us we also knew of some better hikes that would be good additions to the book. After all, a new edition of any book should reflect what the authors have learned to make it more useful to the reader.
As a result, the 3rd edition has 19 brand-new hikes. Seventeen of the retained hikes have been significantly revised with new routing to make them new and better hikes. We've also added seven bonus hikes and have updated all of the remaining hikes with the latest information.
Because the world is not static, hiking areas and conditions can change. Any updates that we hear of will be maintained on this website. Click on any of the hikes listed below for the latest updates. Please email me at davidryan@msn.com with any comments, suggestions, or updates that you may have.
— Thank you, David Ryan
Hike Updates
Greater Albuquerque
Carlito Springs is temporarily closed for tree thinning and building renovation. It should be open again sometime this summer (2019). Call the Bernalillo County Open Space for the latest information – 505-314-0400. In the meantime check out the other great … Continue reading →
0 comments
East of the Mountains
Greater Santa Fe
Northwest of Albuquerque
South and West of Albuquerque