The previous post concluded with Bob Inman and me finishing our walk in Rustic Canyon and heading for the beachfront community of Venice a few miles to the south. Rather than heading for the beach and boardwalk, we headed a bit inland to the sidewalk streets of Venice.
The sidewalk streets are just what they sound like; the streets are a single sidewalk. Vehicle access to a house is through the alley. These streets, like the rest of Venice, were developed by Abbot Kinney in the early part of the last century as part of an oceanfront resort community. What may have been a quaint concept 100 years ago may now be visionary. According to a recent New York Times article, walkability is now an extremely important factor in a home's value, and it's hard to get more walkable than living on a sidewalk. (Click here to read the article.)
As mentioned in the previous post, Bob Inman will be including the sidewalk streets and other pedestrian friendly passages in the next edition of his stairway guide.
Here's what we saw on the sidewalk streets:
When Venice was developed, a network of canals were built to drain marshes and to use in lieu of streets. Gondolas, like the original Venice in Italy, were available to transport people along the canals. The gondolas are long gone and many of the canals have been filled in and turned into streets. But some of the canals still exist, and they too have sidewalks that make them very pedestrian friendly.
After walking the sidewalk streets, we headed over to canals to walk them. Here's what they're like: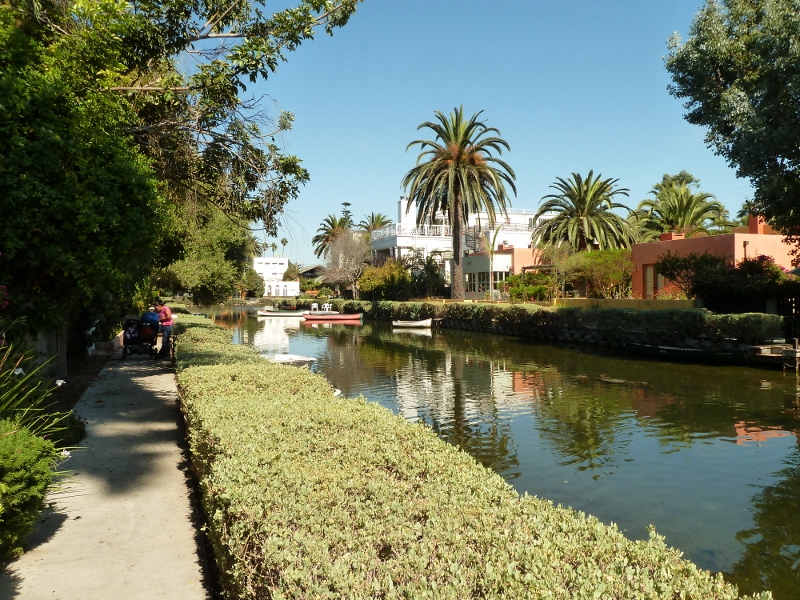 What a great way to spend a day in Los Angeles – a walk in Rustic Canyon in the morning and another walk in Venice in the afternoon. The great thing about wandering is that you can find great places to wander no matter where you are. You just have to open your eyes to notice them. Thanks to Bob Inman for showing me these special places in his city.