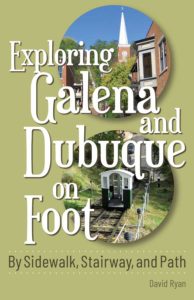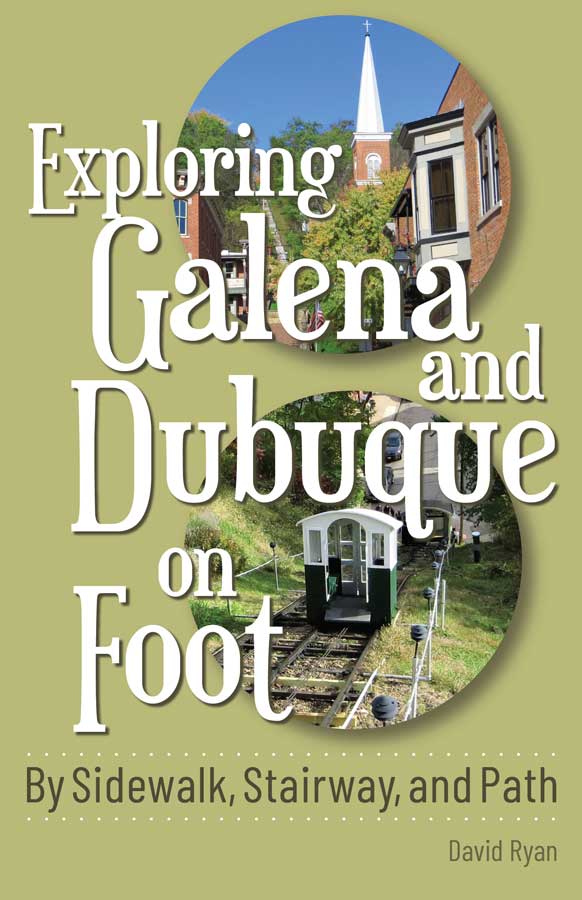 Exploring Galena and Dubuque on Foot is a series of walking tours through two of the most scenic and historic communities in the entire country! Along the way you'll climb stairways into historic neighborhoods, ride a funicular railroad, discover Native-American mounds, pass the finest collection of 19th century buildings in the country, trace the footsteps of Ulysses S. Grant, run into vibrant murals, and uncover many other surprises. Galena and Dubuque were built to be explored. Especially on foot!
The author, David Ryan, is a dedicated hiker, wanderer, explorer, and author of several outdoor and walking books. The author and his dog Petey developed the walking tours over several visits to the Upper Mississippi River valley. A current resident of New Mexico, David Ryan has significant Galena roots, and this book, Exploring Galena and Dubuque on Foot, combines his penchant for history, love of walking, and knowledge of the Galena and Dubuque area.
The book has 144 pages, 5 maps, and over 100 photographs.