November 22, 2020
If you have a State Land Office Recreation Access Permit (go to www.nmstatelands.org for more information on permits), you might want to check out the junction of Arroyo Seco and San Pedro Creek. See map below: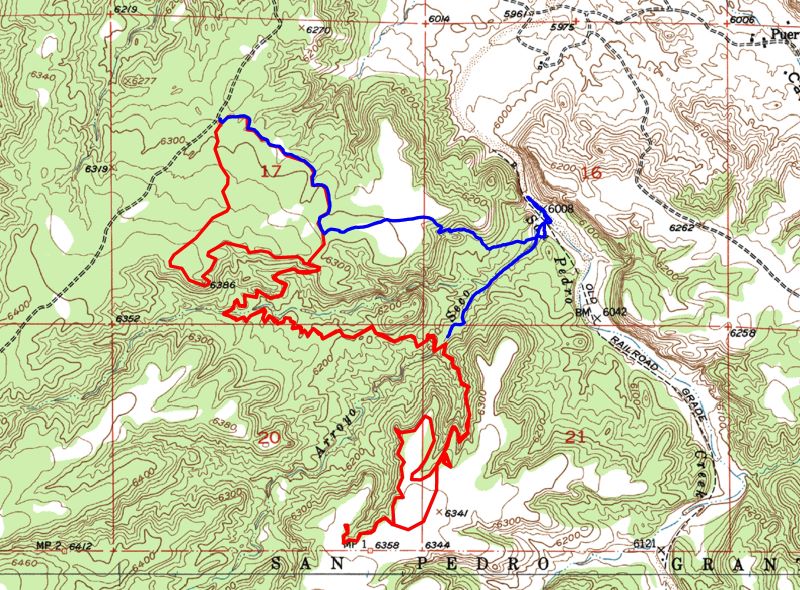 The Red Line is Hike 17 (Golden Open Space) in the 3rd edition of 60 Hikes with 60 Miles: Albuquerque. The Blue Line is the route connecting San Pedro Creek to the main Golden Open Space trail. Section 16 is State Trust Land and requires a State Land Office permit to enter. (The northwest corner of Section 16 is private and not open to recreation.) In Section 17 the Blue Line crosses a small portion of BLM land before reaching State Land. BLM land is open to recreation.
I know that on my next Golden Open Space visit, I'll be taking the Blue Route down to San Pedro Creek and will then follow the creek south to see if I can find the old railroad grade. Section 21 is a mixture of BLM and Open Space land. So everything on the route will be open to recreation.
January 28, 2020
A reader mentioned to me that with all the twist and turns on La Madera Road that it is easy to get on the wrong road. To make navigation easier, you may want to reset odometer to 0.0 when you get on La Madera:
0.0 – La Madera and NM 14
5.0 – Three-way stop sign; La Madera turns to the right and continues as a paved road. An unpaved road – Skyline Road continues straight ahead.
6.7 – The yellow double-stripe in the road ends; La Madera turns to the left and continues as a lesser quality paved road; Faith Road continues straight ahead as a lesser quality paved road.
7.4 – This is where the pavements ends; La Madera continues as an unpaved road.
9.5 – the Golden Open Space parking area will be on your right.
When the dogs and I went out to the Golden Open Space today we saw several wild horses. Just one more reason to visit this fantastic area!