May 14, 2020
With Carlito Springs being closed for the next year or two, you may want to check out Gutierrez Canyon in Cedar Crest. Gutierrez Canyon is a 720 acre City of Albuquerque Open Space property. The Open Space has built a great trail network to make for a great day of hiking. The property is heavily wooded with pinon, juniper, ponderosa, and Gambol oak and has great terrain for a varied hiking experience.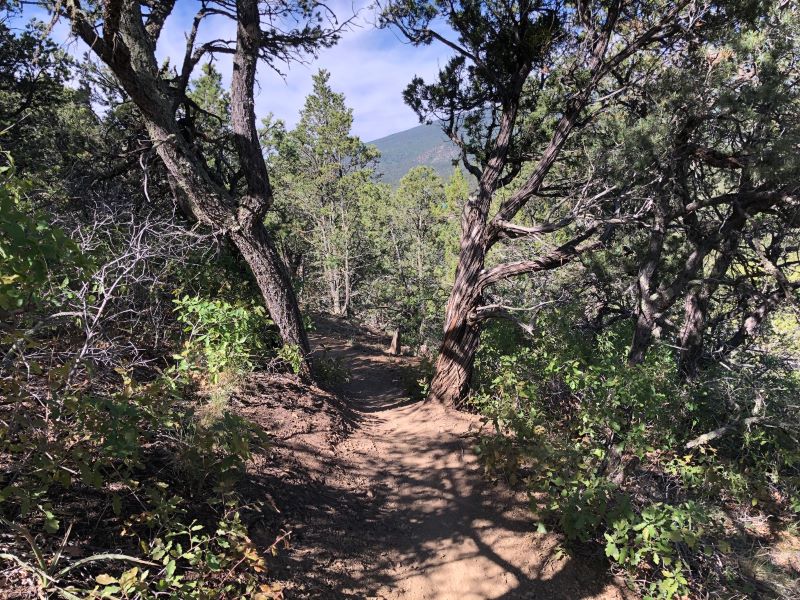 The trailhead and parking area is just south of the Cedar Crest Post Office on NM 14. If you're coming from Albuquerque, the trailhead is just under 3.5 miles north of I-40 on NM 14.
May 12, 2020
A few days ago I was driving along old Route 66 west of Tijeras and noticed that the signs for the Musical Highway – the nearby activity for Hike 3 – were down and that that section of road had been repaved. Because I knew where the music started on the road, I was still able to faintly hear part of America the Beautiful as I drove over it.
I contacted D'Val Westphal who writes the Road Warrior column for the Albuquerque Journal about the status of the Musical Highway. She told me that the Highway Department is not interested in keeping the Musical Highway, and that she will be writing a column about it in the near future.
I personally hope the Highway Department changes their mind as it is the accumulation of little things that makes an area interesting. With the Musical Highway being featured in Atlas Obscura and several other websites, I am sure that there will be many New Mexico visitors who will be disappointed in not being able to hear America the Beautiful when they drive near Tijeras.
August 30, 2019
Carlito Springs is still under renovation. The Albuquerque Journal reported on August 29, 2019 that the county has approved funding for the second phase of the renovation. Carlito Springs is expected to reopen when the renovation is complete – hopefully in a couple of years. In the meantime there are plenty of great hikes nearby.
Spring 2019
Carlito Springs is temporarily closed for tree thinning and building renovation. It should be open again sometime this summer (2019). Call the Bernalillo County Open Space for the latest information – 505-314-0400.
In the meantime check out the other great hikes nearby! Hikes: 2, 12, 14, 18, and 20!