May 13, 2021
I was driving along NM 47 today and noticed this sign at the turnoff for Trigo Canyon. Don't let the NO TRESSPASSING message keep you from going to Trigo Canyon. It refers to the land along the road and not the road itself.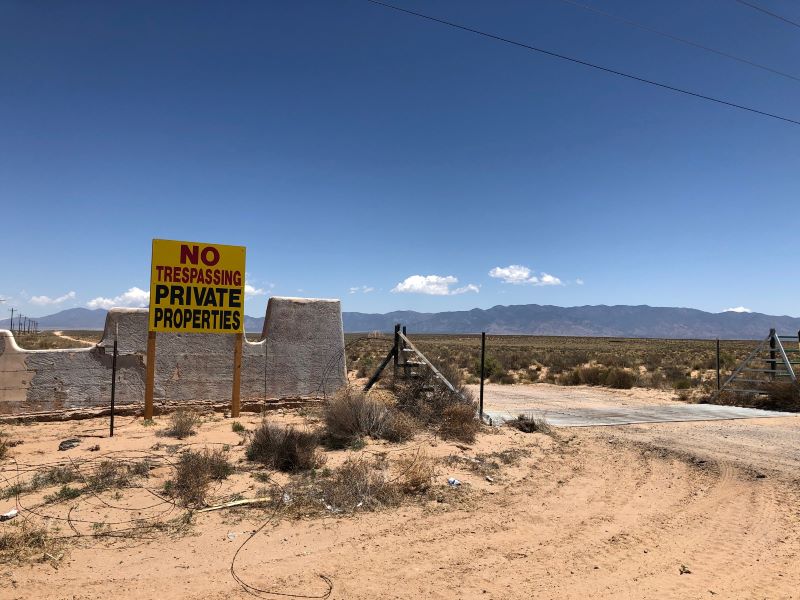 September 24, 2020
Last week the dogs and I bumped into a member of the New Mexico Volunteers for the Outdoors on the Juan Tomas Open Space trail (Hike 20) and asked him if the Volunteers were able to get out to Trigo Canyon (Hike 59) for maintenance. He said that they did get out and were able to clear out the blowdowns all the way to the top. This is very good news for this very special canyon.
Earlier this week I managed to get out to Trigo Canyon to check out the work, and the trail was clear of blowdowns for the entire distance. The road to Trigo Canyon is still very rough, but if you can handle the road, Trigo Canyon is a very special place to visit.
January 9, 2020:
The dogs and I went out to Trigo Canyon to see if the road has been repaired. The Forest Service has bulldozed the berm blocking the road and you can now get to Trigo Canyon. Also on a positive note, the New Mexico Volunteers for the Outdoors will be doing trail maintenance at Trigo Canyon in 2020. This is good news for a fantastic place to hike.
October 10, 2019:
I received an email over the weekend about a berm blocking the access road to Trigo Canyon. I was able to get out there today and found the same berm (see pictures below). Ironically, just as I was driving on to the Trigo road, a couple was driving out. They too were blocked and frustrated by the berm.
I called the Mountainair Ranger District. They told me that they have been made aware of the situation and intend to fix the road as soon as they clear some roads for firewood gatherers.
My guess is that, one could drive over the berm with a high clearance vehicle once the road dries out. But it will be so much better when the Forest Service fixes the road.
The good news is that Trigo Canyon will remain open to the public.