The Bureau of Land Management's (BLM) Quebradas Back Country Byway is a 24-mile long dirt road that runs on the east side of the Rio Grande through the upper reaches of the Chihuahuan Desert from a few miles north of Socorro, New Mexico to a few miles east of San Antonio, New Mexico. With Quebradas meaning "breaks" in Spanish, the back country byway doesn't disappoint. The road makes many twists and turns as it works its way through a broken landscape of cliffs, arroyo canyons, and the brilliant colors of the slanted land formations.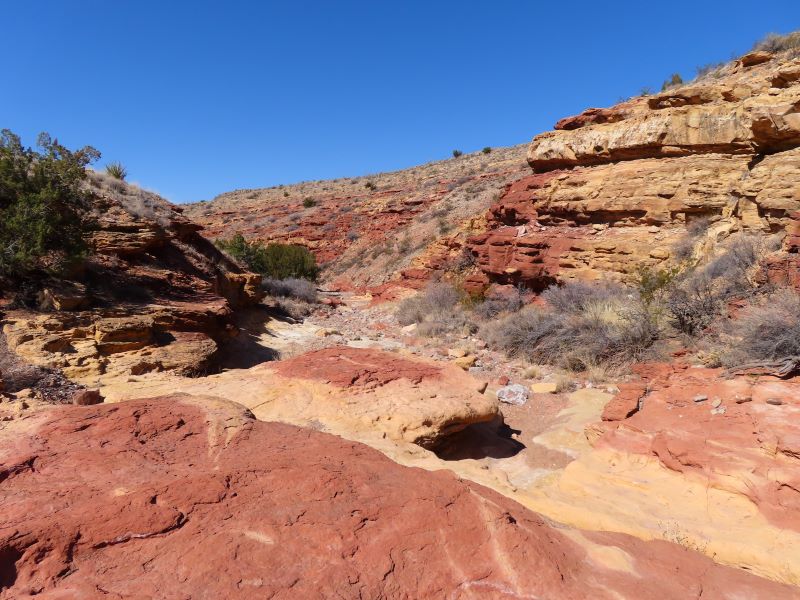 It is an area begging to be explored and a perfect place for a hike. With it being a few miles beyond the 60-mile radius limit from Albuquerque, the Quebradas could not be included in 60 Hikes within 60 Miles: Albuquerque. Even though there are no designated hiking trails, hiking is very easy in the Quebradas as there are many arroyos or old dirt roads for you to follow. Hiking along an arroyo will give you an up close look at the details and colors of the rocks, while hiking along a dirt road hike will surround you with desert mountain vistas.
Before heading for the Quebradas you might want to get a copy of A Geologic Guide to the Quebradas Back Country Byway by Peter Scholle. It is a free publication that you can pick up from the BLM or New Mexico Tech. Or, you can download it from  https://geoinfo.nmt.edu/publications/guides/quebradas/home.html . All ten stops described in the publication are great places to begin a Quebradas hike. How far you go and where you turn around will be up to you.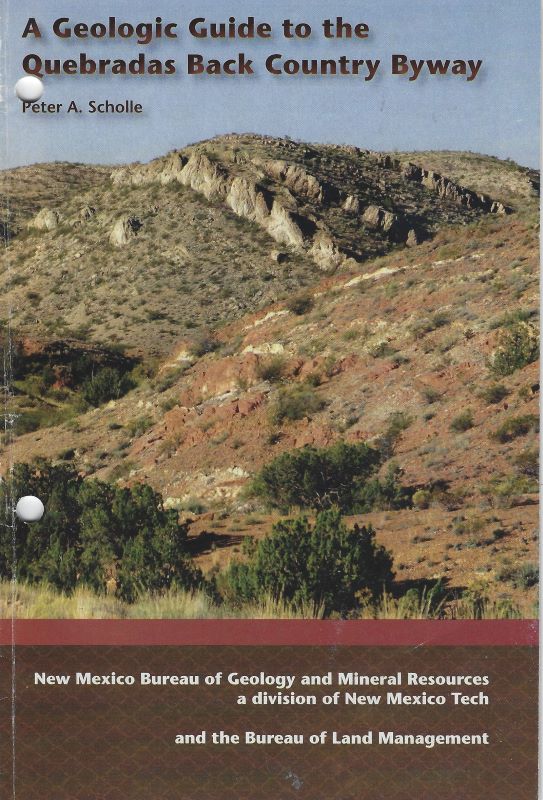 The Quebradas is very easy to reach. From Albuquerque, head south on I-25 to Exit 156 (Lemitar). Take the Lemitar road east 0.5 miles to Severo Vigil Road and turn right. (There is a small sign for Escondida Lake at the intersection.) Go south 3.1 miles to a road that crosses the BNSF railroad tracks. Turn left and head east 0.8 miles to a "T" intersection. (Along the way you'll cross the tracks, pass Escondida Lake, and go over the Rio Grande.) Turn right at the intersection to stay on the paved road. The pavement ends in 0.5 miles. Turn left to enter the Quebradas Back Country Byway. Check or reset your odometer at this time so you can synchronize your drive to the stops in the Geologic Guide.
2.7 miles into your drive you'll run into this information sign at the turn-off for the first stop.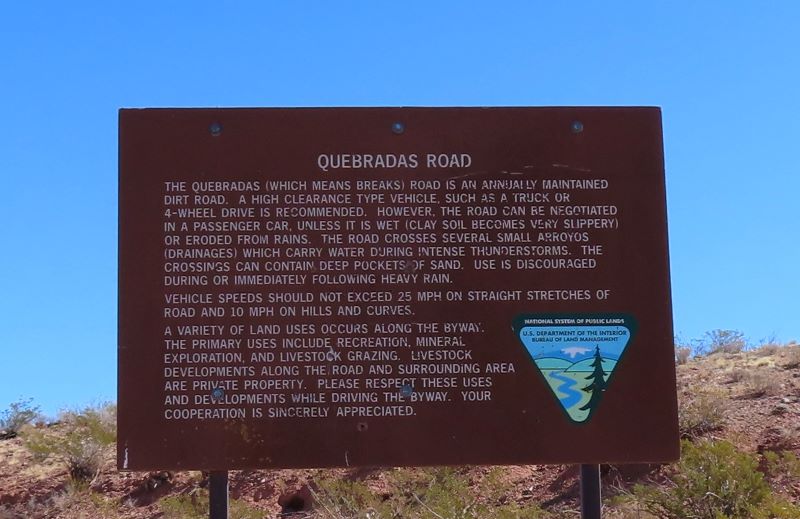 If you look back from where you came from, you'll see Socorro down below in the Rio Grande valley.
If you look ahead you'll have plenty of views like this!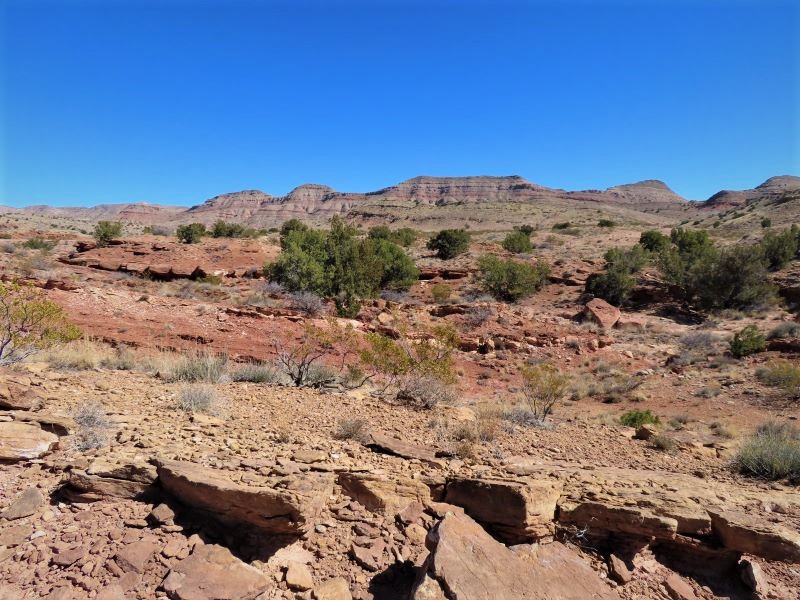 A little further up the Byway you'll drive past a ranch that even has a geodesic dome on its grounds.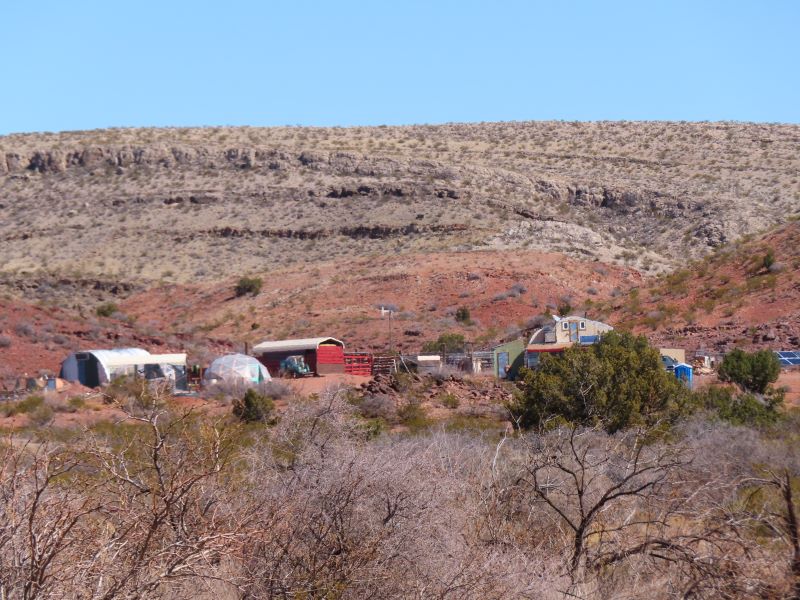 As you walk around you'll see typical Chihuahuan Desert shrubs.
You can see Mesquite and Creosote Bush as far north as Isleta Pueblo (just south of Albuquerque). But the Quebradas may be the northern limit for Ocotillo in the Chihuahuan Desert. Sevilleta National Wildlife Refuge (Hike 57 in the 60 Hike book) is only a few miles north of the Quebradas and their fantastic plant guide makes no mention of Ocotillo. You can download you free copy of Sevilleta's guide (Field Guide to Flowers: Visitor's Center Area by Sheryl M. Mayfield) at https://www.fws.gov/uploadedFiles/snwr_headqrts_plantguide_mm8_06.pdf .
If you're walking along and see a pile of rocks like this: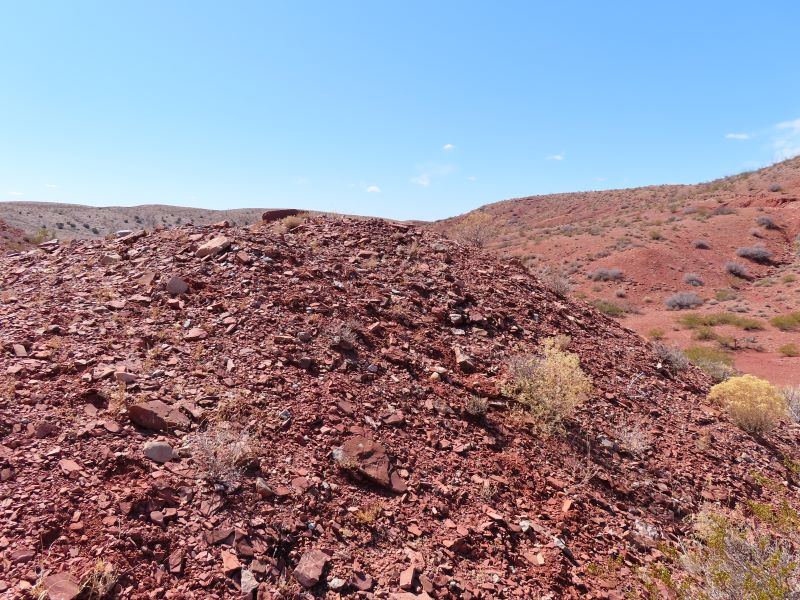 You may have stumbled on an old prospector diggings.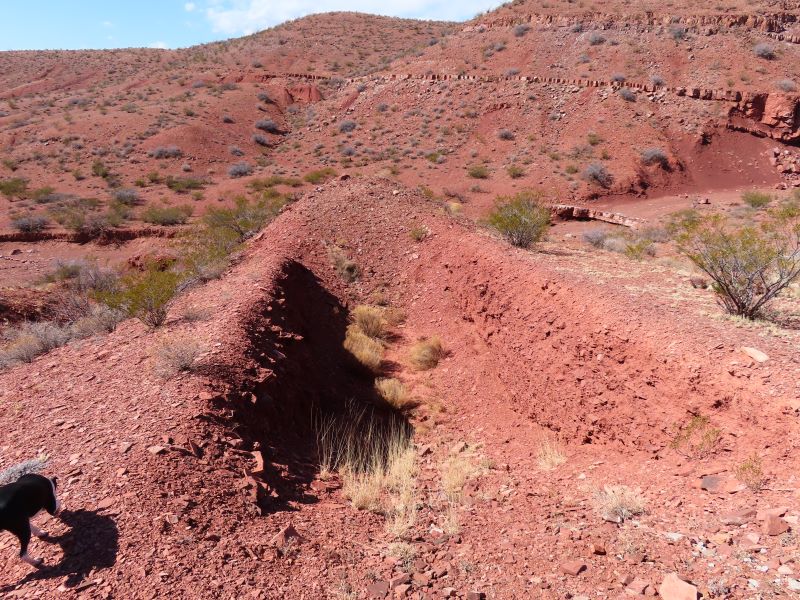 Had the prospectors found enough of what they were looking for, there would mine here rather than a shallow hole in the ground.
If you keep walking and keep an eye out for what's around, you're bound to make some incredible discoveries!
If your walking in an arroyo, you'll make some great discoveries by taking a close look at the rocks.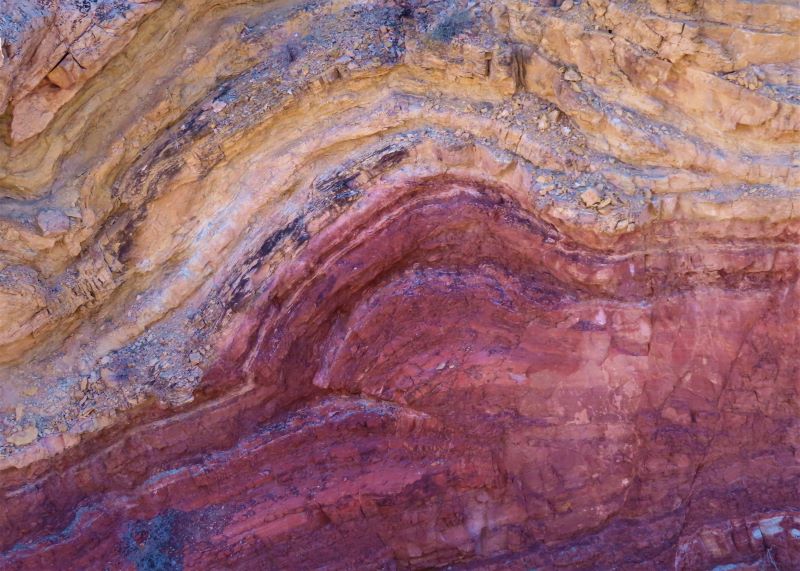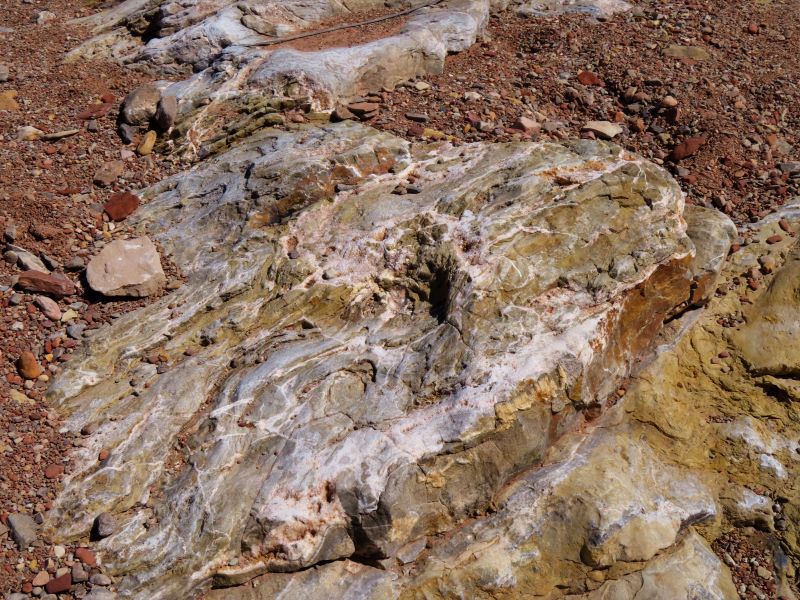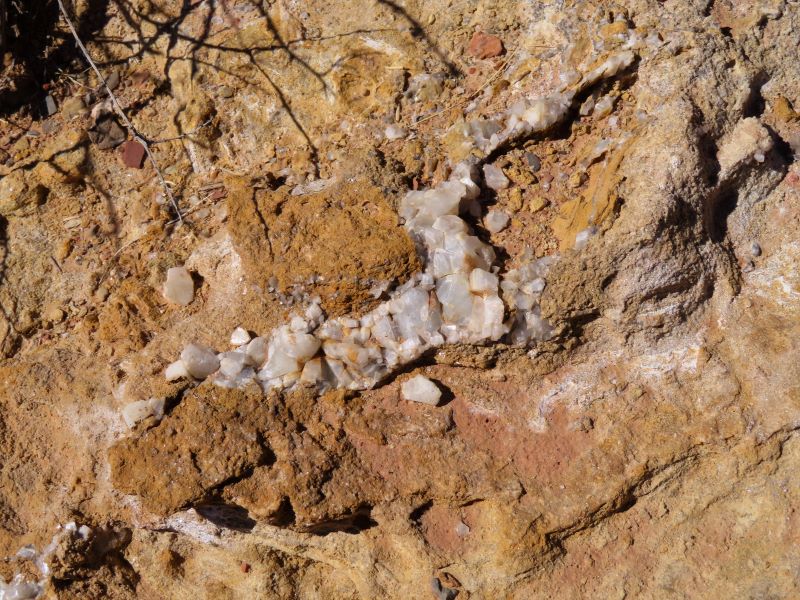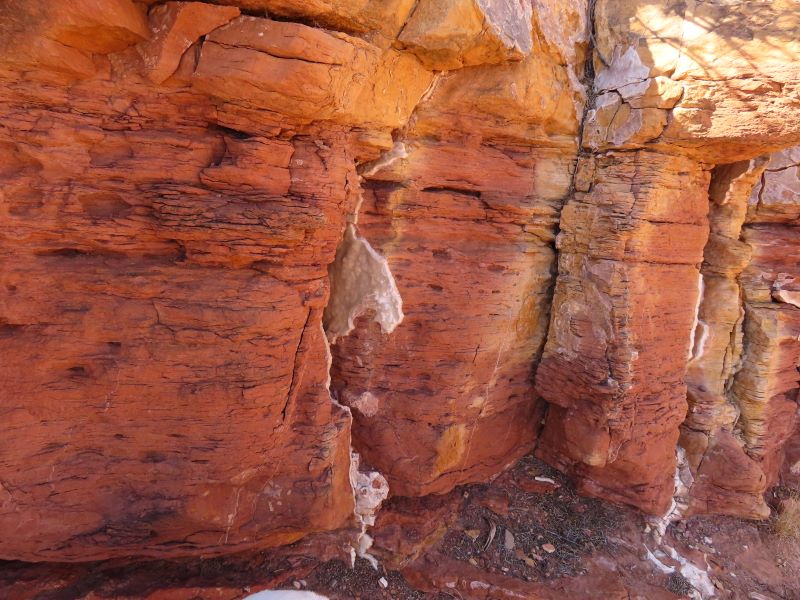 And if you start to notice little reflections from the corner of your eye, take a look down as you're likely to find a small gypsum crystal in the arroyo gravel.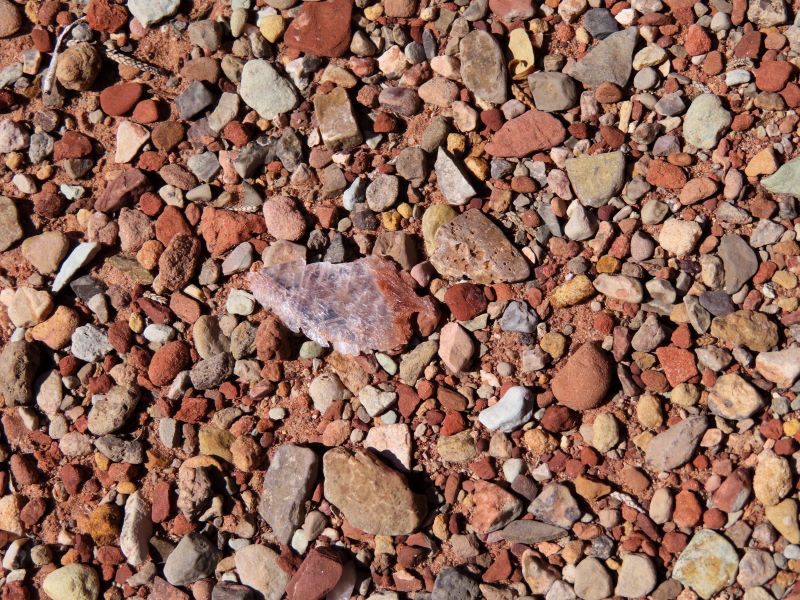 What I've shown in this blog post is only the tip of the iceberg of what is waiting for you in the Quebradas. I'm sure if you get out of the car and start walking, you'll find many items that I missed. And if you find something special please leave a comment on this post so the rest of us can get back there to check it out.
If you drive all the way to the end of the Byway and make it to U.S. 380, you'll be less than 20 miles from where the first atomic bomb was exploded at the Trinity Site in the middle of the White Sands Missile Range. During non-pandemic years, the Trinity Site is open to the public on the first Saturday of April and the first Saturday of October. The turn-off from U.S. 380 to the Trinity Site (Stallion Gate) is only one mile to the east.
To head back to Albuquerque, turn west on U.S. 380. In a few miles you'll reach the small settlement of San Antonio. In addition to being the hometown of Conrad Hilton (the founder of the Hilton Hotel chain), San Antonio is a great place for a world class green chile cheeseburger during non-pandemic times. With the Owl Bar and Café on the right and the Buckhorn Café on the left you have two great places to choose from.
If you make this adventure in the late fall or winter, you can also turn left on N.M. Highway 1 and go few miles south of San Antonio to check out sandhill cranes, snow geese, and other wildlife at Bosque del Apache National Wildlife Refuge.
Regardless of how you end your adventure, you cannot go wrong in exploring and hiking in the Quebradas.