By now you've probably seen or heard about ultra-long-distance runner Micah True / Caballo Blanco not returning from a 12-mile run and being found dead in Gila Wilderness in southwest New Mexico. You may have first heard about Micah True in Christopher McDougall's 2009 best-selling book, Born to Run. The book feature's Micah and his life of running in Mexico's Copper Canyon with the reclusive Tarahumara Indians.
In February 2005 I had the opportunity and pleasure of spending a week wandering through the wilds of Copper Canyon with Micah. I found out about him in an article, also by Christopher McDougall, in the December 2004 issue of Runner's World.
I always wanted to visit Copper Canyon and hike through Tarahumara country, but I really didn't know how to go about it. When I read the article, I thought maybe Micah True could take me through Copper Canyon. I did an Internet search, found his web site and emailed him. He responded and said that he would be happy to guide me. He also said that the timing of my trip would help him fund a 50-mile race he was sponsoring in Copper Canyon to encourage American runners to come down to Mexico to run with the Tarahumara.
We made arrangements to get together in late February 2005, and when the day arrived I made the 10-hour bus ride from Albuquerque to Chihuahua City in Mexico on a bus line that catered to Mexican nationals. The bus was full grandmothers and grandchildren and I was the only American on the bus. The ride was blast, and if you're going to Mexico, this may be the safest way to go. At Chihuahua City I had to wait a couple of hours for a bus to Creel on the edge of Copper Canyon. The 5-hour bus ride to Creel passed through orchards and a mixture of traditional Mexican and Mennonite towns. White Mennonite cheese happens to be a local specialty, and it is delicious.
I met Micah at a log cabin hotel in Creel. There we shared a room heated by a wood stove with another person. The next day we took a combination of train, bus, and van to get to Urique at the bottom of Copper Canyon. The last several miles of the trip were on a dirt road that was barely wide enough for one vehicle let alone two; hence the reason for the van. On those last few miles the road hung on the side of the canyon and twisted and turned until it reached the bottom. If heights are a problem for you, this road is not for you.
If you ever do go to Copper Canyon, you'll find that it is not one large canyon like the Grand Canyon. It is a network of canyons carved out of the western slope of the Sierra Madres. Each river or watershed has carved its own canyon. The rivers eventually come together many miles to the west; so the most efficient way to get from canyon to canyon or town to town is to go up and over the mountains separating them.
During the week I spent in Copper Canyon with Micah, I had plenty of time to learn something about him.  Where Henry David Thoreau had a two-year, two-month, and two-day experiment of living intentionally on the edge of Walden Pond, Micah True spent his entire life living intentionally. In some ways he was a hippie who never reentered the conventional world.
When I met Micah in 2005 he was splitting his life between Boulder, Colorado and the small town of Batopilas at the bottom of Copper Canyon. Even at that time he was thinking about spending part of the year near Silver City, New Mexico, where he would eventually take his fateful run in March 2012 that lead to his unexpected death.
In the fall, usually in late October, Micah would take a combination of buses from Boulder to reach Botopilas. There he would spend the winter running in the mountains, visiting remote villages, finding places to sleep when in the backcountry, and making a little money guiding people through the wild country of Copper Canyon.
When in Batopilas, he lived in a one-room stone house that he built himself on ejido (common) land on a rock ledge overlooking the road into town. The house was without plumbing or electricity. For water he ran a hose from the building next door. When he needed a shower or to use a toilet he would go to the small hotel below his house and use their facilities. Inside the house he had a bed that he built himself, a couple of chairs, a rustic table, a small night stand with a kerosene lantern, and a book shelf. I thought it was great.
When the canyon started to get too hot in the spring, he would take the bus back to Boulder, Colorado. There he had a pick-up truck with a camper shell that he parked in a friend's yard. In Boulder, he lived in his pick-up camper, ran in the mountains, and made some money moving furniture.
When I was with him, he told me his income was less than $10,000 a year. He also said that he didn't want it to go higher because he wanted to stay under the radar scope. Rather than buying health insurance, his health insurance plan was to eat good food and run. After I read Born to Run in 2010, I emailed Micah to see if the book had increased his guide business and changed his life. He told me that the book brought him some attention but it hadn't increased his income. So when Thoreau said to simplify, simplify, simplify, Micah took it heart and did exactly that.
As for our time together in Copper Canyon, I would hike and he would run ahead of me and then run back to keep an eye on me. What he would normally do in two hours, took me five. Our first day in the canyon was spent hiking near Urique. On the following day we spent three days to hiking to Batopilas. If Micah were doing the same route by himself, he would do it in a day.
The hike to Batopilas started with fording the several hundred feet wide Rio Urique. The hike then required going up and over the mountains between the Rio Urique and Rio Batopilas. In one stretch of the route, we climbed 2800 feet in 2 ½ miles. In total we probably climbed 10,000 feet in those three days. It was not an easy hike. When we reached the Rio Batopilas, we followed the river into Micah's Copper Canyon hometown of Batopilas.
I am not going to provide a blow by blow description of the walk, but my most distinct memories are how the backcountry of Copper Canyon is truly a walking community. When you left town, whether it was Urique or Batopilas, the pavement ended immediately and you were on a dirt road. When the dirt road ended, it continued on as a footpath. Cars couldn't go further but those on foot could. We are not talking about a National Forest hiking trail. We are talking about a vital artery that connected people living deep in the mountains to the outside world of schools, health care, markets and whatever else someone could not get off the land.
As we penetrated the backcountry, we passed small ranchos or farms, and even small communities and villages. The only way in or out to any of these places, unless there was an airstrip nearby, was by the path. Several times we came upon a junction with another path. Those paths too went on to other communities with some leading to Tarahumara villages and others leading to places where it would not be wise for any outsider to stumble upon. If you look at a map, you will see that there is a network of footpaths and communities accessible only by the paths.
Micah knew them all, and every time we went through a settlement, little kids would come running out of the houses and say, "hola, Caballo Blanco, hola." It was like walking with a Rock Star. They all knew Caballo Blanco as the crazy American who runs all day through the mountains. On top of walking with a Rock Star, I was walking through some of the most gorgeous scenery imaginable.
Pictures from this amazing journey with an even more amazing personality – Caballo Blanco – are below. Caballo Blanco, you will be missed.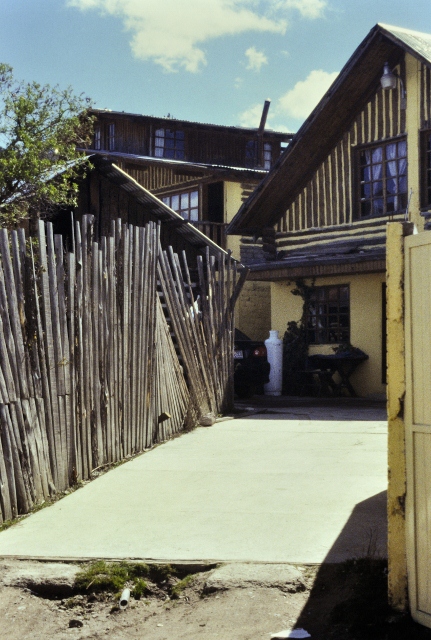 This is the log cabin hotel where I linked up with Micah in Creel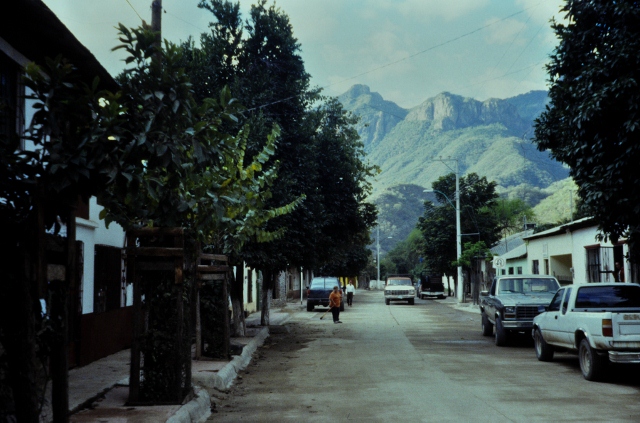 This is the main street of Urique at the bottom of Copper canyon. The pavement ends within a half mile.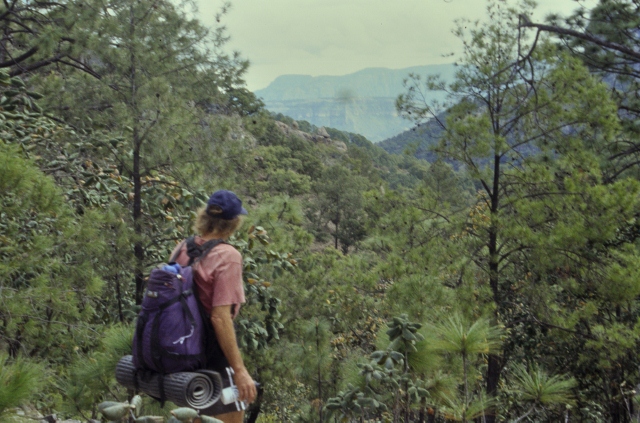 Up on the mountains with Micah. We just finished climbing 2800 feet in two and half miles.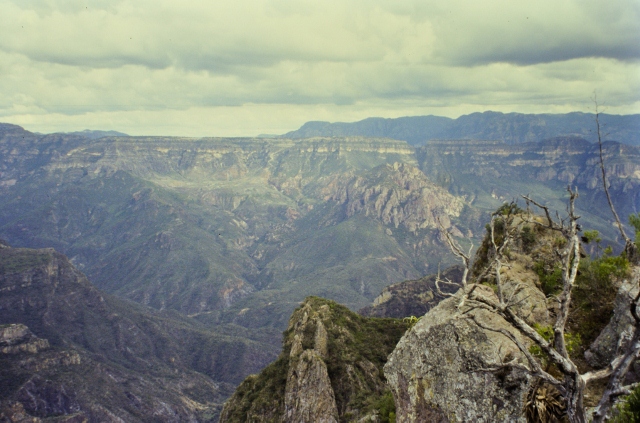 This is what we hiked through. There are settlements and ranchos tucked into the corners all over the canyon country. It was always like this.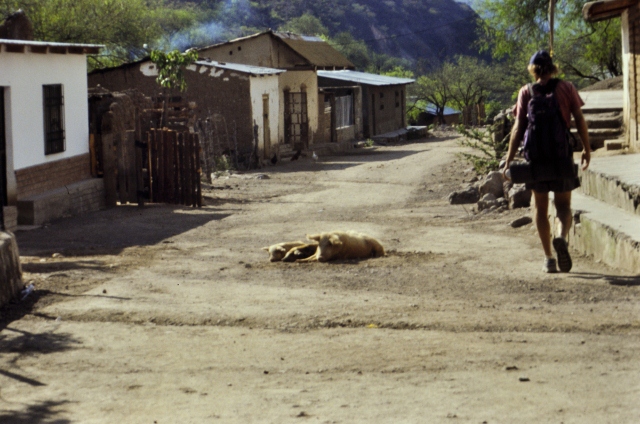 This is one of the settlements we found in the mountains. The pigs don't have to worry about being run over by a car. That's Micah in front.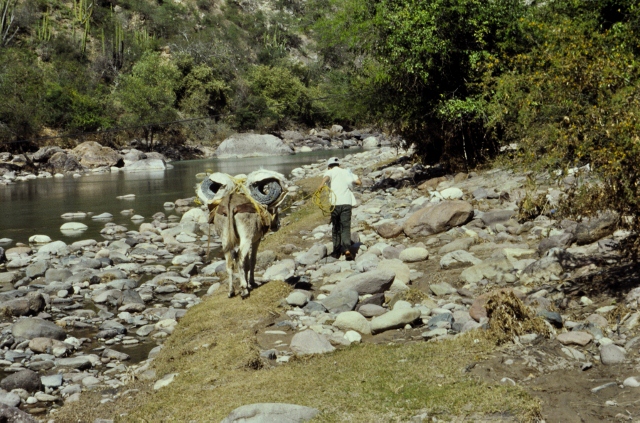 The only way to get building materials into the mountains is on the back of a burro.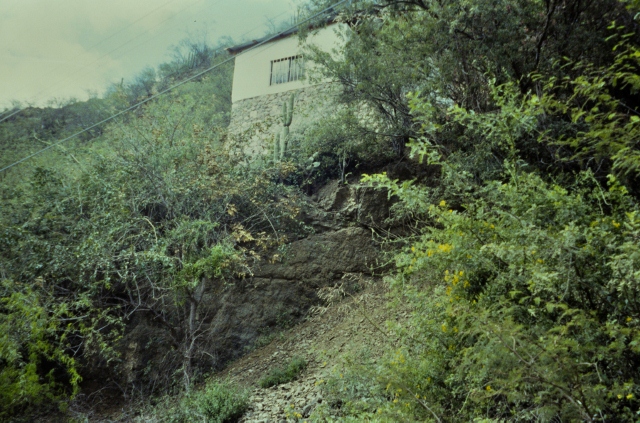 Micah's house in Batopilas. He built it himself.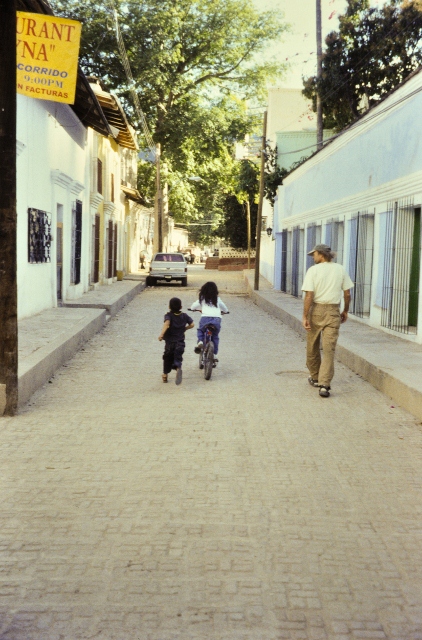 On a street of Batopilas where the kids had run up to say "hola" to Caballo Blanco.