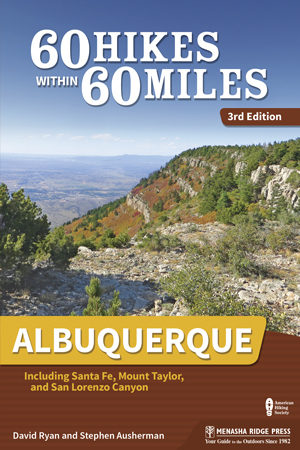 The new edition of 60 Hikes with 60 Miles: Albuquerque has finally been printed and is now available for purchase. You should start seeing books at your local area retailer and on Amazon in the next few weeks. In the meantime, you can order a book online right now directly from the publisher Menasha Ridge.
Several book events have already been scheduled and more are in the works. They will soon be added to the Events tab on this website.
A new tab, 60 Hikes, has also been added to this website. 60 Hikes has information on the book and a list of all of 60 hikes. Just click on a Hike to see if there have been any updates or changes since the book was written.
Updates and changes will be posted as soon as I learn of them. If you know of any update or change to a hike, please email directly at davidryan@msn.com so I can get that information on the website.
When the Menasha Ridge folks asked me to provide my thoughts on what it was like to work on the book and some of the hikes, I provided the following: Continue Reading →