Two years ago my dog Petey and I traveled to the Mississippi River area and found several public stairways in Dubuque, Iowa; Redwing, Minneapolis, St. Paul, and Stillwater, Minnesota; Alma, Wisconsin; and Galena, Illinois. All of those stairways were described in previous posts in this blog.
Two weeks ago we returned to the Mississippi River area to see if we could find more stairways. We did find some stairways. We also ran into some very hot weather.
Our first stop was the historic river town of Alton, Illinois. Alton was the site of the seventh and final Lincoln-Douglas Debate of 1858. Today the town is within commuting distance to St. Louis and almost every other car had a bumper sticker celebrating the St. Louis Cardinals.
Alton, like many river towns, is built on massive limestone bluffs and has "stairway city" written all over it. Other than a closed stairway near the center of town we were not having much luck in finding stairways.
We did, however, find many steep brick streets with historic houses. Even when dry, a brick street on a hillside can be very slippery. It was hard enough for me to get traction in a car, and I can't imagine how hard it would be to ride a bike on the brick streets; especially when wet. If anyone wanted to stage a "crash and burn" bike race, Alton would be the place.
After much searching, we finally did find a 53-step stairway leading to a park overlooking the river at the intersection of Belleview and Summit. We also found a relatively new 40-step stairway leading to a parking area below the City Hall.
We then headed up the river to Hannibal, Missouri, the hometown of Samuel Clemmons (Mark Twain). There, right behind the statue of Tom Sawyer and Huck Finn, was a 160-step stairway leading to the parking area below the Mark Twain Memorial Lighthouse on Cardiff Hill. Cardiff Hill was one of the locations mentioned in the book Tom Sawyer. It was another 72 steps to the lighthouse for a total of 232 steps.
Further up the river we checked out Snake Alley in Burlington, Iowa. At one time it was called the most crooked street in the country, if not the world. The town is also the "Burlington" in the Burlington Northern Santa Fe Railway (BNSF).
We found Snake Alley, and even better, we found 70-step stairway next to the road. The stairway was never mentioned in any of the literature I read about Snake Alley.
When we walked down the stairway, a group of boys were riding their bikes as fast as they could down the alley. Fortunately, the alley is only one-way (downhill), so no one careened into an oncoming car. The boys had so much fun they circled around and did it again.
But our most interesting find on this trip was in East Dubuque, Illinois. We crossed the river from Dubuque, Iowa and turned onto the main business street of East Dubuque. After passing some businesses, we were stopped by a freight train crossing the street. Rather than wait we made a right-hand turn and drove up an old brick road in poor repair toward the top of the bluff.
The road was almost overgrown with weeds. But as we went up, we saw a relatively new stairway made out wood beams and dirt. We found a place to park and started up the stairs as it went through the woods. Unfortunately I forgot to put on insect repellant and we were bombarded with mosquitos all the way up. Our only defense was to run up the stairs while desperately waving my baseball cap. I did manage to count 124 steps on the way.
When we reached the top, we found ourselves in an amazing place. It was the recently restored WPA era Gramercy Park. What made the place special is that it had great views of the Mississippi River and was dotted with Hopewell era (around 2000 years ago) Indian burial mounds. The mounds were about eight feet tall and about twenty feet in diameter. They were everywhere. We had no idea that they would be waiting for us and they were certainly worth waving off some mosquitos to find them.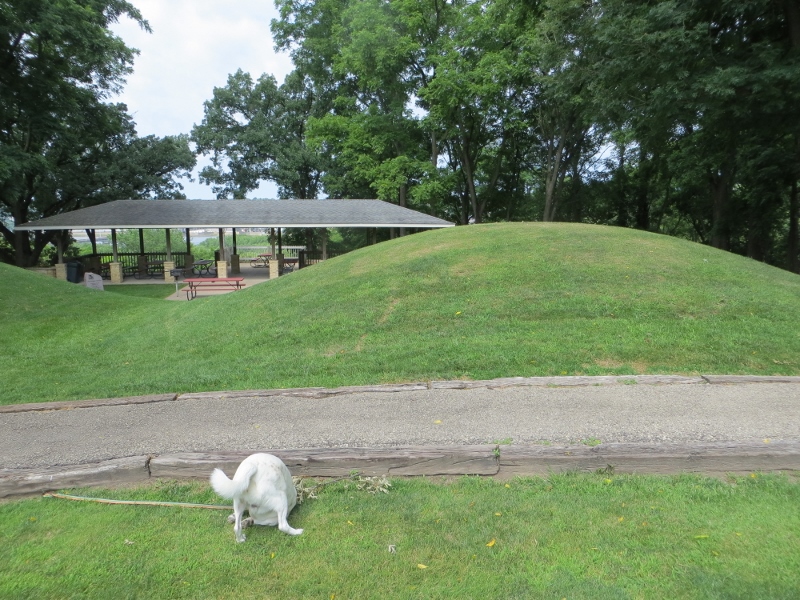 And this is what The Gentle Art of Wandering is all about. It is allowing yourself to see, and then letting what you see guide you on where to go. When you do this, you will always run into surprises and have an adventure every time you go out.
Since writing this post, Petey and I developed a stairway guide to Galena and Dubuque (including the stairs to the Indian mounds) called, "Exploring Galena and Dubuque on Foot." The book is available at River Lights bookstore in Dubuque, the Galena Gazette in Galena, on Amazon, and on this website.