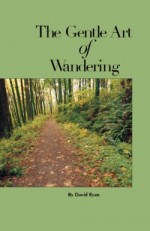 The Gentle Art of Wandering is about being mindful and connected while walking, hiking, or traveling. It is allowing yourself to see what is already here and then letting what you see guide you on where you go. The writer, David Ryan, encourages you to discover and enjoy everything around you when you go outdoors. The book provides many examples of how you can use the mindset of "wandering" to make your own amazing discoveries when you go out. Once you acquire this mindset you can apply it to all facets of your life and find yourself with a series of unending adventures.
The author, David Ryan, is a long distance hiker and author of Long Distance Hiking on the Appalachian Trail for the Older Adventurer. He spends his spare time wandering in the backcountry of New Mexico looking for archaeology sites.
The book is available now for $12.00
What would I look for in a walking companion? Someone with a sense of curiosity about the world, a love of nature and people. Someone who is creative enough to see and appreciate the extraordinary things around us everywhere. Within these pages you will find that walking companion in David Ryan. You will look at the world in a different way and be on your way to new adventures wherever you go.
– Larry Luxenberg, author Walking the Appalachian Trail
Adventure, exploration, discovery, and even peace are everywhere around us–if only we open our minds to them. So follow David Ryan as he leads by example into the rich world that "wandering" can reveal. This is the best kind of guidebook, for it seeks to empower us with what Marcel Proust said: "The real voyage of discovery consists not in seeking new landscapes but in having new eyes."
– Robert Julyan, author Place Names of New Mexico and Mountains of New Mexico