Walk # 5 is a 2.6 mile Architectural Tour of Nob Hill developed by Steven Justrich. Steven is one of the Albuquerque Jane's Walks organizers and is a professional interior designer. This walk is a reflection of Steven's acute interest in architecture and design.
This walk begins and ends at the Triangle bounded by Central Avenue, Monte Vista Boulevard, and Dartmouth Drive. Along the way you'll pass many outstanding buildings including the "world famous" Bart Prince Spaceship home and studio. Like any of our Jane's Walks, you can start your walk anywhere you would like along the route and make as many modifications as you wish.
Before starting our walk, here is some background information regarding the architecture:
Spanish and Mission Revival
Pueblo Revival
Territorial Revivals
Streamline Moderne
Art Moderne
Midcentury Modern
A note about Revival Styles: An architectural Style name followed by the word Revival signals the re-emergence of the style In an altered form from the era in which it was created. For Example: The Territorial Style was created by the Anglo Settlers in New Mexico in the late 1880's until approximately 1912 when New Mexico became a U.S. state. The style features the blocky massing of the Pueblo or Spanish Pueblo Style with design elements from East coast styles such Greek Revival which used embellishments such as dentil mouldings, carpenter trim, and most notably, the brick finish to the parapet wall. Territorial Revival in the 1930's and 1940's has all of these elements, executed with current building methods and materials such as Victorian era carpenter trim in porch posts, brackets and window casing, and most notably, the brick dentil cornices finishing the parapet wall. Streamline Moderne, however, since it occurred in the 1930-40s has no attributed revival style per se. The Carlisle condo complex (#8 on this walk) even though it has elements of Streamline Moderne, is not part of a Revival movement, and would be called Post Modern and not Streamline Moderne Revival. A revival style is typically part of a widespread regional or national movement as is apparent in the Nob Hill neighborhood in Albuquerque, with hundreds of residential buildings in the Spanish, Mission, Pueblo and Territorial Revival Styles built from late1920 to the1940's.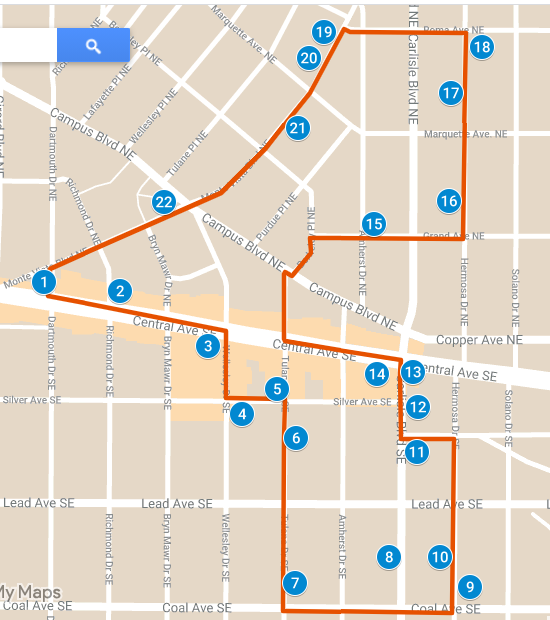 1.
Nob Hill Triangle Park Police Substation – Central and Girard – Art Moderne Style
This eight seat prefabricated diner was manufactured in 1942 by the Valentine Manufacturing Company of Witchita Kansas. It's original  incarnation was as "The Little House Café" located at the roundabout at 8th and Central until 1993 after which it was donated to the Albuquerque Museum. In 1997 it was moved to Triangle Park just inside the Central Avenue neon gate to Nob Hill and operates as the police substation. The Art Moderne style follows the Art Deco period, with references to a machine aesthetic, motion indicated by horizontal lines and to vehicles of motion such as train cars. I hesitate to call the diner "streamline" due to the absence of curves and rounded corners or corner windows.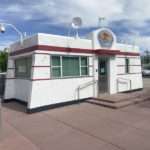 2.
Monte Vista Firestation – Central Avenue at Bryn Mawr, 1936, Architect: Ernst Blumenthal- Pueblo Revival.The building is constructed in Structural clay tile and stuccoed to look like traditional adobe buildings with stepped parapets, projecting vigas and ladders. It is a well preserved Works Progress Administration building, and was the first fire station for Nob Hill until 1972. It is on the New Mexico State Register of Cultural Properties and the National Register of Historic Places. It is currently a bar and restaurant.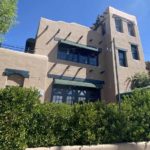 3.
Jones Motor Company, Central and Wellesley, 1939, Architect: Tom Danahy, Streamline Moderne. This Route 66 era building was formerly a Ralph Jones Service Station and Ford Motor Company Car Dealership, with curved garage bays, a stepped central tower, and white coloration typical of the Streamline Moderne Style.  The building is on the New Mexico State Register of Cultural Properties and on the National Register of Historic Places since 1993, and was designated as a protected city landmark in 2001.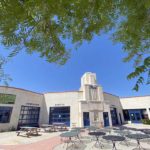 4.
Bachechi Compound, Spanish Pueblo Revival. This property, somewhat hidden by high walls is notable as the home of the Bachechi Family, owners of the Pueblo Deco masterpiece KiMo Theater on West Central in Downtown Albuquerque.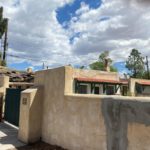 Further afield: The KiMo Theatre, 423 Central Avenue NW, 1927, Pueblo Deco, Architect: Boller Brothers
5.
111 Tulane Drive SE 1968, one of the few contemporary buildings in the neighborhood with blocky massing, Art Moderne elements such as the corner window, and Mid-century elements such as the concrete block screen wall.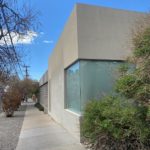 6.
212 Tulane Drive SE, D.K.B. Sellars Log Cabin, This large 3800 square feet log cabin was built in1927 from whole logs from the Jemez Mountain by D.K.B. Sellars as a model home for future east mountain cabins. Sellars, remembered as a gregarious and shamleess self-promoter and huckster real estate developer, was the visionary for the development of Nob Hill and the former Mayor of Albuquerque from 1912 to 1914. He arrived in Albuquerque in1906 from Northern California and named Nob Hill after the fashionable neighborhood in San Francisco. The cabin can be rented on Airbnb.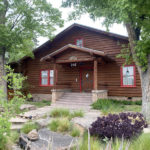 *Further afield: See The Albuquerque Press Club, 201 Highland Park Circle
"The other log cabin" in Albuquerque built in 1903 is an extraordinary rustic style high on a hill overlooking downtown.
7.
316 Tulane Drive SE, 1928 Pueblo Revival. This privately owned compound is entered through an iron gate flanked by stone lion heads.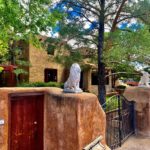 8.
319 Carlisle Blvd., Tank House – 1937, Pueblo Revival. When D.K.B. Sellars planned University Heights he built a private water system with a tank at the highest point to serve the new addition. After the city water system replaced this private system, a house was constructed around the tank which was repurposed as the living room.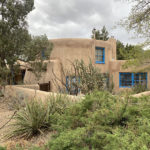 9.
324 Hermosa Drive SE, 1936, Streamline Moderne
This prominent corner house on top of Nob Hill is a rare example of Streamline Moderne in Albuquerque, with it's corner oriented windows, and curved elements in what appears to be a curved glass block stair well. This style's distinctive "white architecture" and flat roofs were derived from the European International style developed by the German Bauhaus and from Le Corbusier's 1930 Villa Savoye at Poissy, France.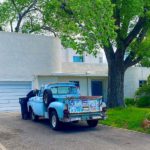 10.
309 Hermosa Drive SE, 1950, Streamline Moderne
This outstanding house is an excellent example the Streamline Moderne Style in brick, with flat roofs, corner windows, curved glass block side-lites at the entry, and curved massing. This house was built outside of the Streamline Moderne era of 1930-1945.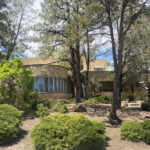 11.
300 Carlisle Blvd SE, Pueblo Revival compound
12.
Immanuel Presbyterian Church, 1949-56, Territorial Revival, John Gaw Meem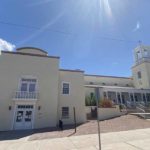 13.
The Carlisle, 2018 – Post Modern Style, this new 38-unit condo complex on the Southeast corner of Central Avenue and Carlisle opposite the Nob Hill Shopping Center creates a landmark building with a tower that reinterprets the Streamline Moderne era with it's curved massing, introducing a vintage inspired color scheme and the use of neon to highlight architectural elements.
Note that there are seven towers visible from this location at the intersection of Central Avenue and Carlisle Blvd – The Nob Hill Shopping Center has four towers, and one at the Immanuel Presbyterian Church, the Fan Tang Restaurant and at The Carlisle. Towers are a common element in Streamline Moderne as they recall the nautical influences of the style. The tower at The Carlisle resembles a water tower.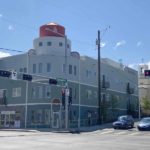 14.
Nob Hill Shopping Center – 1947, Streamline Moderne with Territorial Revival elements, notably, the brick parapet dentil detail was the first modern suburban shopping center in New Mexico.
15.
300 Grand Avenue NE, 1964, Midcentury Modern. This Midcentury Modern house in Albuquerque features a red brick walled compound with a low slung shed-roofed bedroom wing and south-facing living wing joined by an entry element.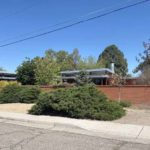 16.
305 Hermosa Drive NE, is a fine example of Spanish Pueblo Revival with some Mission Revival elements with a shallow tiled roof gable, shaped parapet, segmented arches and entry court. Most notable and unusual in houses observed in Nob Hill is the elaborate Arabesque window.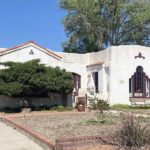 17.
405 Hermosa Drive NE,1935. Spanish Pueblo Revival, A well proportioned bungalow in it's original condition, with corner buttresses, and shaped parapets and original wood windows.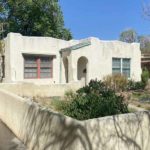 18.
448 Hermosa Drive NE, 1941. Spanish Revival with some Pueblo Revival elements in the protruding vigas in the parapeted window bay. It has a triple arched window, gable wall embellishment, and seldom seen multicolor terra-cotta roof tiles.
Bart Prince Houses
Architect Bart Prince, whose influences include architects Bruce Goff and Frank Lloyd Wright,
has created a highly individualized and original architecture that is unique in his unusual use of materials and expression of organic and abstract form apart from and free of New Mexican regional influences.
19.
3507 Monte Vista Blvd. NE, Spaceship house 1, Architect: Bart Prince
I describe these houses as "flyovers" built over an existing Pueblo Style house. The house is believed to Bart Prince's architectural studio.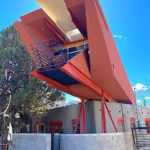 20.
3501 Monte Vista Blvd. NE, Spaceship house 2, 1984, Architect: Bart Prince. Bart Prince Residence and Studio. This is Bart Prince's most famous house and uses an innovative combination of materials and structural systems resulting in a more organic architecture.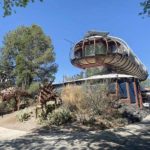 21.
3416 Monte Vista Blvd. NE, Spaceship house 3, Architect: Bart Prince. This wood structure is perched on top of an existing Pueblo Revival house.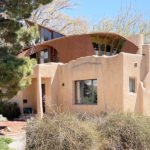 * further afield: See the Mead-Penhall "Cigar House",1993, 4504 Sunningdale Avenue NE
22.
Monte Vista School, 3211 Monte Vista Blvd. NE, 1931
Spanish Mission Revival, Architect: T. Charles Gaastra