A little less than two weeks ago while visiting my mother-in-law in Manchester, Tennessee, the dogs and I took a road trip from Manchester and headed south along U.S. Highway 41 to Monteagle Mountain on the Cumberland Plateau.
This stretch of U.S. 41 is perfect for a two-lane road trip. The traffic is light to almost non-existent; most of the traffic now goes on Interstate Highway 24. The Interstate is far enough away from U.S. 41 so you don't even know it's there. As a result, you can relax and take your time without feeling pressured by other traffic. This is the type of road that Bill Bryson described while driving around Australia in his book, In a Sunburnt Country.
A road like this rare. A few years ago I read an article in The New Yorker about Jack Kerouac and his 1957 novel, On the Road. The article mentioned that the book was actually nostalgia for driving in the 1940s, right after World War Two, when there were three million miles of highway for 38 million vehicles. Today the number of cars is close to 250 million while the highway mileage has only grown to a little over four million miles.
No wonder so many of today's roads are too wide, too crowded, too fast, and too disconnected from the landscape for a relaxed and pleasant drive. So when you find a quiet and pretty two-lane highway, drive it.
And we did. Our first stop was at a Krystal on the edge of town to fuel up for the trip. If you haven't been to a Krystal, they are only in the South and feature very small square hamburgers that are very much like if not exactly the same as a White Castle slider. If you want to compare the two, you can head north from Manchester on U.S. 41 toward Nashville. There you can find a Krystal right across the street from a White Castle.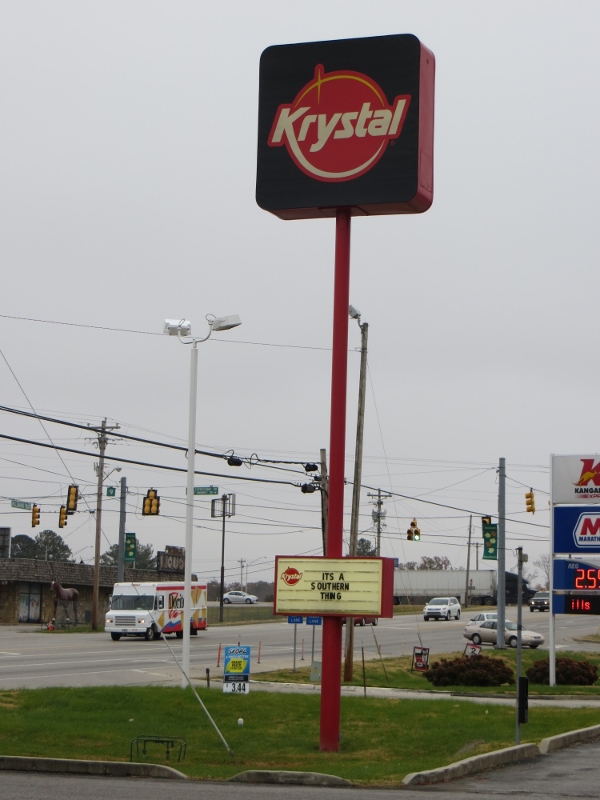 Properly fueled with Krystals, we drove through rolling farm country at the base of the Cumberland Plateau towards Monteagle Mountain. While driving, we noticed a very small cemetery on the side of the road overgrown with trees. We stopped to take a look, and tried to read the weathered headstones. Most of the headstones that we could read were of people who died in the 1870s and 1880s. One of them was for someone born in the 1790s.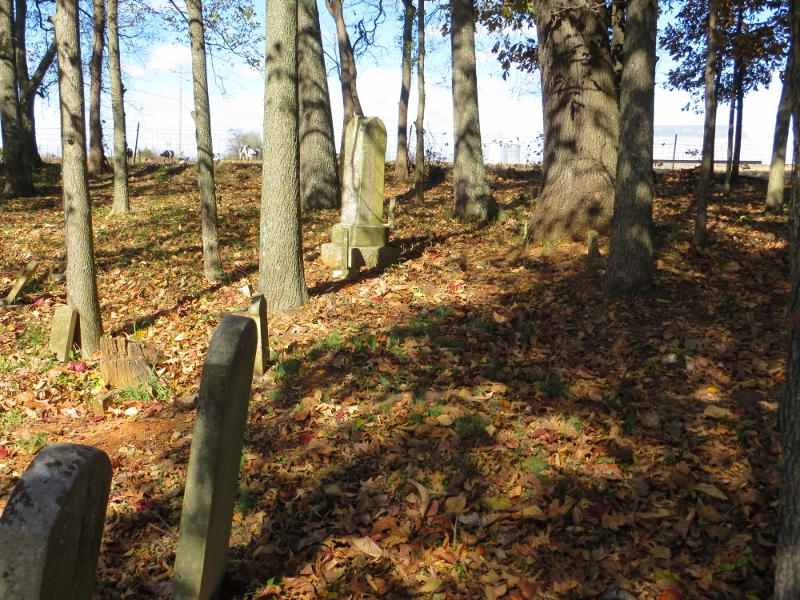 When the road is part of the landscape rather than apart from the landscape, you have a chance of spotting little things like this cemetery. It's then up to you to decide if you want to check it out.
As we continued south, we saw another small cemetery. I had read that this cemetery had an Indian mound. And sure enough, there was a mound that was probably a small burial mound from "Woodland" Indian period. Needless to say, we stopped and checked out this cemetery too.
At one time there were probably many other mounds in the area. Over time they would have been lost to erosion and by farmers plowing the land. This mound survived because it was in a cemetery and is now a burial place for both pre-historic and historic settlers. It would be fun to come back to the area in the spring to see what the farmers turn up when they plow the land. I wouldn't be surprised if they still find arrowheads and other artifacts.
Soon after leaving the Indian mound, we reached the base of Monteagle Mountain on the Cumberland Plateau. The Cumberland Plateau is technically not a mountain because it is a product of erosion rather than a result of volcanic activity or tilting. Regardless of it being or not being a mountain, there is a thousand feet of elevation gain from the base to the top.
Roads coming off the top of the mountain can be very steep. The portion of I-24 that goes over Monteagle Mountain is considered to be one of the most dangerous sections of Interstate highway in the country. Johnny Cash wrote and recorded a song about a trucker almost losing his life on Monteagle Mountain. And if you're a Chicago Blues music fan, this is where blues singer Koko Taylor almost died in 1989 when the van she was riding in went off the road.
We stayed on U.S. 41 and drove up through an autumn paradise to the top of the mountain. If you make this trip in early spring, you will find no prettier road in the country than U.S. 41 on Monteagle Mountain. There is so much water that every rock surface looks like a waterfall and there are so many white dogwood blossoms and redbud flowers that the forest understory looks like a Christmas tree.
When we reached the top, we chose to continue on U.S. 41 towards Tracy City. We could have turned right on U.S. 41A towards Sewanee. Sewanee is home to the University of the South. The University was founded by Episcopal bishop Leonidas Polk just before the Civil War so wealthy planters could send their sons to a school above the malarial belt of the Deep South.
A close friend of Jefferson Davis, Leonidas Polk became a Confederate general during the Civil War.  He fought in most of the western battles of the war and was eventually killed during the Atlanta campaign in 1864.
Sewanee is also the home of Dr. David Haskell. His book, The Forest Unseen, is based on his observations of all that happened in a very small circle of land, which he called his mandala, in the middle of the woods over the course of a year. His mandala happens to be in a forest owned by the University. The diversity he found was incredible and his book is well worth reading.
As we continued on U.S. 41 we soon passed the Monteagle Assembly. The Assembly was founded in the 1880s and is essentially a Chautauqua and a place for summertime Sunday school retreats. I had passed the Assembly gates many times without turning. This time we turned and passed through the gates. There we found a paradise.
It was amazing. The small roads wound up and down through wooded hills and streams. I am sure during the Assembly season the roads would be closed to private cars. There were Victorian cottages and footpaths everywhere. Again, needless to say, we got out and started walking. What a cool place this would be to spend a few days away from a car attending lectures and workshops. Finding something of this magnitude on top of Monteagle Mountain was a complete surprise.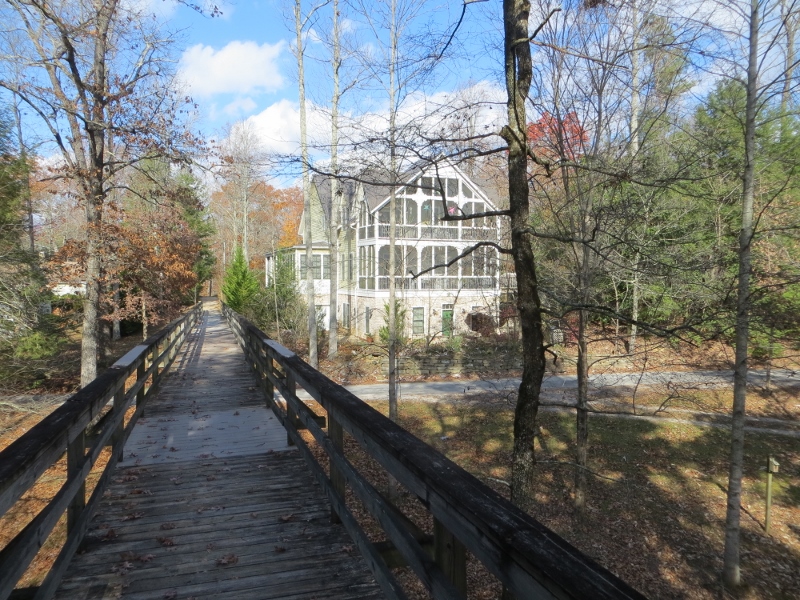 After walking around the Assembly we returned to our car and continued on U.S. 41. In a very short time, we reached the location of the Highlander Folk School. The school was shut down in 1962, but its legacy is still felt today.
Myles Horton and others founded the school in 1932 to support the labor movement and to work for social justice. As can be expected, their mission was not readily accepted by many in the neighborhood and they were accused of being communists. The ever wary J. Edgar Hoover of the FBI started assembling a file on the school that eventually grew to over 1000 pages.
After World War Two, the school's focus concentrated on ending segregation and Jim Crow laws in the South.  Without much surprise, these efforts to secure the rights of black people were not warmly embraced by the neighborhood. Despite local hostility the school made a difference.
It was here in this little corner of Tennessee that Rosa Parks got her training on how to refuse to sit in the back of the bus. And it was her refusal that led to the Montgomery, Alabama bus boycott and kicked off the Civil Rights Movement.
And it was at the Highlander Folk School that Martin Luther King first heard the song, "We Shall Overcome." The song was adapted from an Negro spiritual and working song by Zilphia Horton, Myles Horton's wife. Pete Seeger, a frequent visitor to the school, arranged Zilphia's adaptation into the song we know today. And anyone who lived during the Civil Rights era can still feel the power that that song had as the anthem of the Civil Rights movement.
And it was a picture of Martin Luther King taken at the Highlander Folk School that was used by segregationists and the John Birch Society to "prove" that King was a communist. As if supporting social justice makes one a communist!
Obviously, the Highlander Folk School could not last forever in such a hostile environment. The State of Tennessee was finally able to stage a large police raid and shut down the school in 1962 for selling alcohol without license. The "illegal" alcohol sales were an "honor box" sitting next to the refrigerator to replenish the beer fund when someone took a beer out of the refrigerator.
Despite the raid and shutdown, the school has managed to continue on at a different location. But it was at this location on a small tract of land near U.S. 41 on Monteagle Mountain in southern Tennessee that a small group of people initiated historic changes that still impact us today.
After walking around the two remaining buildings of the Highlander Folk School, it was time to backtrack on U.S. 41 and return to Manchester. As we came down the mountainside I noticed a road barrier gate that I had passed many times before without stopping. This time we stopped.
The gate was barrier to a now closed dirt road that at one time allowed wagons and stagecoaches to reach the top of Monteagle Mountain. It would be fun to find out if this was the road the Cherokee nation used to cross the Cumberland Plateau when they were forced to move to Oklahoma or if this was the route Braxton Bragg's army took when the Confederacy retreated from Middle Tennessee to the Chattanooga area. It turns out that the Monteagle Assembly now owns this land and the old road is now a foot trail.
The trail plunged us into the middle of a beautiful hardwood forest. The leaves were in that magical state of being between full color and just ready to let go from the branch. As we were walking the breeze picked up and leaves began to pour on us like a light rain. It was one of those moments when you are so connected to the present and to your surroundings that you feel like you have achieved complete union with all of creation. It is something that is much easier to feel than to articulate.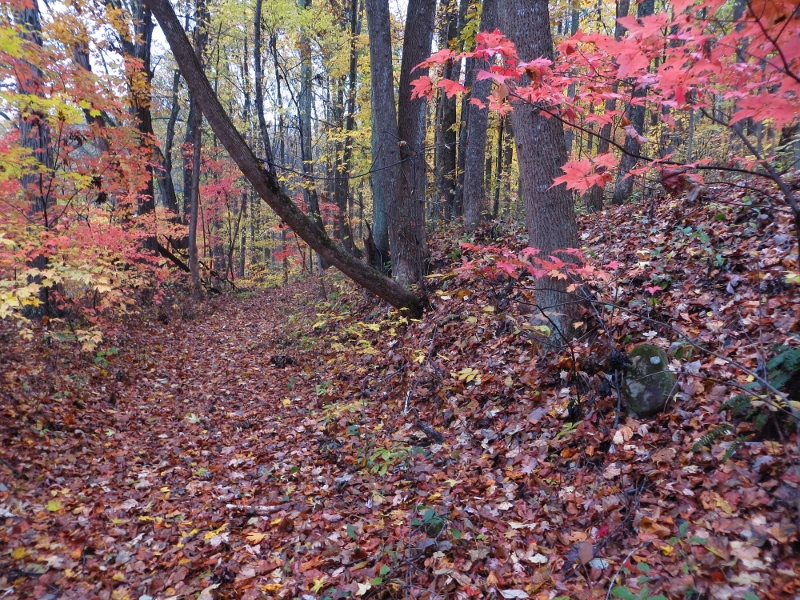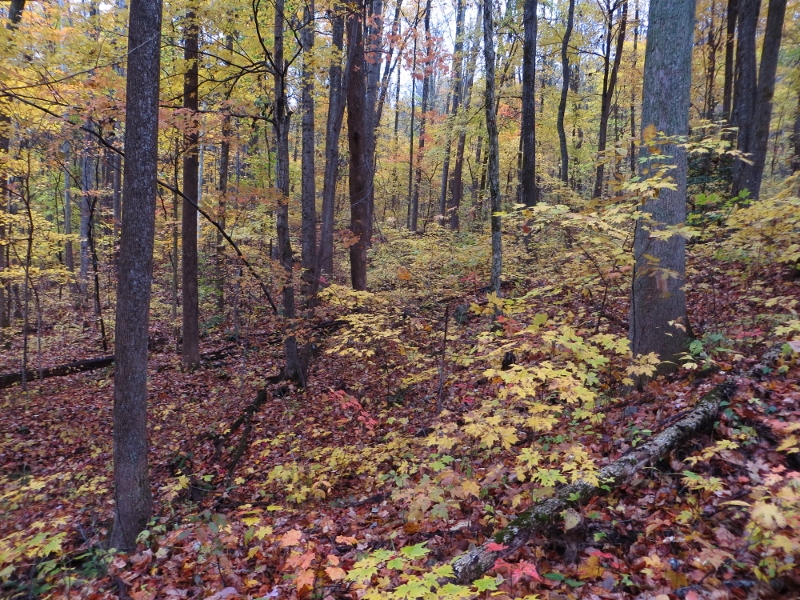 And what better way to end a truly amazing drive along a short stretch of road that offers so much to see and experience.