Long before automobiles took over our streets, urban dwellers got around by streetcar or on foot. By the end of the 1960s most American cities had surrendered to the automobile and converted what remained of their streetcar lines to buses. By 1970 the list of U.S. cities with streetcars was down to eight: San Francisco, New Orleans, Cleveland, Pittsburgh, Philadelphia, Newark, Boston, and El Paso, Texas. Most of the remaining streetcar lines had stretches of private right-of-way and were an integral component of their city's mass transit network.
El Paso's streetcar line ran exclusively on the street. It survived because it provided an efficient connection between Ciudad Juarez in Mexico and downtown El Paso, Texas. It was the only international streetcar line in the world and was never converted to buses because the transit company's franchise charter with Juarez only called for streetcars.
Unfortunately, from the point of view of Juarez merchants, the service was too efficient as it made it too easy for Juarez residents to shop in downtown El Paso. In 1973, at the merchants urging, the Juarez city government shut the line down on their side of the Rio Grande river. With that, the line soon shut down on both sides of the Rio Grande and the streetcars were taken to a desert storage facility.
El Paso's distinction of having the only International streetcar line was never forgotten and many people talked about reviving the service. One of those was Peter Svarzbein, an El Paso resident studying art in New York City. For his Master's Degree art project, he combined public, visual, and performance art to create an advertising campaign complete with  posters, videos, murals, and even a mascot/spokesperson making guest appearances to encourage you to take the completely fictitious "El Paso Transnational Trolley" across the border. Campaign slogans included, "Let Us Take You Home on Either Side of the Border" and "Here to Make the Border Safe Again."
With his "Transnational Trolley" concept in place, Peter moved back to El Paso and started a grass-roots campaign to make the trolley a reality. To support his vision, he ran for City Council and was elected and then re-elected to office. He is currently serving as Councilman from District 1 in El Paso.
His effort paid off when the State of Texas provided the funding in 2014 to build a new figure-eight streetcar line in El Paso. The north loop of the line connects downtown El Paso with the University of Texas El Paso (UTEP), while the south loop circles downtown and comes within a short walk to the bridge to Juarez. Maybe some day the streetcar will continue across the river to provide an easy connection between El Paso and Juarez.
Rather than build the line with sleek modern European designed streetcars, El Paso took some of its old PCC cars out of storage and had them rebuilt and brought up to modern standards. PCC stands for "Presidents (streetcar company presidents) Conference Committee." PCC cars were developed in the 1930s as a last ditch effort to stem the decline of streetcars. The Committee's efforts resulted in a completely new streetcar with a more comfortable ride and a "streamlined/modern" look. In some ways a PCC car looks a little bit like a bus from that era.
The new El Paso streetcar line opened to the public in November 2018. Last week I had the opportunity to drive down to El Paso to check out the new line. I even contacted Peter Svarzbein for some information and gladly took up his offer to ride the line with me.
Riding the streetcar was great. I actually did the full circuit twice. Once on my own and once with Peter. And wandering around on a streetcar to check out what was going on along the way was even better! Here are some of the places where I wandered.
When the streetcar reached the center of downtown, I got out to wander and was immediately impressed by the concentration of the large 1920s era buildings in every direction. When Phoenix, Tucson, and Albuquerque all had less than 50,000 residents in the 1920s, El Paso was already a city with over 100,000 residents. It was the dominant city in the Southwest.
I also learned from Peter that El Paso was the home of Henry Trost. Trost was the premier architect of the Southwest and his firm built most of the major buildings throughout the Southwest. If you see an impressive building in the Southwest from the 1920s, there is a very good chance that it was built by Henry Trost or his firm.
Here are a few of the buildings that caught my attention while wandering around downtown El Paso. And this is the whole point of the gentle art of wandering – allow yourself to see something new and unexpected by being present and then let what you see guide you on where you go!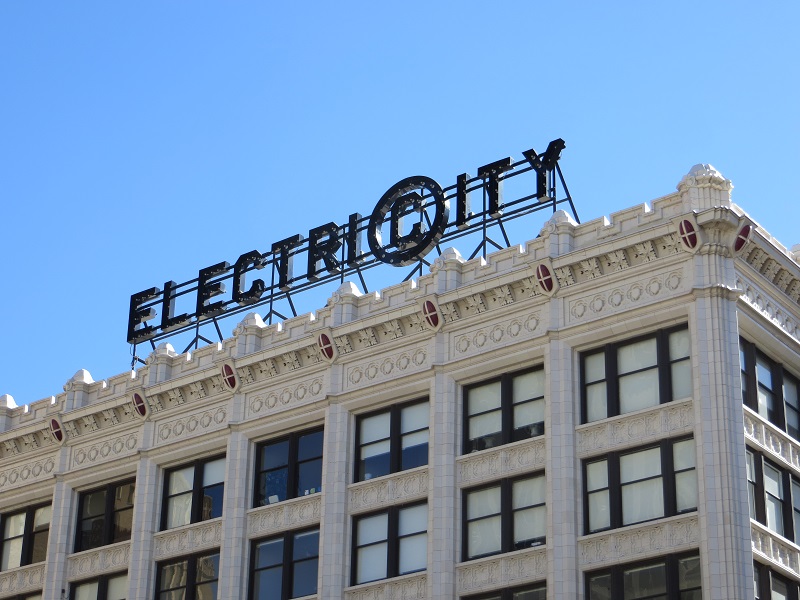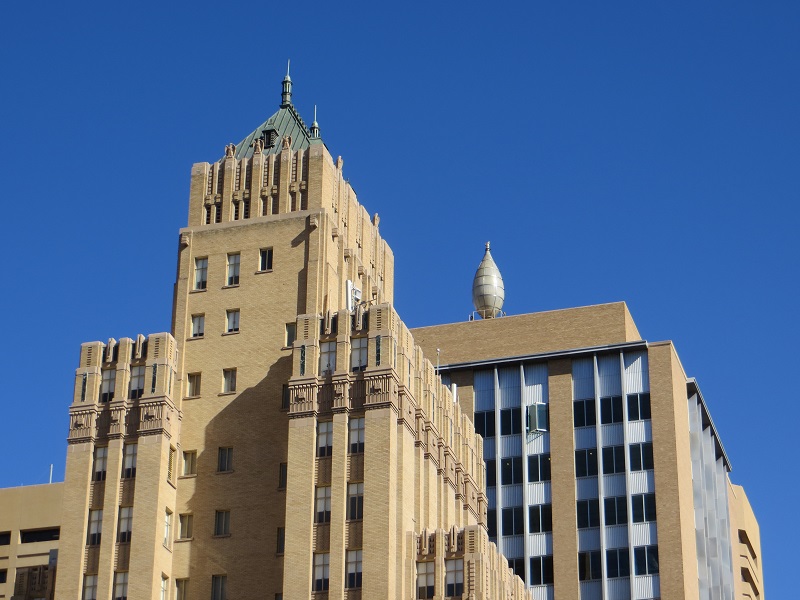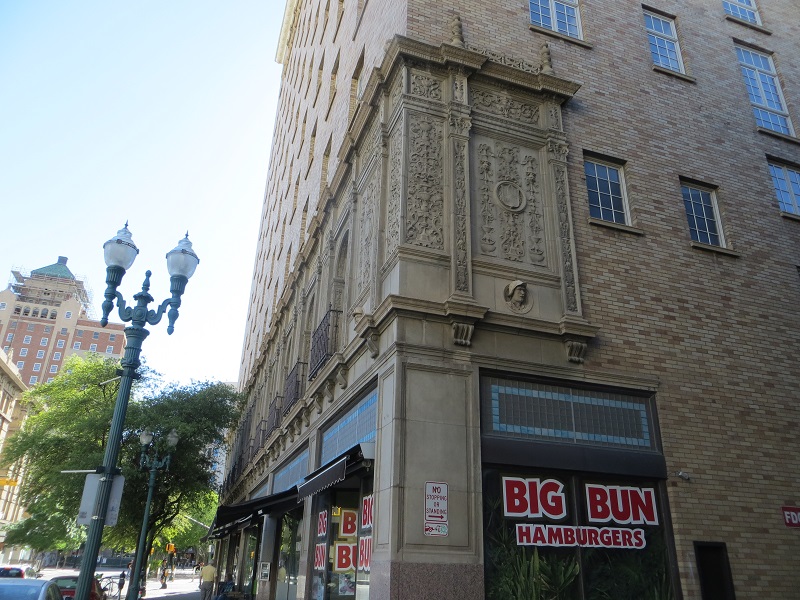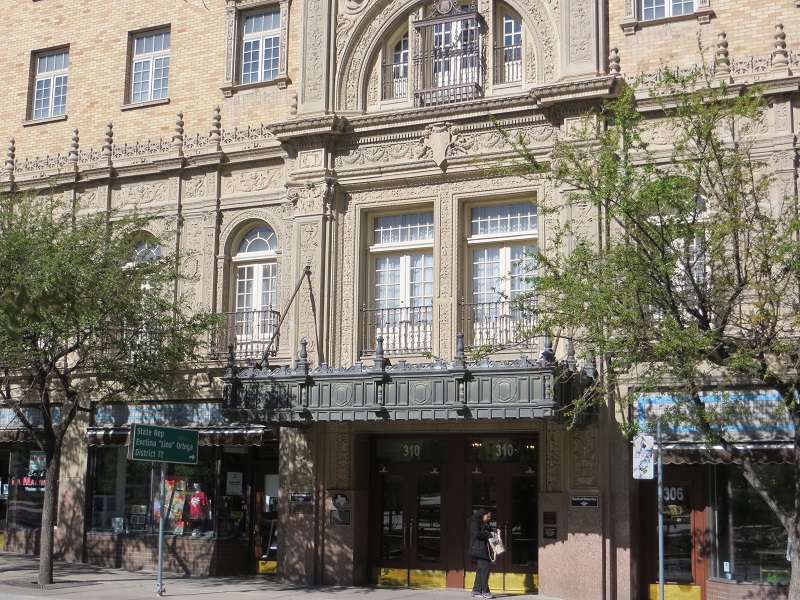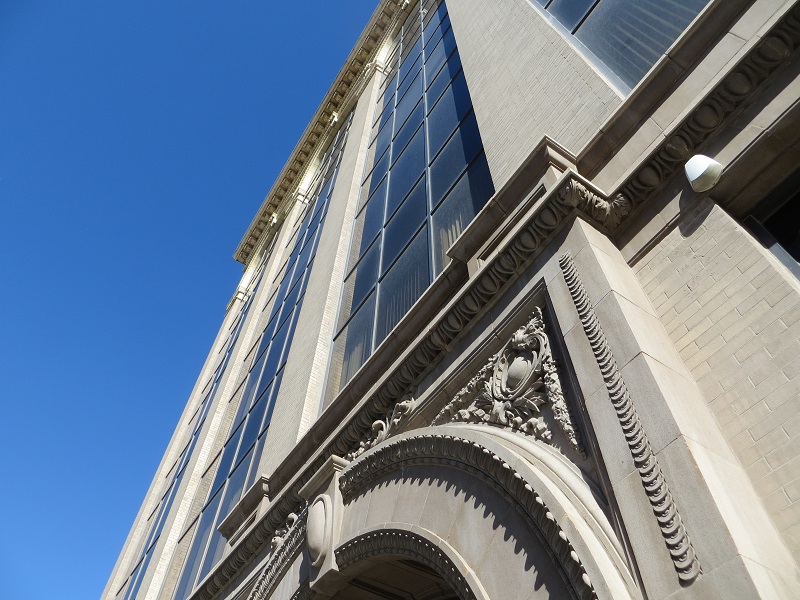 After wandering around downtown I got back on the streetcar to check out the Border area.
After giving up my attempt to cross the bridge, I asked some of the people coming off the bridge how long it took them to cross. I was told anywhere between two and half to three hours. These are not people seeking asylum or trying to sneak across. They are students, workers, and shoppers who happen to live on the other side of the border! They all have a legitimate and legal reason to cross. Is making someone spend hours on what should take a few minutes the proper way to treat a fellow human being?
El Paso and Juarez are conjoined cities. The City of El Paso is dependent upon sales tax revenue generated by shoppers from Mexico. Schools and Universities have tuition paying students from Mexico. Manufacturers need the ability to move products and materials back and forth between facilities located on either side of the border. Employers need their employees to be ready for work and not exhausted from a three-hour ordeal. The current situation is not only a poor way to treat people; it is also bad for the local economy!
Ironically, when I started walking back to streetcar I ran into this:
To conclude my trip to El Paso, I took up Peter's recommendation to eat at H&H Car Wash. The car wash is in working class neighborhood not too far from the streetcar:
A meal at H&H was a great way to wrap up a fantastic wandering adventure!