Posts in this blog generally emphasize surprises that you can find when you allow yourself to wander. Rather than surprises, this post discusses two very special places in the State of Ohio: Newark Earthworks and Serpent Mound. Both are amazing and worth a drive across the country to check out!
Newark Earthworks in Newark, Ohio (east of Columbus and locally pronounced as Nerk, Ohiah) are the largest geometric enclosures in the world. They were built by Hopewell culture people over 1500 years ago. Serpent Mound in southern Ohio is the largest surviving prehistoric effigy mound in the world. It is believed to have been built 1000 to 2000 years ago. Both sites combined with other earthen structures in Ohio, have been nominated for UNESCO World Heritage Site designation. The United States only has 23 World Heritage Sites!
Petey and I had the chance to visit both sites on recent road trips across Ohio.
Although some parts of Newark Earthworks have been lost because of development, the earthworks that do remain are stunning and give you a good idea of what it must have been like in its heyday.
The Great Circle enclosure is a perfect circle about 1200 feet in diameter and surrounded with a mounded wall ranging from eight to fourteen feet tall. It encloses 30 acres. The interior of the wall has a moat and the opening to the enclosure is to the east.
The Circle is in a public park and you are welcome wander around as long as you stay off the walls. Petey and I circled both the inside and outside of the wall.
Can you imagine what it took to build the enclosure with primitive tools, no draft animals, and moving dirt one basketful at a time? Can you imagine the organization, vision, and logistics it took to motivate people to walk from far distances to contribute their labor to build the enclosure?
What's even more astounding is that the Great Circle is only part of the Newark complex! Less than a mile and a half away is another Circle enclosure attached to an Octagonal enclosure. Although this second complex is on public land, it has been a golf course for over 100 years! As a result, exploration of this enclosure is restricted to a few observation points.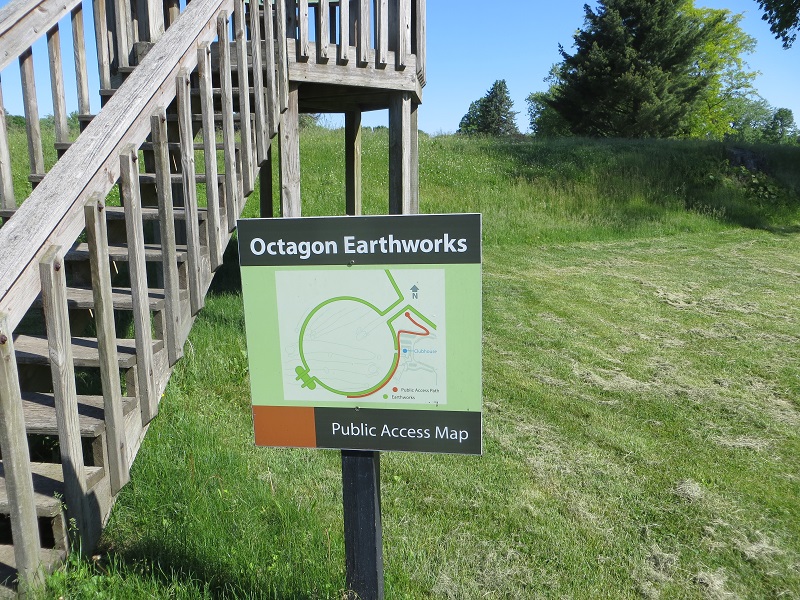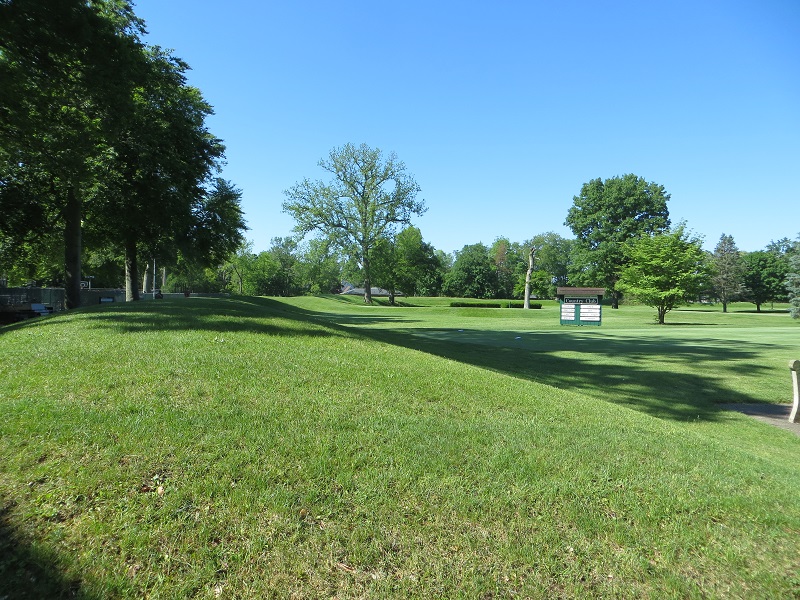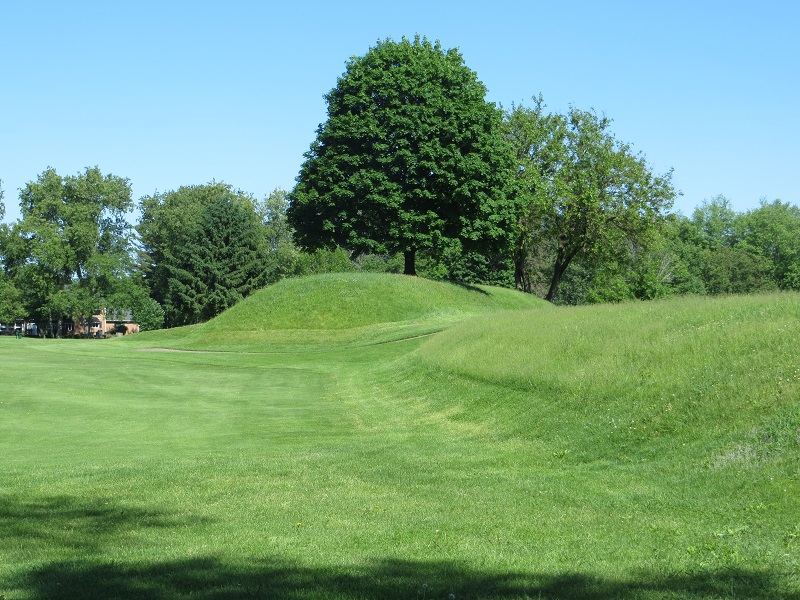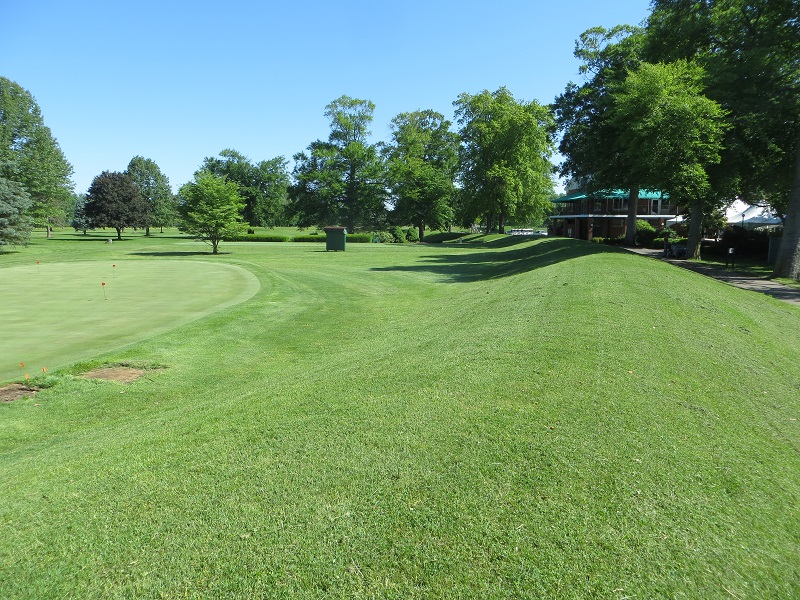 At one time, the two enclosure complexes were connected by a series of walled walkways to guide people from one complex to another. Can you imagine what it would have been like when people gathered for ceremonies held in the enclosures?  Despite the golf course, the enclosures are truly worthy of World Heritage designation!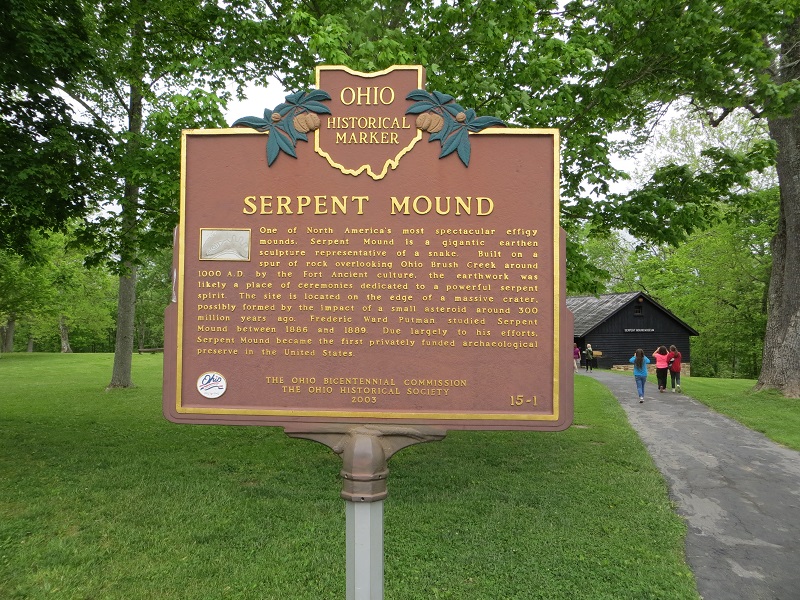 Where the Newark Earthworks have precise lines and shapes, Serpent Mound east of Cincinnati, is a work of art. At over 1300 feet long, the three-foot high mound unwinds from its coil and snakes around to a bluff overlooking a creek down below. At its mouth, it appears to be swallowing an egg. Serpent Mound is a special place of beauty and also worthy of World Heritage designation. Like the Newark earthworks, the serpent would have been built one basketful of dirt at a time.
Pictures do not do either of these sites justice. It is only by walking around them that you can feel their true impact. And when you think of what it took to make them, you can't help but to be amazed. So if you are driving across Ohio, you won't be disappointed by taking the time visit either one of these two very special places.