If you're a Breaking Bad fan, the name To'Hajiilee should mean something to you. To'Hajiilee is a satellite section of the Navajo Nation located about thirty miles west of Albuquerque and is where Walter White of Breaking Bad fame started cooking meth in an old RV. It's where the tumultuous accumulation of his poor decision-making came home to hit him with the death of his brother-in-law Hank and the stealing of his ill-gotten fortune. In fact, the title of one the shows of the final Breaking Bad season is To'Hajiilee.
If you have seen Breaking Bad you know that To'Hajiilee is a land of multi-color sandstone bluffs, canyons, arroyos, and high desert landscape. Although most Indian land is off limits to wandering, there are several sections of public land managed by the Bureau of Land Management (BLM) tucked within the Indian land that are open to wandering. I visit this area quite often to look for archaeological sites.
This past Sunday the dogs and I went out with my backcountry wandering partner Bob Julyan to check on a portion of land that we had not yet visited. As we walked through canyons and climbed up mesas we found the usual array of seashells embedded in sandstone, concentrations of flint flakes left by prehistoric Native Americans making arrowheads, uranium prospector claims from the 1950s, stone homestead cabins from the early 1900s, and the typical wonderful landscape that you expect to find in the backcountry. Surprisingly, on this walk, we were not finding any archaeology sites with pottery pieces on them.
As we moved along, I mentioned to Bob that here we are in landscape that would knock the socks off of most people and we're just taking it for granted. We're not even bothering to take pictures. It's just something we expect to see every time we go out to the backcountry.
No sooner than I said that we came to the edge of the mesa. Rather than the usual slope covered with desert vegetation coming off the mesa, the slope was completely eroded away. All that was left was the most incredible sandstone formations you can imagine. It was unbelievable. In another part of the country this spot would be a National Park. Here, on a beautiful Sunday afternoon, we had the place all to ourselves. And yes, I finally did take some pictures.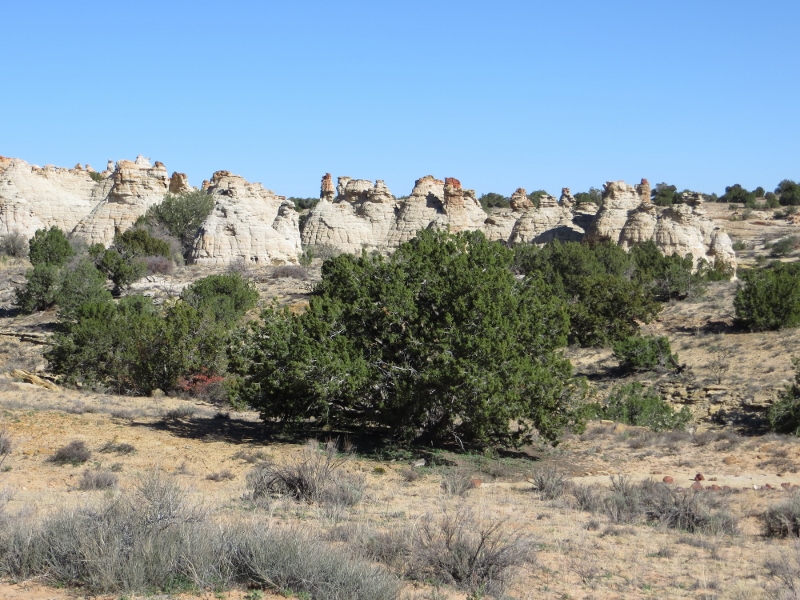 I need to point out that we always run into something completely unexpected when we get out and wander. And more often than not what we find is spectacular. The main theme of The Gentle Art of Wandering is that you'll always find something when you wander. And Sunday was no exception.
If you're interested in wandering in the Breaking Bad backcountry, you can check out the book 60 Hikes Within 60 Miles: Albuquerque by Stephen Ausherman. He describes two hikes ("Oh My God" and "Herrera Mesa") that are in the immediate vicinity of our walk on Sunday. In fact, we parked very close to the suggested parking spot for the Herrera Mesa hike and our walking direction was towards the area of the Oh My God hike. The incredible sandstone formation that we stumbled upon was between the two described hikes. The great thing about the backcountry is that you are not confined to walking on trails. You can wander anywhere in the backcountry.
After catching our breath, we walked through the formations and eventually headed back to our car. On the walk back I spotted from the corner of my eye an intact arrowhead made of obsidian. Spotting something that is different, such as an arrowhead, is also described in detail in The Gentle Art of Wandering. One reader said that I could have named the book, "Zen and the Art of Walking around Looking at Stuff".
Regardless, Sunday is just another example of the adventures you can have when you wander.