Paterson, New Jersey is only 15 miles from Manhattan and can be for some one of the most interesting places to wander on the East Coast. It is a very diverse and urban city that has experienced economic decline as its industrial base vanished. In the middle of its urban core is one of America's great natural wonders, the Great Falls of the Passaic.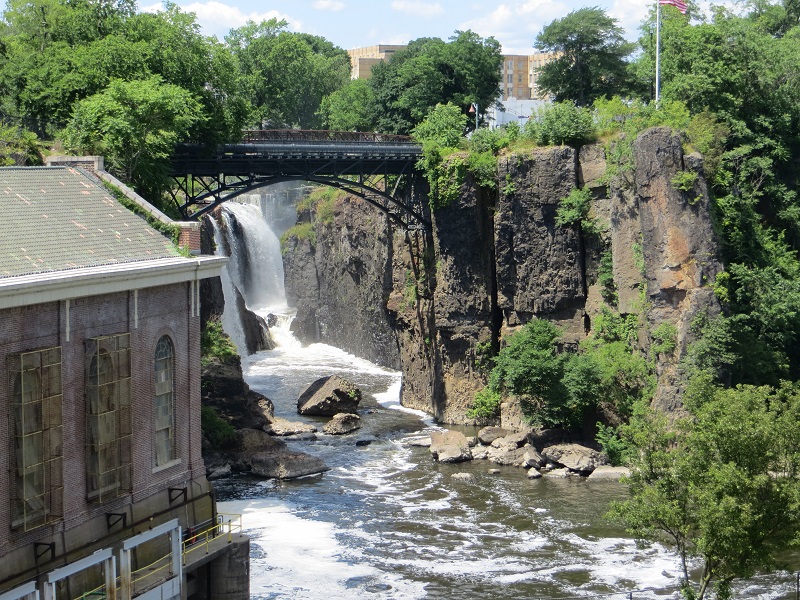 The idea of developing an industrial city by the falls came about when George Washington and Alexander Hamilton had a picnic above the falls in 1778. Although most of the nation's Founding Fathers envisioned a nation based on agriculture, Alexander Hamilton saw a future based upon commerce and manufacturing. To him, the 77-foot falls were a potential power source to drive mills in a future manufacturing community below the falls. In 1792 Hamilton founded the Society for Establishing Useful Manufactures (S.U.M.) to harness the falls and develop the manufacturing community that he envisioned.
With its combination of natural wonders, history, and grittiness, Paterson seems to have a force that attracts attention. William Carlos Williams wrote an epic poem as long as a novel about the city and appropriately named it Paterson. I read the poem and will probably have to read it again before I understand it. In 2017, Jim Jarmusch released his indie film Paterson. The movie stars Adam Driver as a bus driver named Paterson who drives a bus in Paterson and spends his lunch hour writing poetry while looking at the falls. If you're okay with a story that takes its time in revealing its plot and just follows life as it moves along, you'll like this movie. This is not an action adventure movie.
Paterson is also where boxer Rueben Hurricane Carter was accused and wrongly convicted of murder. Check out the Denzel Washington movie The Hurricane for more on this story. It was while doing research on the trial for a magazine article that Chicago-based author Nelson Algren decided to move to and spend his remaining days in Paterson. If you're into gritty, you'll like his books.
I personally have enjoyed checking out the falls when traveling in northern New Jersey and was fortunate to have the opportunity to visit them again last year with my daughter. We took the train from Manhattan to spend an afternoon wandering around Paterson.
After stopping at a White Castle for a quick snack, we walked across the center of Paterson toward the falls:
I hope these pictures show how interesting a town like Paterson can be. I know that I am looking forward to visiting again. Next time I will plan on spending more time exploring the old factory area and make sure I stay long enough to try out one or two different restaurants.