New Mexico is called "the land of enchantment" for good reason. The state's history and culture are unique and the landscape never ceases to amaze. It constantly changes. In a twenty mile drive you can go from canyons, cliffs and mesas to sage brush plains and back again. The dramatic landscapes and clear light are what brought Georgia O'Keefe and many other artists to the state.
Some of the state's most dramatic landscape can be found at the Bisti Badlands in the middle of Navajo country in the northwestern part of the state.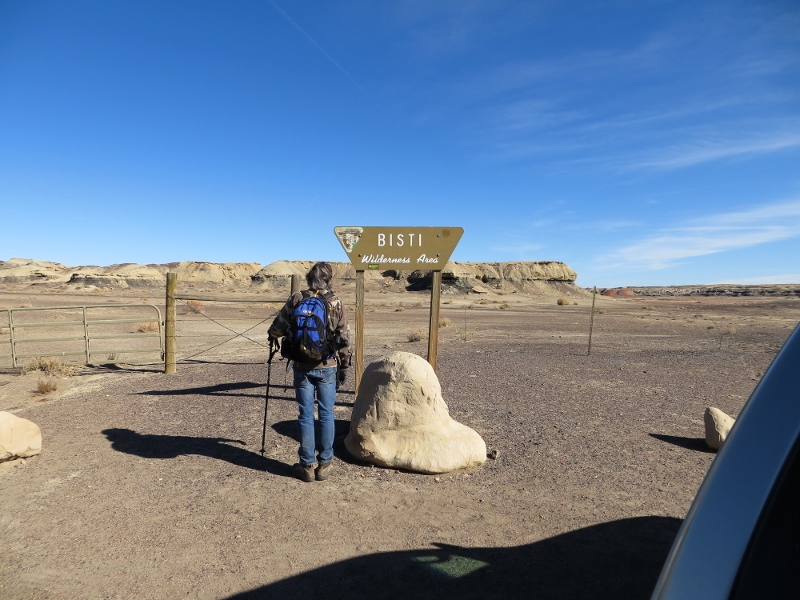 The state has many erosional features and badlands. All have their unique reasons for visiting them. Some have petrified tree stumps; some have fossils; some have dramatic colors; and some have all of the above; but the Bisti Badlands stands head and shoulders above them all.
It is a perfect place to wander. It is an officially designated wilderness area, so there are no jeeps, ATVs, or mountain bikes whipping by you. There are no trails, so you can walk in any direction you want. There are no signs telling you to keep out or explaining what does not need to be explained. All you need to do is to enjoy and let what you see be your guide on where to go next.
When you first arrive you might say this is interesting. When you get out of your car, you may wonder if it's worth walking very far; will it all be pretty much the same. But as you walk further in you'll start saying, "that's pretty cool," and then you'll start saying, "whoa, that's really cool." And finally it will be, "WHOA, this is unbelievable."
You'll find yourself going further and further into the badlands. Your biggest problem will be forcing yourself to turn around and return to your car.
Rather than having me describe the landscape, let me share some pictures with you. If you are interested in visiting Bisti, you can obtain more information from the BLM at http://www.blm.gov/nm/st/en/prog/wilderness/bisti.html.