While doing some casual Internet surfing a few months ago to see what towns might have public stairways, I ran across a PDF document (Click Here) prepared by the City of Lynchburg, Virginia. It was a planning document regarding the development of a network of pedestrian walkways in downtown Lynchburg.
The document mentioned that new and existing stairways could be incorporated in the proposed walkways. The document went on to say that Lynchburg could be known as the "City of Stairs". That was enough for me to put Lynchburg in my mental filing cabinet as a place to check out when the opportunity arose.
A little over a week ago I was in Virginia, and my dog Petey and I took advantage of the time to visit Lynchburg to see what we could see. Although I had printed off the planning document, I had not really studied it as I had no reference as to what was where. We were going to let what we saw guide us on where we went.
While in Lynchburg, we learned that it is more than the home of Jerry Falwell. Lynchburg is an older city of around 75,000 people on the James River not too far from the Blue Ridge Mountains. Because of the river, a canal along the river to improve navigation, and a network of connecting railroads it became an important manufacturing center in the South. It was an important supply point for the Confederacy during the Civil War.
Lynchburg was where Robert E. Lee and his army were headed after the collapse of Richmond and Petersburg in April 1865. Lee hoped he could resupply his army in Lynchburg and continue the war. When Grant's forces cut off Lee's escape route, Lee was forced to surrender at Appomattox Court House less than twenty miles east of Lynchburg. For all practical purposes the Civil War was over.
My first impression of Lynchburg was its highways. They all seemed to be built up to near expressway standards. The town seemed to be spread out without too much to see from the road. I finally reached an exit for the historic city center and found a completely different story. There we found a compact city of diverse architecture and much to see.
With Lynchburg's proximity to the Blue Ridge Mountains and its position along the river, it's hilly. The central area of Lynchburg is built on a series of terraces starting at the riverside. The combination of hills, terraces, and development before automobiles became commonplace are a perfect recipe for public stairways. And Lynchburg has them.
Our stairway wandering adventure started when we turned off of Main Street onto Ninth Street and saw a set of steps immediately in front of us leading to the old Court House that was built before the Civil War. We parked the car and started walking.
I counted 134 steps to the top. We then took a right and headed up the street at the top of the steps (Court Street). During our walk we passed the Court House stairs several times. During the lunch hour we saw that many of the workers in the area took their lunch on the steps. Later in the day several football players from a nearby college were running up and down the stairs.
We didn't have to go too far to find our next staircase. There were stairs on the very next street (Eighth Street).
From there we continued on Church Street in the direction we were going on Court Street. We passed several steep cross streets. The sidewalks on the streets had railings but no stairs. We finally found another staircase north of Fifth Street.
When we reached the top of the Fifth Street Stairs, we followed Court Street back to the Court House stairs and continued on beyond them. A half block after the Court House Stairs we found a public elevator to get people from the Church Street level to the Court Street level.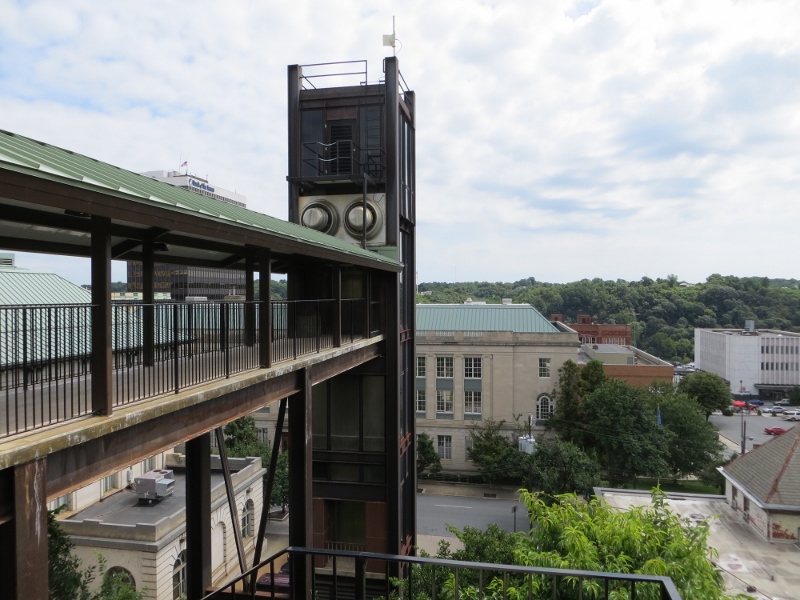 Continuing with our walk, we soon reached Tenth Street. Tenth Street is very steep, paved with cobblestones, and closed to traffic. Tenth Street does have a stairway which we took.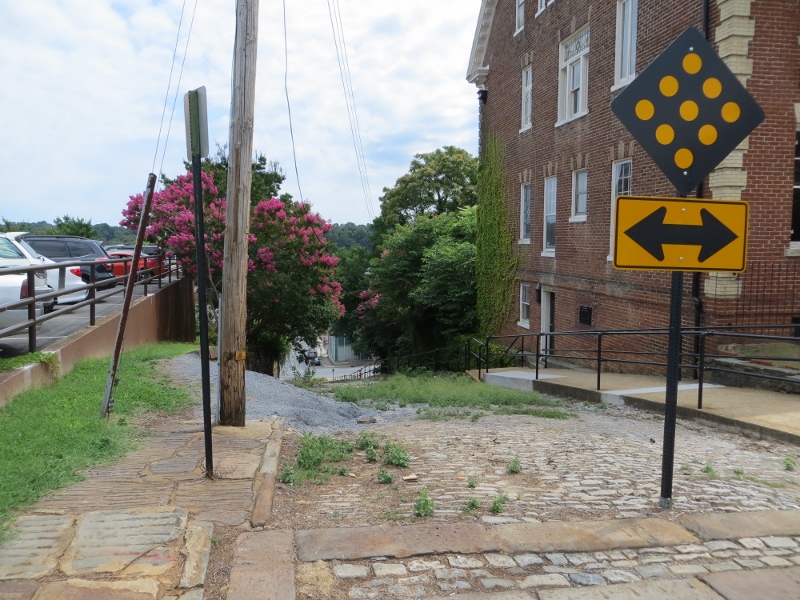 After coming down from the Tenth Street stairs we headed for the riverfront. Several years ago the riverfront was packed with factories and warehouses. Much of the industry has moved on and the area is being redeveloped for mixed commercial and residential use.
To an outsider the redevelopment efforts appear to be successful. There were construction projects everywhere. In between the construction projects there were walkers, runners, and people riding on bikes. It looks like it would be a fun place to live. And even better there are stairs between the terraces.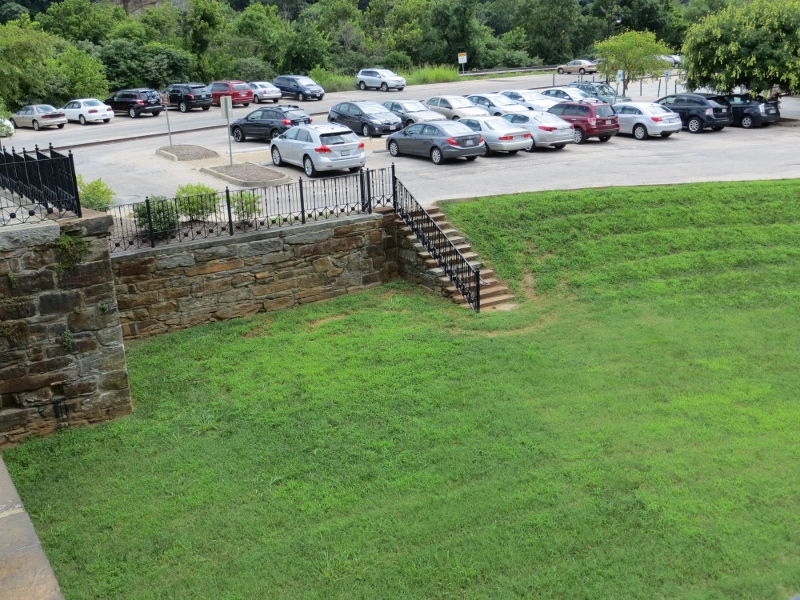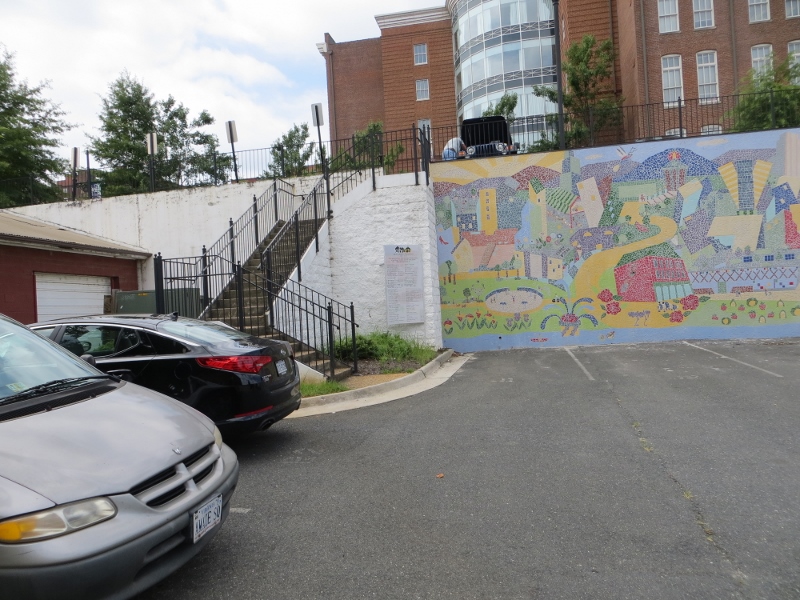 After checking out the riverfront area we headed back uphill along Washington Street. The street came to an end for cars at Main Street, but for those walking it continued on as stairway up the hill.
Once we reached the top of Washington Street we passed an area with beautiful old homes and gardens.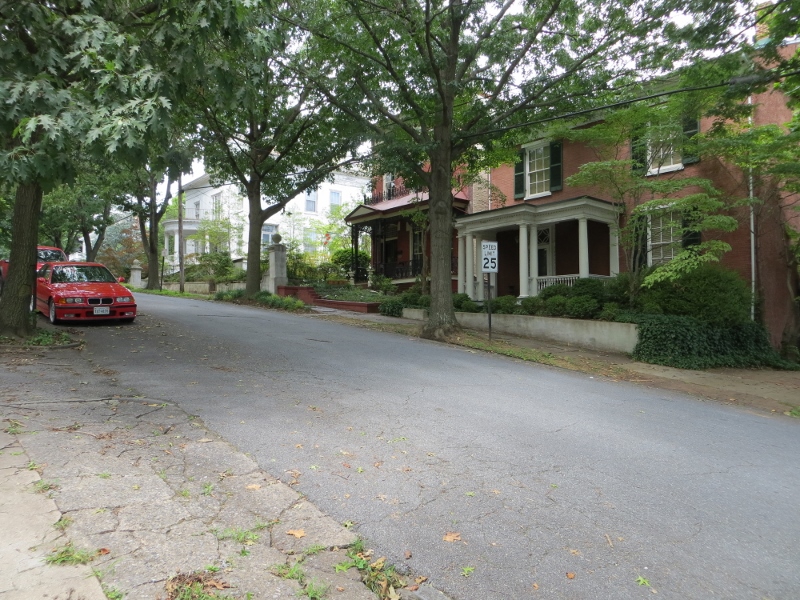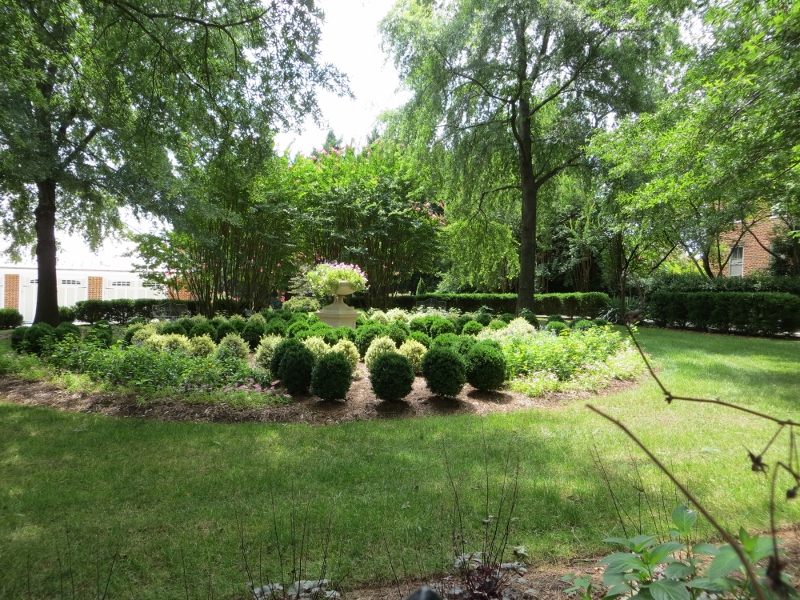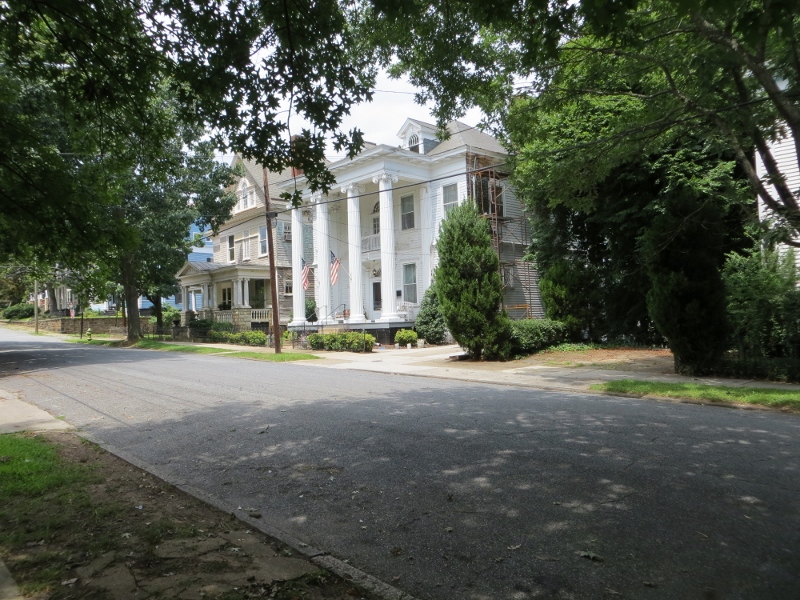 When we reached Clay Street, we found another set of stairs.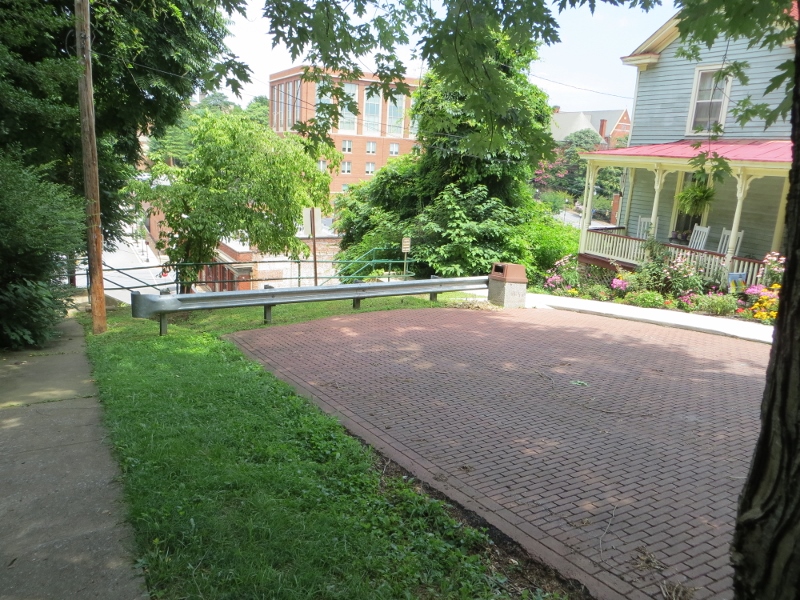 After going down these steps and up another very steep street, we were just down the street from the old court house. Our plan was to go down the Court House steps and back to our car. Just before reaching the old court house, I notice this new stairway.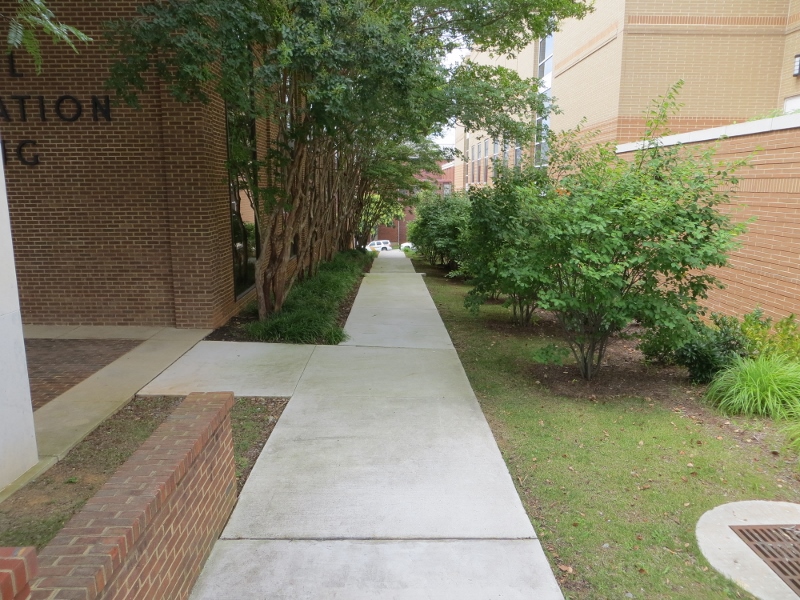 We followed the sidewalk and the stairs and figured we would be done with walk. But when we reached the next street, we saw another stairway a couple of blocks further on.
When we reached the top of the stairs, there was yet another stairway on the other side of the street.
With that final staircase, it was time to leave. I am sure there are many more stairways to discover in Lynchburg. But they'll have to wait for another time.
I hope I have shown a sample of what you can discover when you wander in a place you have never visited before. I also hope that I have shown how stairways and walkways can play a major role in revitalizing an urban area. And by all means if you are traveling through southwest Virginia, take a walk in Lynchburg.