Earlier this month (May 2021), Channel 7 News in Albuquerque (KOAT) featured a story about the Jeffery Epstein – Zorro Ranch southeast of Santa Fe. Yes! That Jeffery Epstein, the now deceased and accused sex trafficking billionaire!
The story prominently featured an incident from October 2020 (last fall) where Epstein Ranch personnel stopped me and my dogs Petey and Sparky at gunpoint while we were on New Mexico State Trust Lands. Here's the link to the Channel 7 news story if you're interested watching it, https://www.koat.com/article/the-future-of-jeffrey-epsteins-zorro-ranch-in-new-mexico/36340115# .
Our adventure on State Trust Lands began innocently enough with my noticing many times a prominent volcanic feature (volcanic dike) dominating the landscape on the west side of NM Highway 41 south of Galisteo, New Mexico (southeast of Santa Fe). Every time I passed it, I thought to myself that it's southern face must be loaded with petroglyphs. But when I slowed down for a closer look I also noticed several NO TRESPASSING signs and assumed the land was off-limits.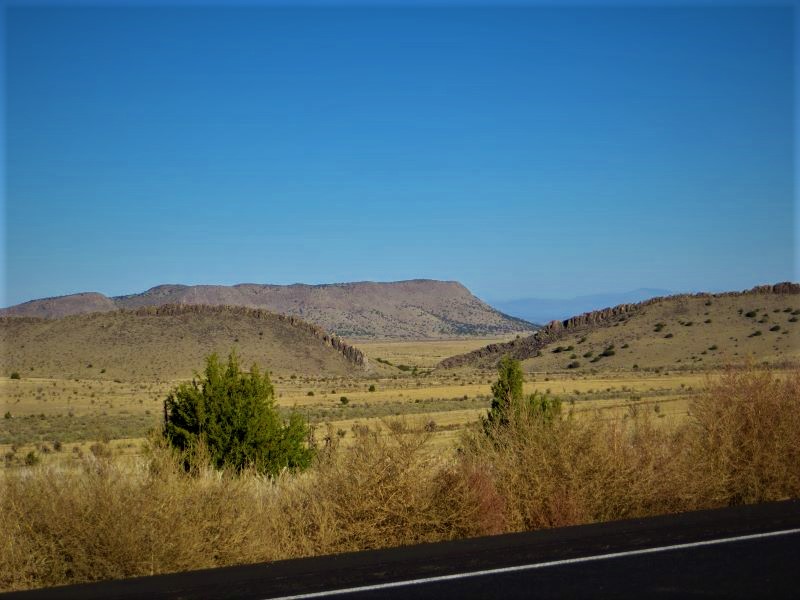 In checking the Internet, I found out that the massive volcanic dike is named the Creston and that it is indeed loaded with petroglyphs. Some of them spectacular. The same source also said that the area was on private land and not open to the public. Oh Well!
But when I took a closer look at a Land Status map, I noticed a small sliver of State Trust Land that I could reach on a county road and could then use that sliver of land to access a small portion of the Creston from the north without crossing Private Land! In this case, that small sliver of State Trust Land was a narrow section of land tucked in between an old Land Grant from Spanish and Mexican days on the east and a normal one square mile section of land laid out by the Public Land Survey taken shortly after what is now New Mexico became part of the United States.
Since I have a New Mexico State Land Office Recreation Access Permit, checking out the Creston was back on my radar scope. Please keep in mind that State Trust Land is not Public Land. State Trust Land was given to the State of New Mexico upon statehood to provide a source of income to support schools, universities, and other public entities. Because of this the State Land Office is required to obtain income for all uses of State Trust Lands. Income can be in the form of agricultural grazing leases, oil drilling leases, easement leases, hunting licenses, and yes – even Recreation Access Permits. If you do not have a permit, you can be charged with illegal trespassing if found on State Trust Lands.
If you are a backcountry explorer, a Recreation Access Permit is a good addition to your wallet. Having one will open up a whole new realm of land to explore. You can obtain a pass at www.nmstatelands.org .
With this new information, I made a scouting trip to make sure that the county road was usable. Please keep in mind that not all roads shown on a map are drivable. While on our way to the county road, we could see from NM Highway 41 the main Epstein Ranch house (or palace) sitting off in the distance on top of a bluff almost two miles south of the Creston.
With the scouting trip a success and the county road proving to be usable, I then returned home to plot a route with my topo map software that would get me to the Creston without crossing private land. I then entered several waypoints from the route into my handheld GPS unit to use for navigating. With that, the dogs and I were now ready to check out the Creston!
On the appointed day of our adventure, we parked the car on State Trust Land, slipped under the fence, and started walking to the Creston. If you're in the backcountry on land open to exploring, it is quite all right to climb over or crawl under a fence. Fences are there to control where livestock can graze and are NOT a barrier to your exploration.
If you do make it to the backcountry, please leave everything as you find it. If a gate is open, leave it open. If it's closed, close it behind you. If you cross a fence line, don't damage the fence or any other rancher installed infrastructure such as a water tank.
With the dogs and me now on our way to the Creston, I used my handheld GPS unit to go from waypoint to waypoint to make sure we were on State Trust Land. We even walked on the roadbed on the long abandoned New Mexico Central Railroad for part of the walk.
Everything was going as planned and it looked like we would soon make it to the Creston. But then I could see a red pickup truck trailed by a cloud of dust charging through a gap in the Creston and heading right toward us. The pickup must have come from the main house of the Epstein Ranch more than two and half miles from where we were. I wasn't sure what the issue was but figured that it was someone checking on why we were out there. I had no idea how anyone would have noticed us on such a vast expanse of land. Perhaps there were motion detectors or sensors located throughout the area.
The pickup truck kept charging toward us and then stopped about 200 feet short of us. A woman jumped out of the truck and pointed a rifle at us and shouted, "STOP WHERE YOU ARE – YOU ARE ON PRIVATE LAND!!"
Without lowering her rifle and using her open truck door as a shield, she said that we would be prosecuted and arrested and that her supervisor was on his way. I asked if I could give the dogs some water and food while we waited for her supervisor, and she shouted back, "NO – DON'T MOVE!"
I told her, "No problem – we're not here to cause any issues and that we have been on State Trust Land for the entire time." She shouted back, "You are on posted PRIVATE LAND and illegally trespassing!"
Finally, another cloud of dust came racing through the gap in the Creston and in a few minutes an identical red pickup pulled up with her supervisor. The supervisor walked over to us and asked us, with an Australian-like accent, why were we on their private land. I told him that we were on State Trust Land and that we wanted to check out some of the petroglyphs on the Creston.
He insisted that we were on private land that it was prominently posted with NO TRESPASSING signs and asked how did we get here. I told him that we parked on the county road (almost two miles behind us) and crawled under the fence. I finally said that we're not here to cause any problems and that we would be happy to walk back the same way we came in. After some thought, the supervisor agreed to let us walk back to the car.
To make sure that we were as far away from Epstein land as possible we walked along the fence on the eastern edge of State Trust Land. Along the way we noticed that the Epstein Ranch had hung NO TRESPASSING signs on the fence separating non-Epstein private land (a former Land Grant) to the east and State Trust Land to the west.
As we got closer to our car, I spotted two identical red pickup trucks driving on the county road. My guess is that it was the Epstein Ranch personnel making sure that I parked where I said we had parked. We finally made it back to the car and headed home.
When I got home I called a person that I know at the State Land Office and told him about the incident. He was shocked and asked that I file an incident report. I agreed and after filing the report, I received an email from the Land Office that they were taking this matter very seriously and that State Land Commissioner had already been alerted to the incident.
A month later I received a PDF from the Land Office of the letter that they had sent to the Epstein empire. The letter was sent to the Zorro Ranch in New Mexico, a law office in New York, an Epstein entity in Palm Beach, and another one in the Virgin Islands. The letter STATED:
That Epstein Personnel had interfered with the legal activities of a State Recreation Access pass holder (the dogs and me).
That Epstein Personnel had illegally trespassed on State Trust Land. (The State had previously cancelled the Epstein Ranch agricultural lease – which meant that Epstein personnel could not go where I was stopped.
That the Epstein Ranch had illegally hung NO TRESPASSING signs on State Trust Land and that they had what amounted to three weeks to remove them. The statement went on to say that since Epstein personnel were not allowed on State Trust Land and that they would have to make arrangements with the State Land Office to access the land where the signs were hung.
That Epstein Ranch personnel had inappropriately brandished weapons toward me, and that if it ever happened again that the State of New Mexico would prosecute the Epstein Ranch to the fullest extent of the law.
I was completely vindicated, and if you need any encouragement on why to acquire a State Land Office Recreation Access Permit, this is it. The State will stand up for you as Recreation Access Permit holder!
With that, the dogs and I did return to the county road to repeat our original Creston game plan. This time we did make it to the Creston. But I must admit that I was not completely comfortable during the hike and was very content to turn around as soon as we reached the Creston. We'll save looking for petroglyphs for another time. We did, however, spot an arrowhead along the way and left it in place for the next person coming along to enjoy.
We also saw that the NO TRESPASSING signs were indeed removed and noticed the ATV tracks of the crew that removed the signs. So with that, our wandering adventure on the edge of the Jeffery Epstein empire came to an end!
Four and half months after walking to the Creston, I received an email from Channel 7 news. The email said that they working on a story about the Epstein Ranch and that the State Land Office had told them about my incident. Channel 7 asked if the dogs and I would agree to an interview about the incident, and that's how we ended up in a news story.