If you've read The Gentle Art of Wandering you know that LA and many other communities have public stairways. These are not stairs providing a grand entrance into a public building or part of a tree line promenade through a city park. These are stairs in the middle of residential neighborhoods. Most were built when the only way for people to get around was on foot or by public transportation. They are perfect for wandering and allow you to explore a city from an unexpected angle.
I visited Los Angeles two years ago to see how the principles of wandering would play out in an urban environment by walking the stairs in the Echo Park and Silver Lake neighborhoods. That walk turned out to be one of the best trips I ever took and gave me a whole new respect for Los Angeles. Rather than touring the city by car, I was on foot and saw things that I never could have imagined were there. The adventure was every bit as satisfying as a backpack trip in the Sierra Nevada Mountains.
I returned to Los Angeles a couple of weeks ago to give a talk at a local REI and had time the next day for another stair walk. I decided to go back to the Echo Park and Silver Lake area to pick up some stairs I did not climb the first time. I brought along a copy of A Guide to the Public Stairways of Los Angeles by Bob Inman to help me find them.
To give you an idea of why walking stairs in a big city is so special, let me show you some of the places I visited in this most recent walk. I started the trip by parking a couple of blocks from an old Pacific Electric Railway right-of-way. I did walk the right-of-way two years ago, but this time I wanted to climb a stairway that intersected it. At one time that stairway would have led people to a streetcar station.
The right-of-way itself is worth a special trip. It is like a secret canyon in the middle of a big city. Except for a handful of outsiders, the canyon open space is almost the private domain of the neighborhood. In fact when I entered the canyon, a neighbor had set up an archery target and was practicing archery.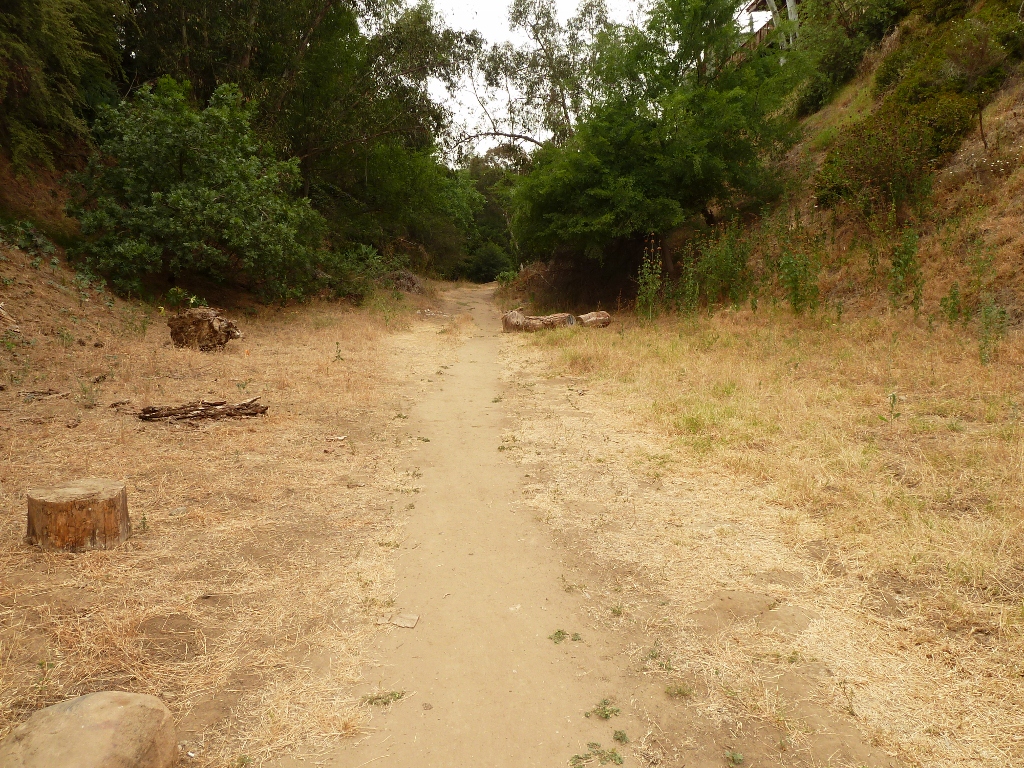 After a half mile walk through the canyon, you reach the stairway.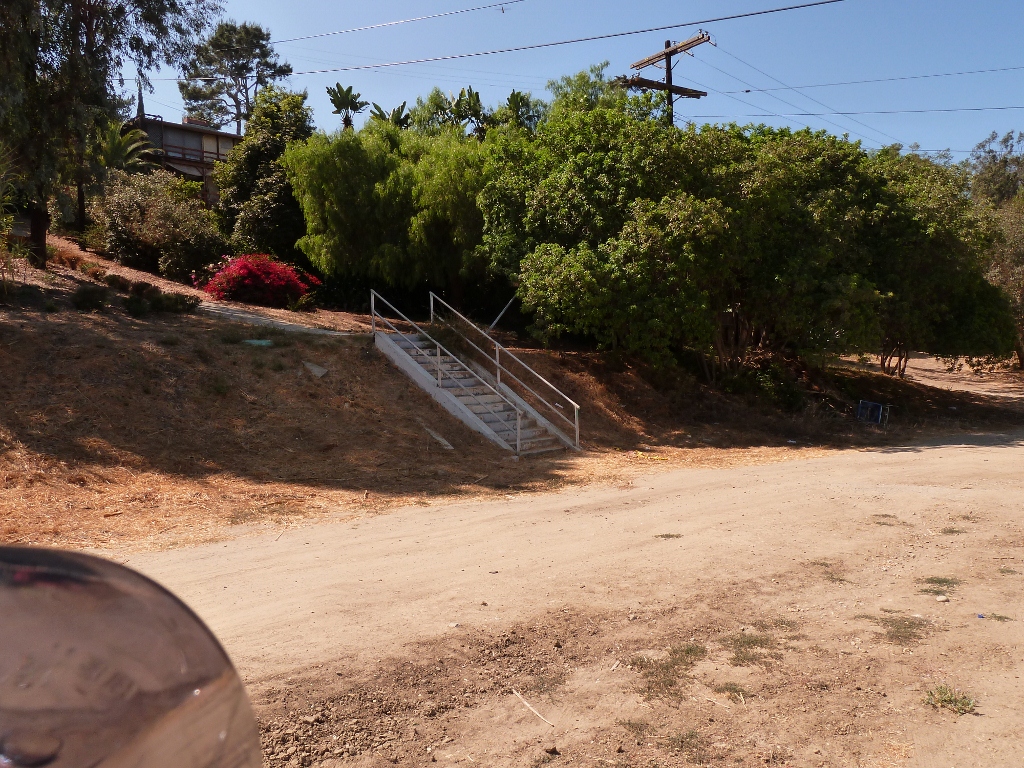 The stairway is way more than the single fight that you see in the picture. That ramping sidewalk to the left connects to more flights of stairs. You'll even have to cross a street before the stairway ends.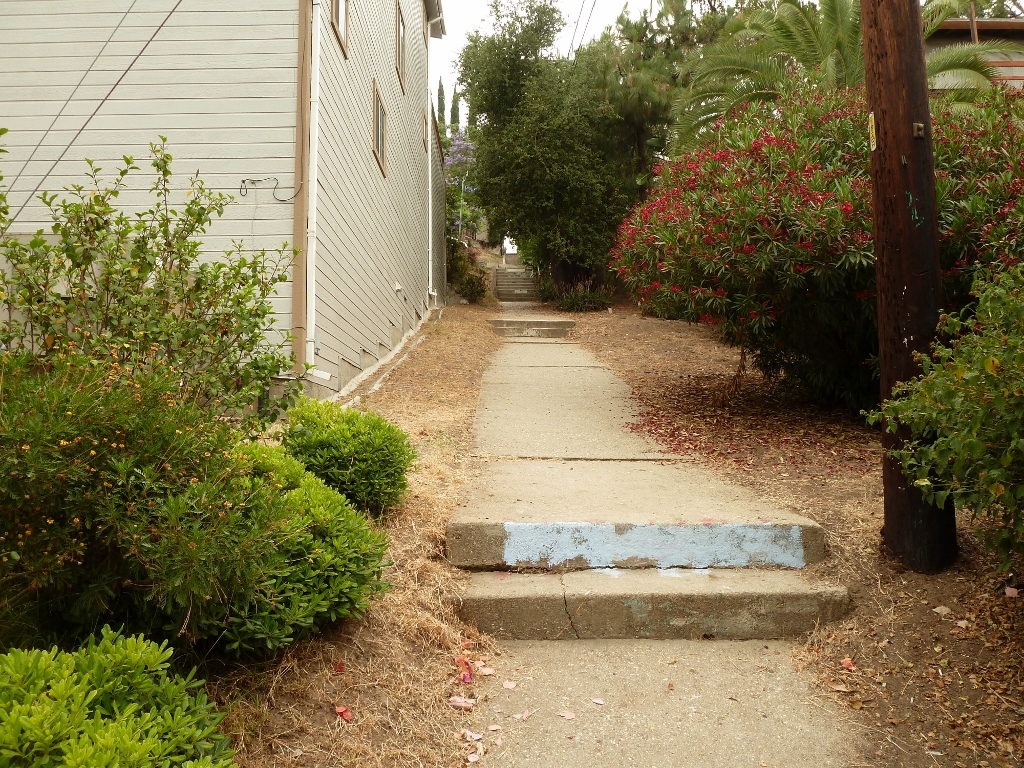 When you reach the end of this series of stairs, if you make a right hand turn you'll reach these stairs in a few minutes.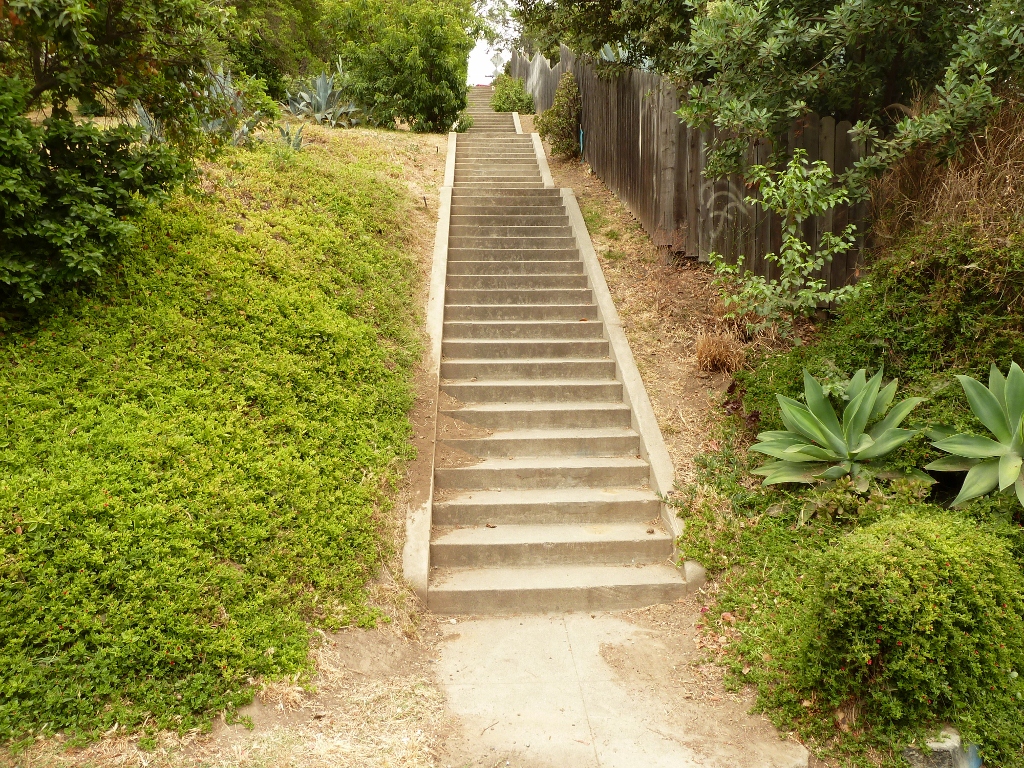 If you turn around when you reach the top of these stairs, you'll see this sign.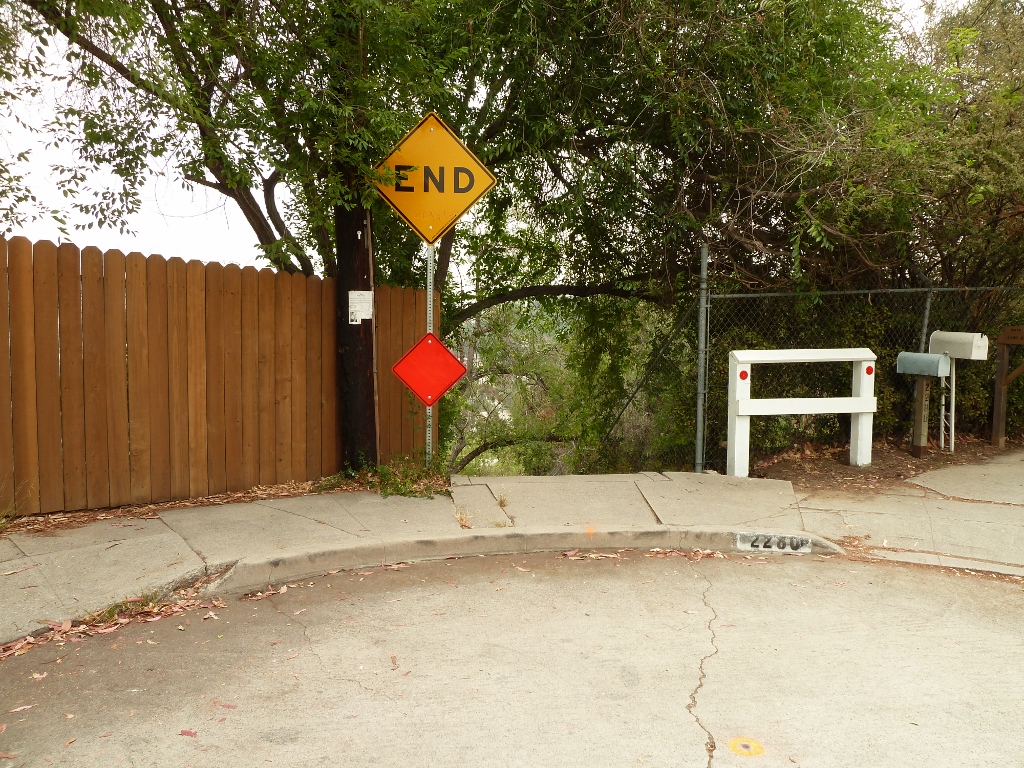 It may be the end of the road for a car, but it does not mean the end of your walk. Something that can only be reached by foot is one of the many things that make the stairs so special. While a car will have to turn around; you can keep going. You will see these signs wherever the road ends and the stairs continue.
If you continue walking, you'll soon reach these stairs.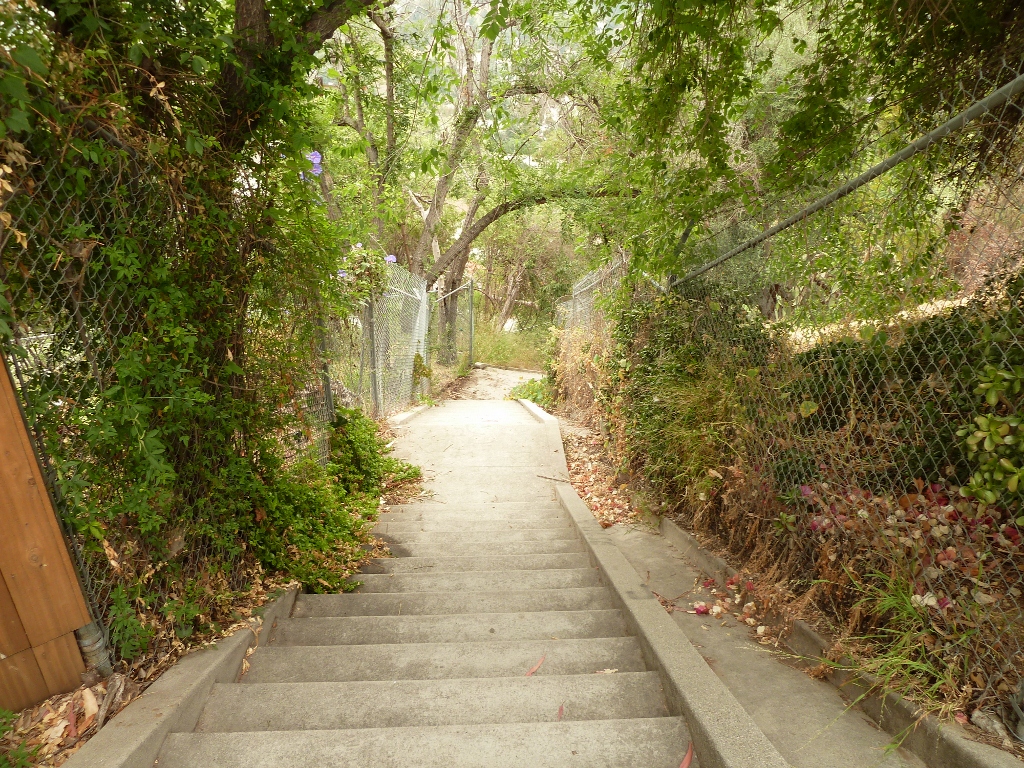 When I reached the bottom, I ran into this VW bus. I'm not sure if I have ever seen such a pretty car.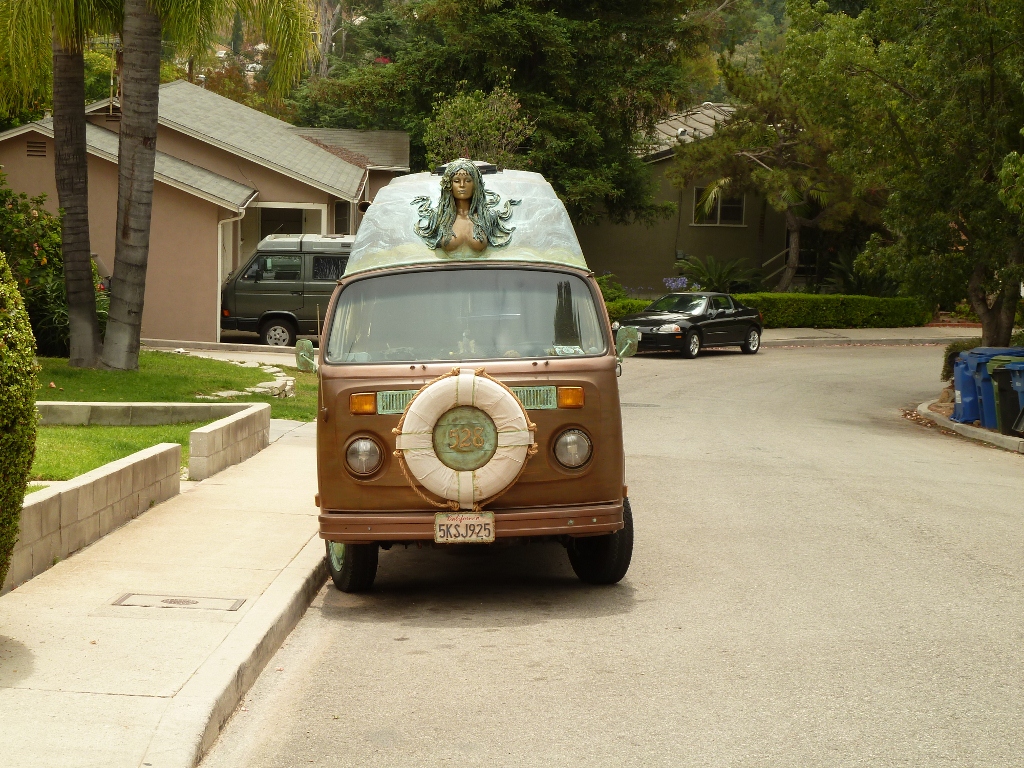 The walk continued with stairs and similar surprises everywhere. As you walk through these streets, feel free to go in any direction you want. You'll find something no matter which way you wander. As you wander, look for cues to send you on your next direction. One is when you see a sign saying 'Not a Through Street.'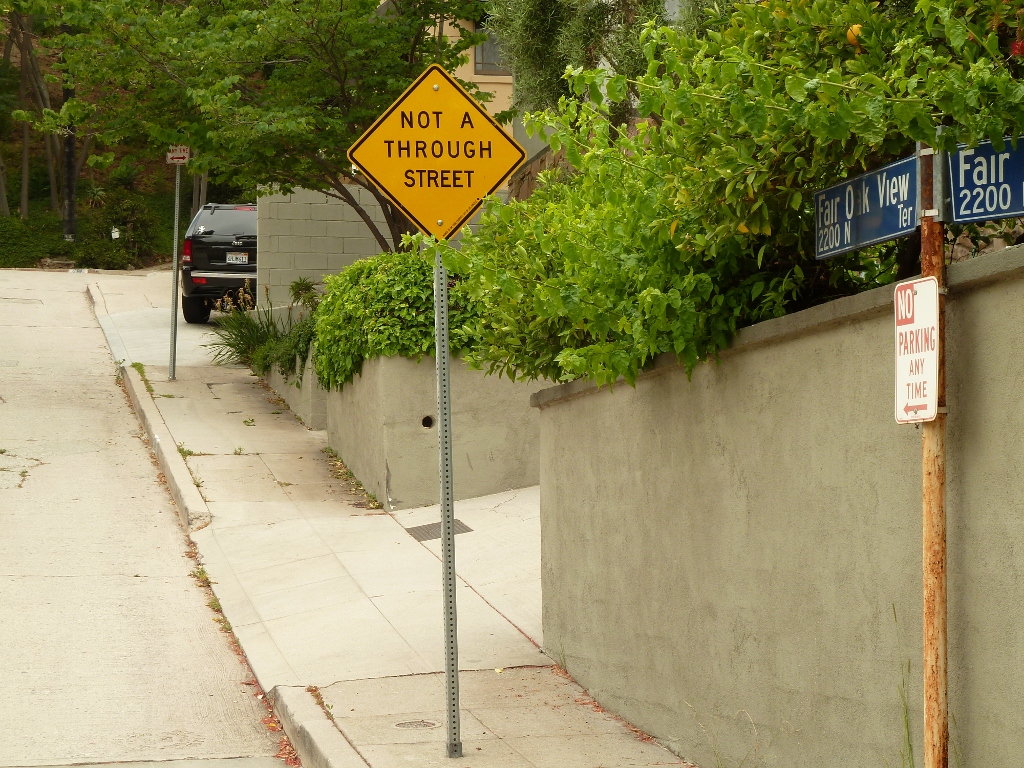 Keep going. If you look at the end of the street, you'll see a stairway. So the sign is not entirely correct. Just because it is not a through street for cars doesn't mean that you can't continue walking.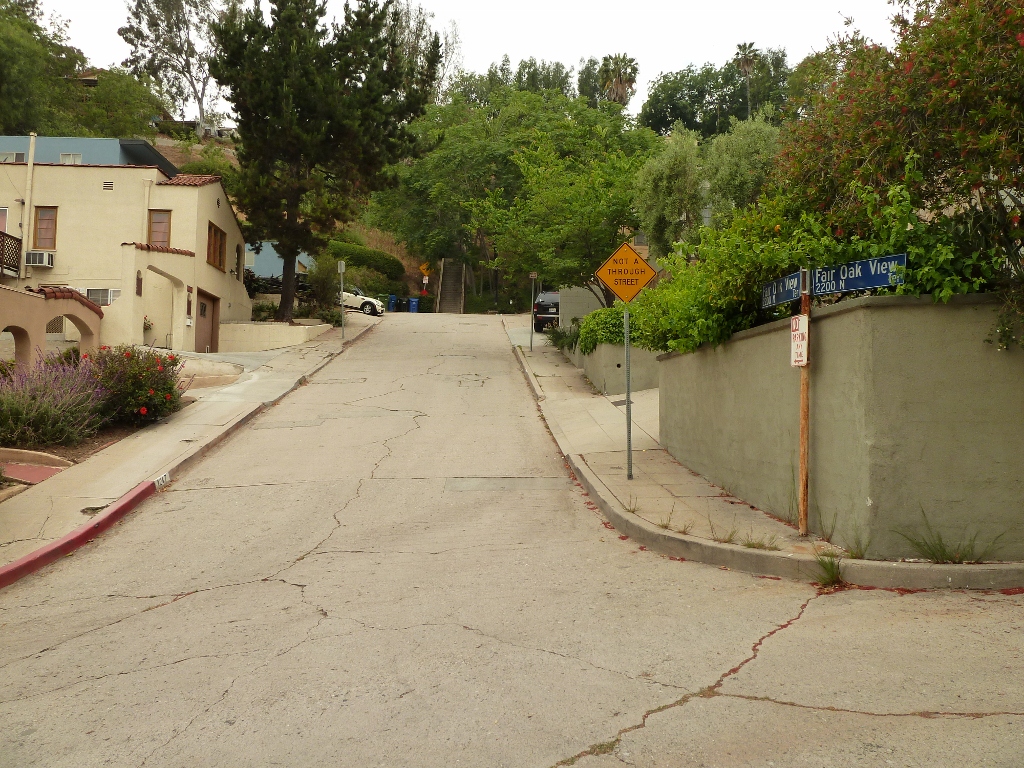 Sometimes there will be a footpath at the end of the road.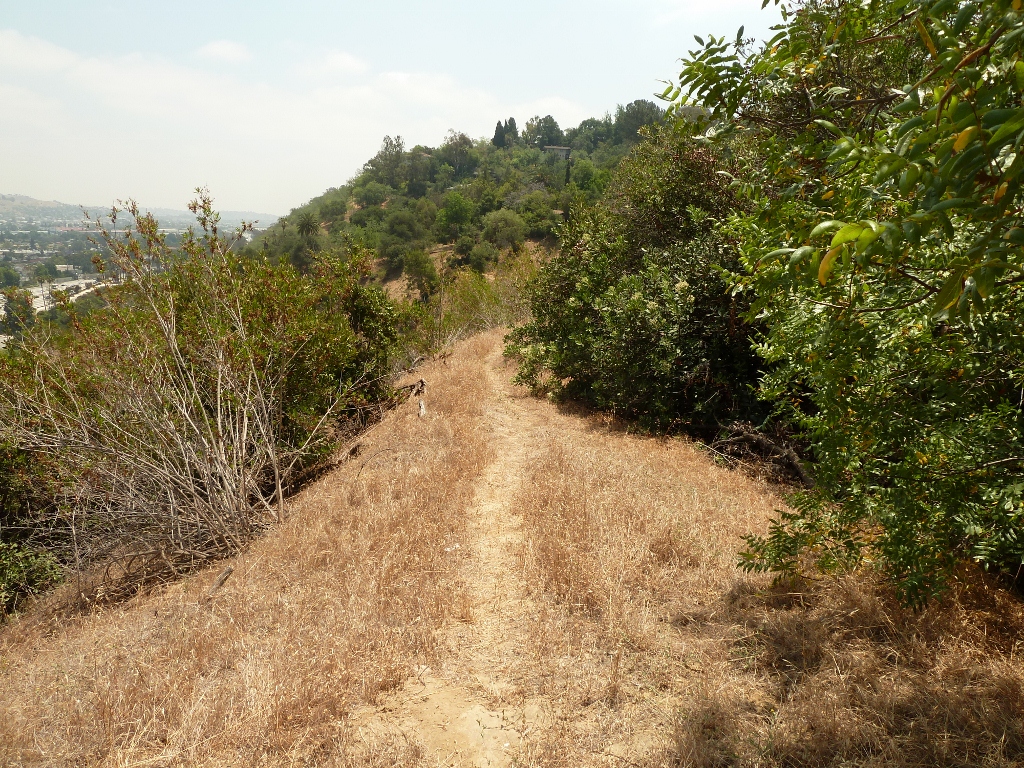 Or a gated road; there is no reason for you to stop walking.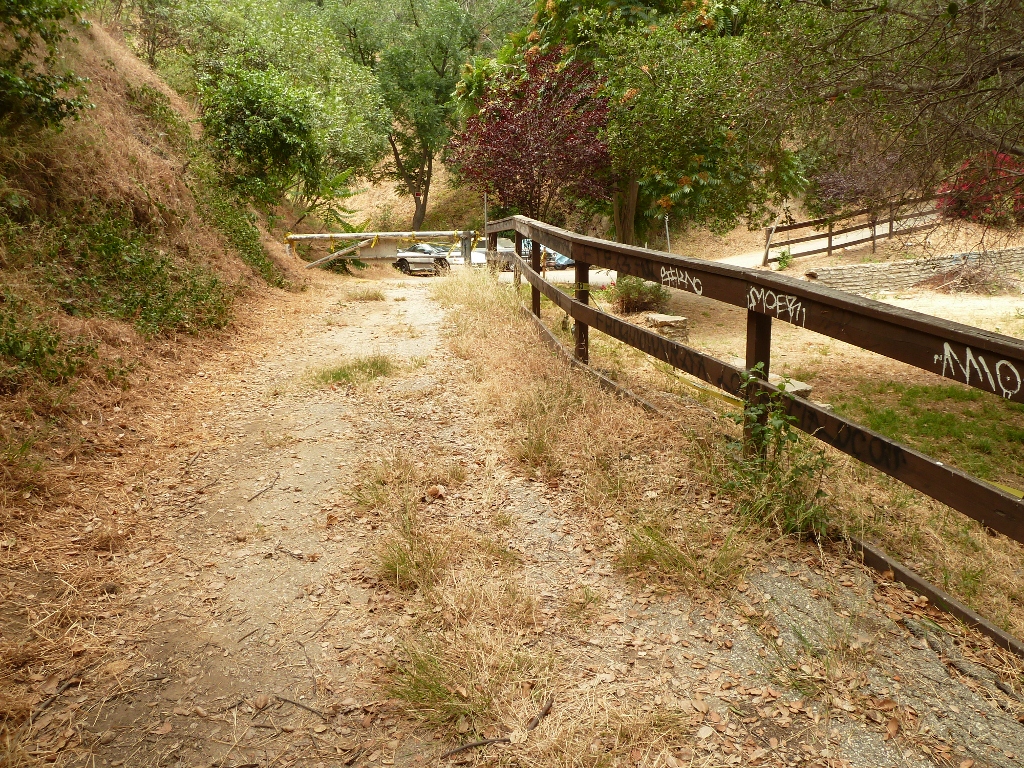 Sometimes you'll find paths while climbing the stairs.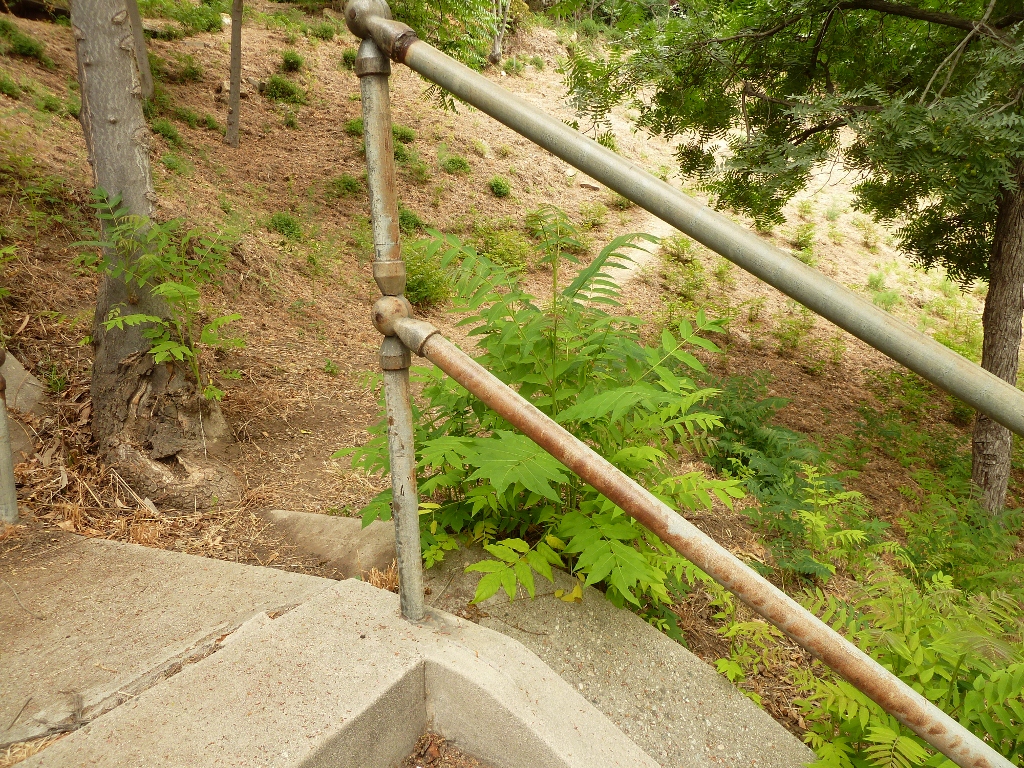 This path happens to lead to another stairway.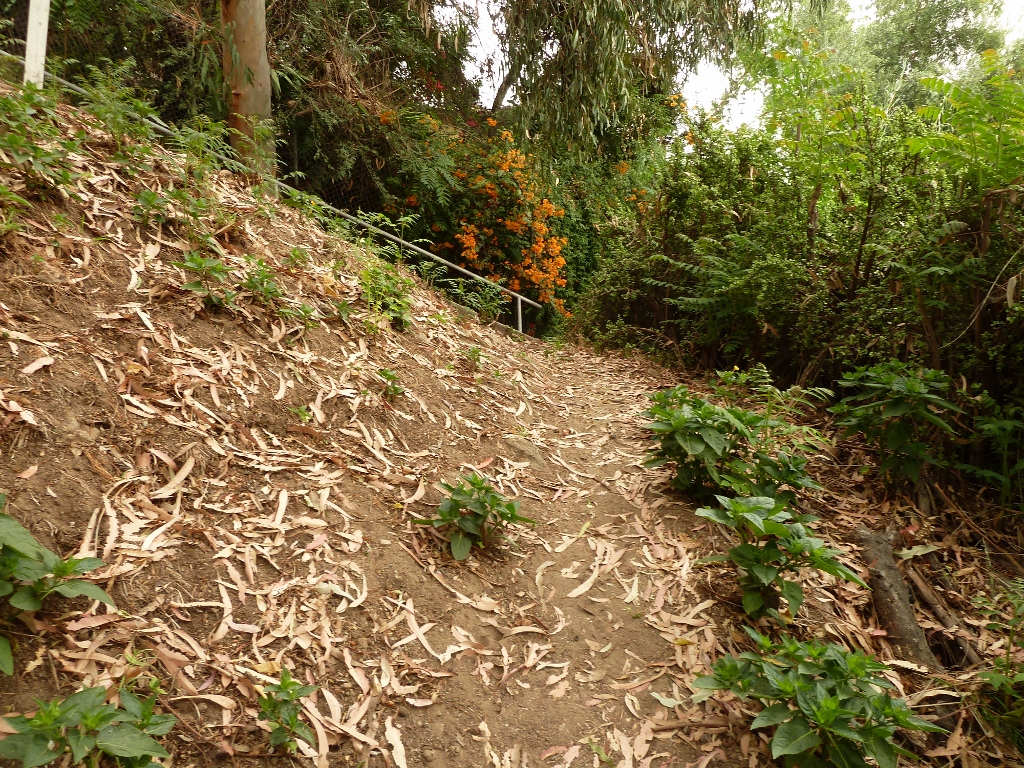 Some stairways are the street, and the only way to reach the houses on the street is by climbing the stairs. I would guess the mailman serving this street has very strong legs.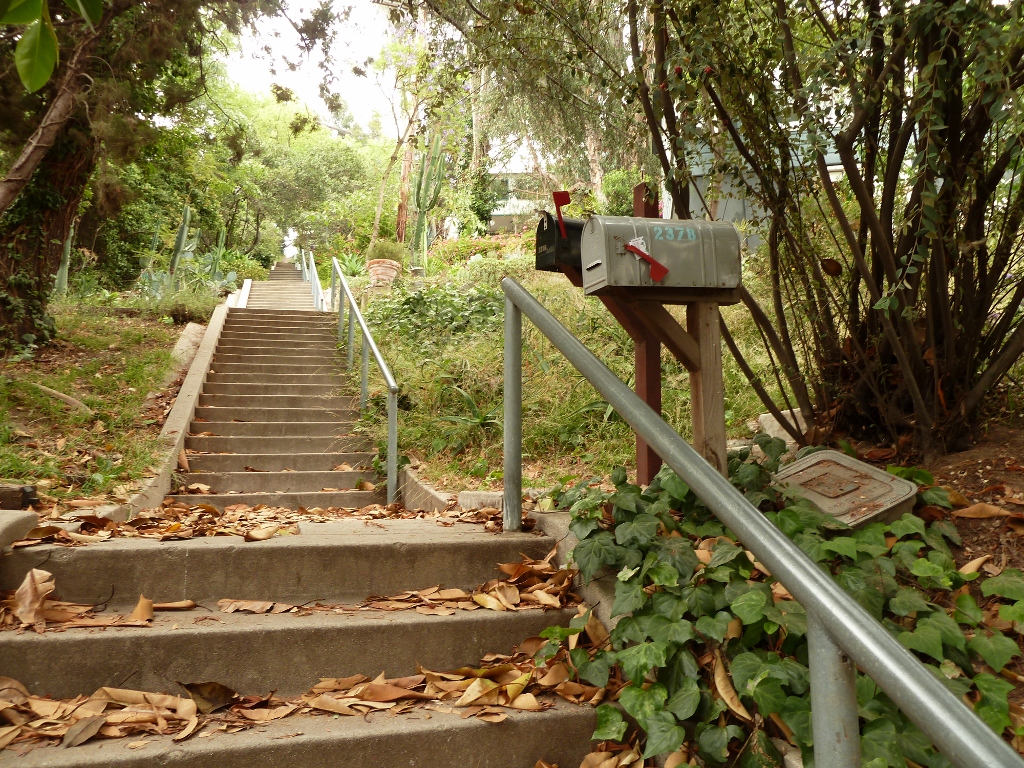 There is even a building lot for sale on this stair street.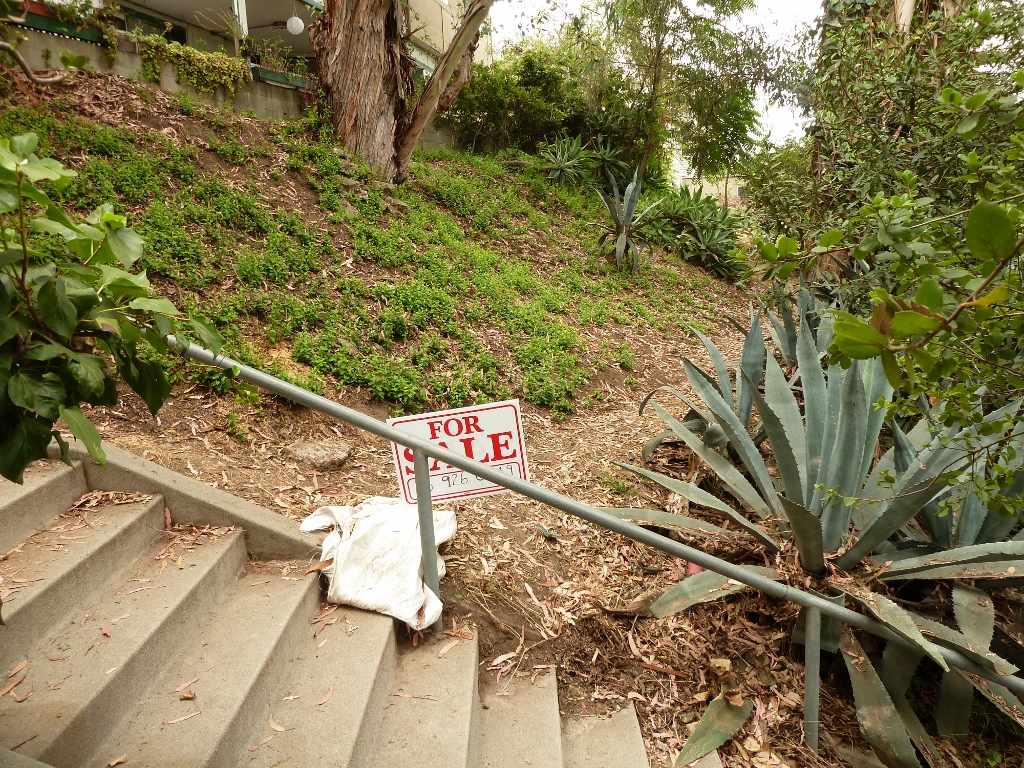 Although it must be tough to build on the side of a hill on a street that you can only access by foot, there are new houses being built on stair streets. 
But there are some stairways that are so special that you'll have to pinch yourself to make sure you're awake. This particular one starts in the middle of the block and could be easily missed if you were not paying attention.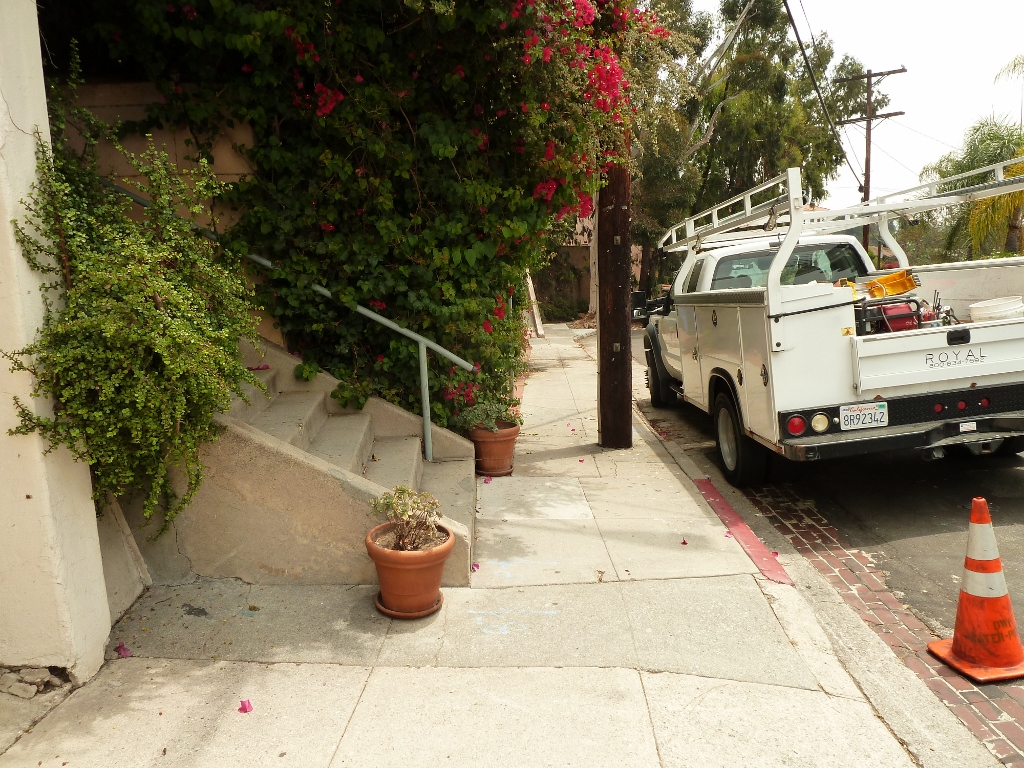 But if you do pay attention and start climbing these stairs, 
You will run into a place that is almost magical.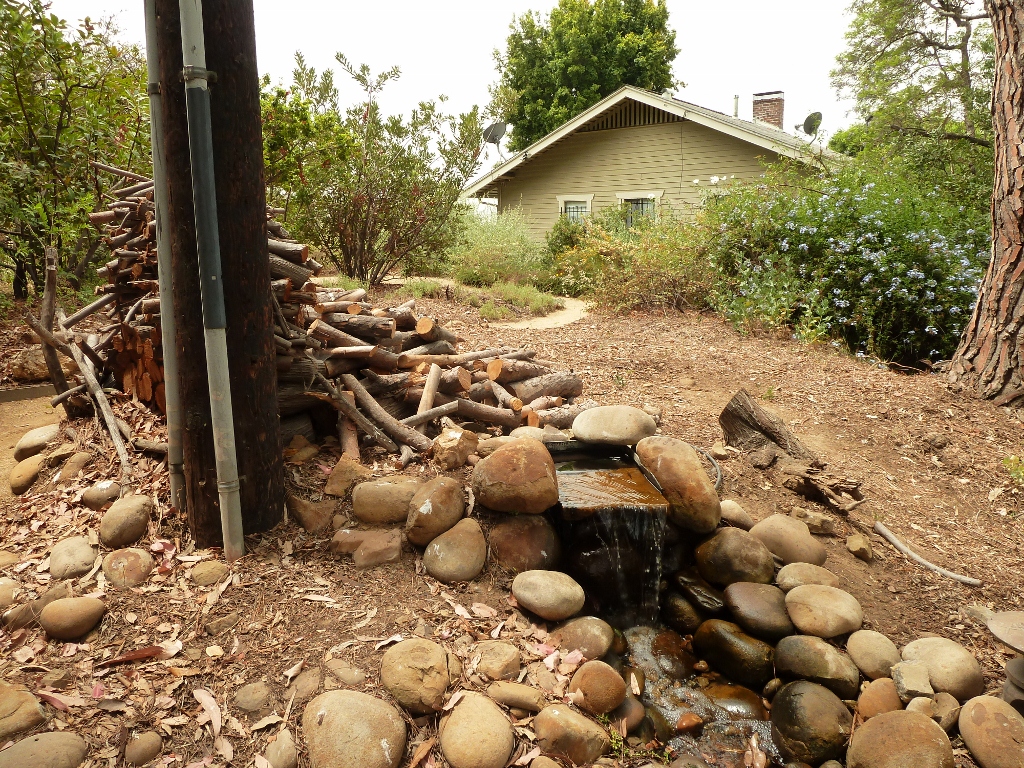 It starts with a running stream that one of the neighbors built and continues on as a brick path. Don't stop now; it only gets better.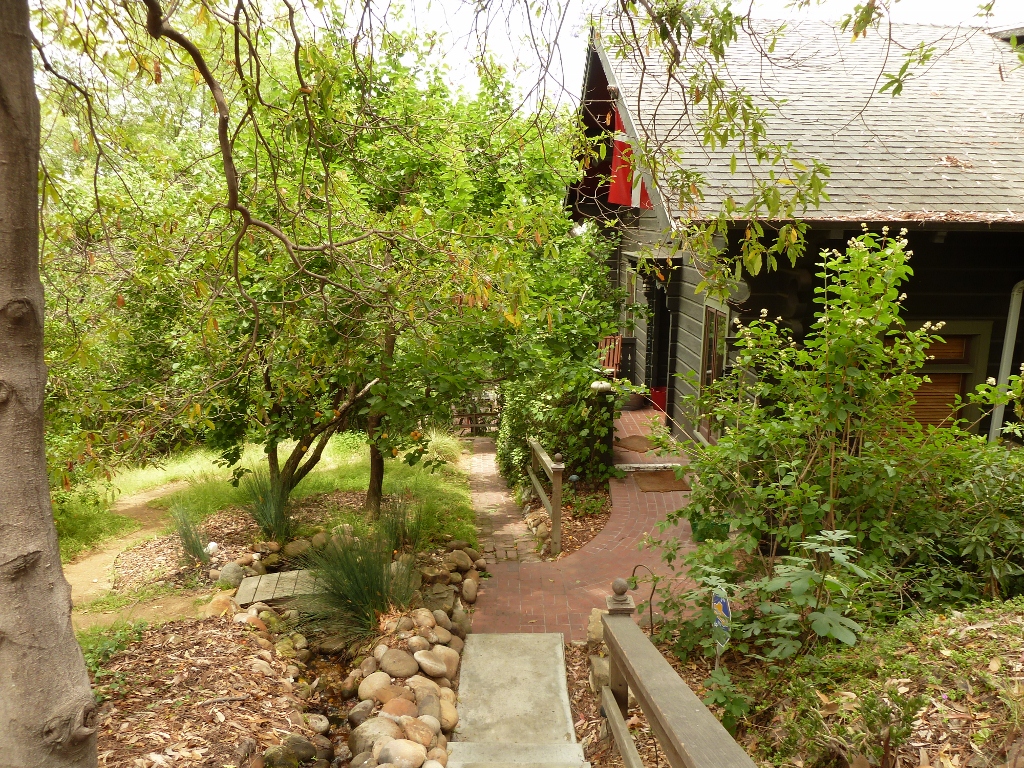 Keep following the brick path past the hammock.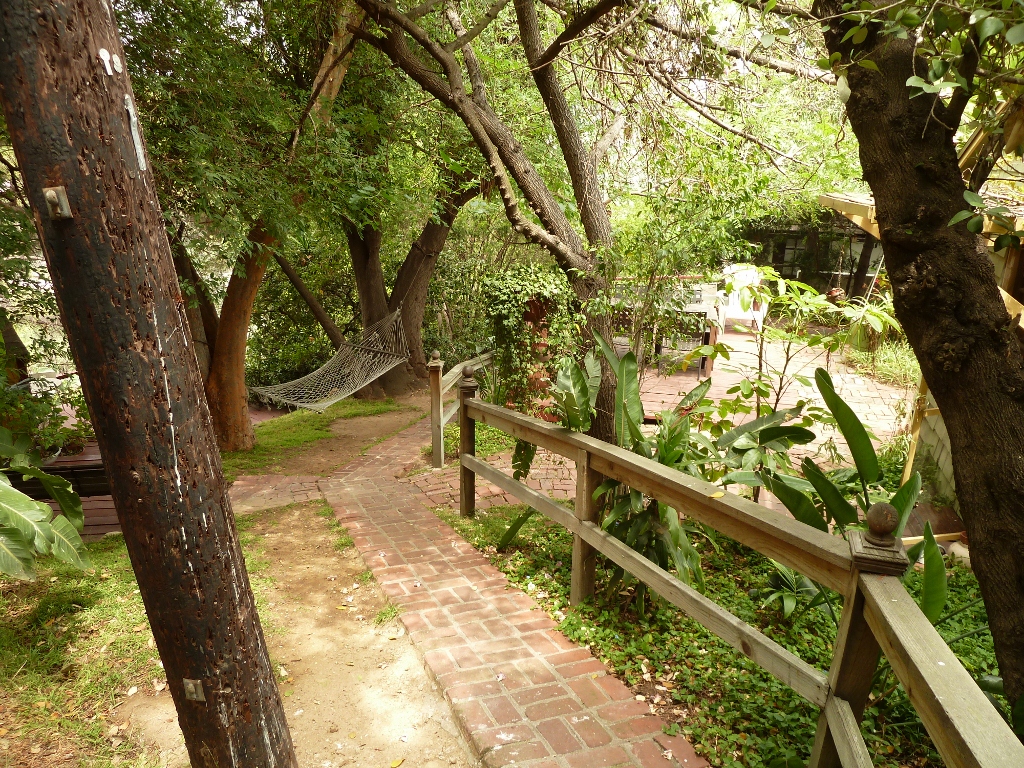 When you reach this intersection, turn to the left. I was actually standing in the path where you'll be walking when I took this picture. 
You'll now be following this path. This path by the way is a city street. 
How many city streets have view like this?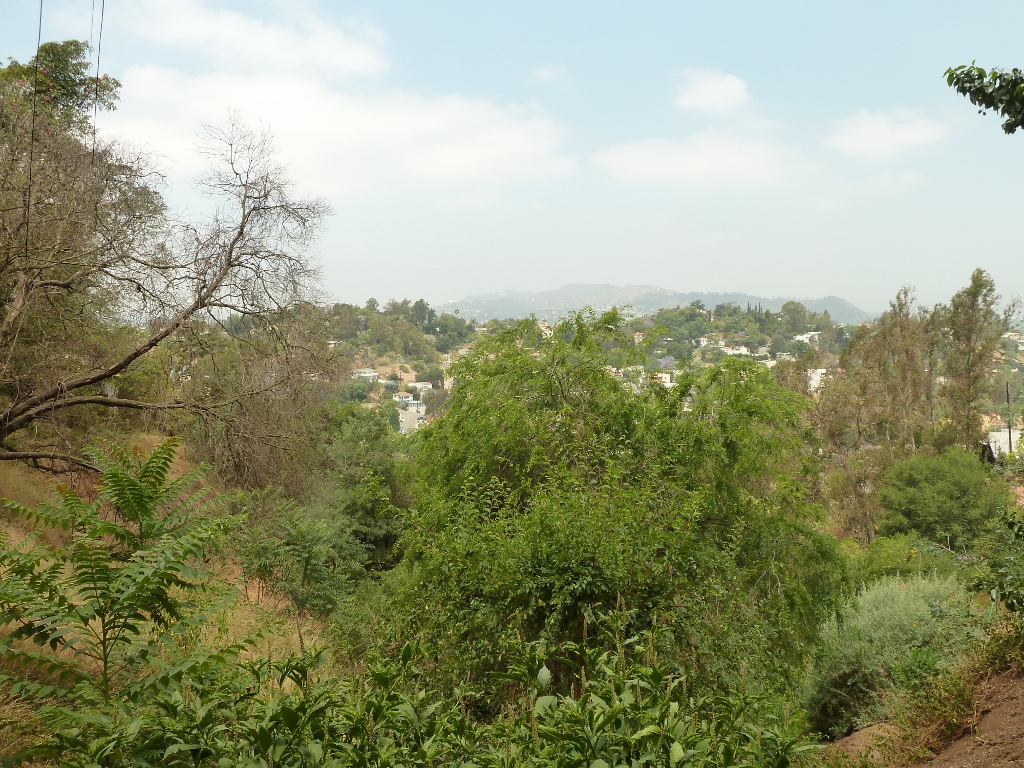 As you continue along the path, you'll soon run into houses right on the path.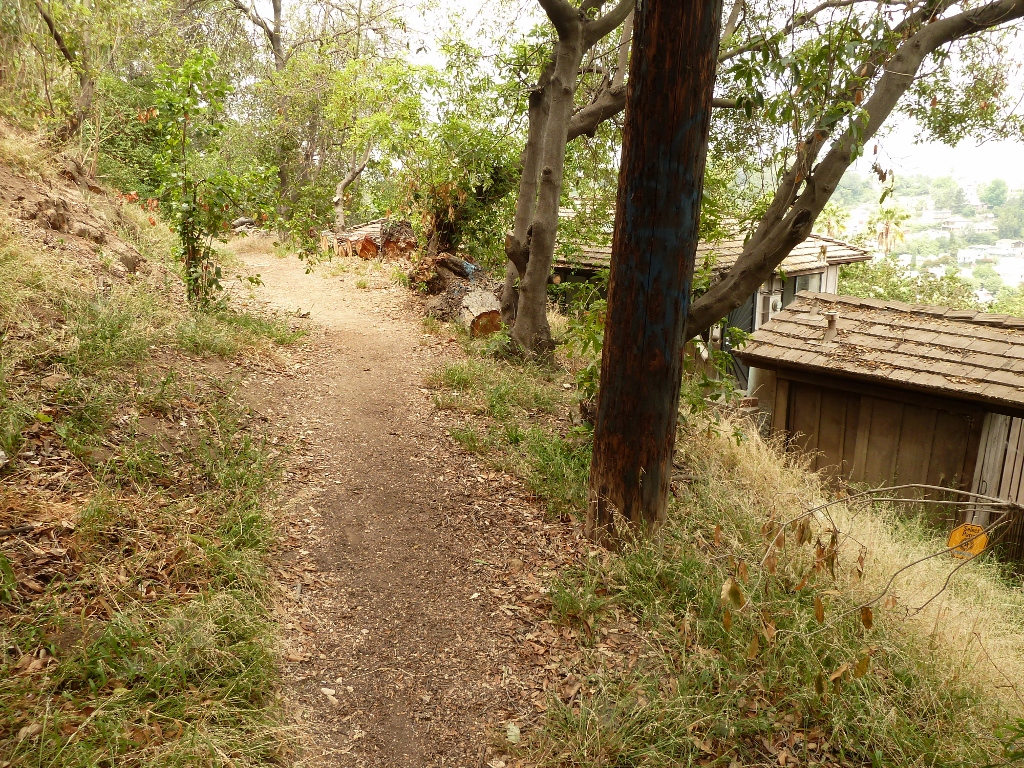 When you reach the end of the path, you can turn around and go back to the intersection to take these steps (to the left) to return to the real world.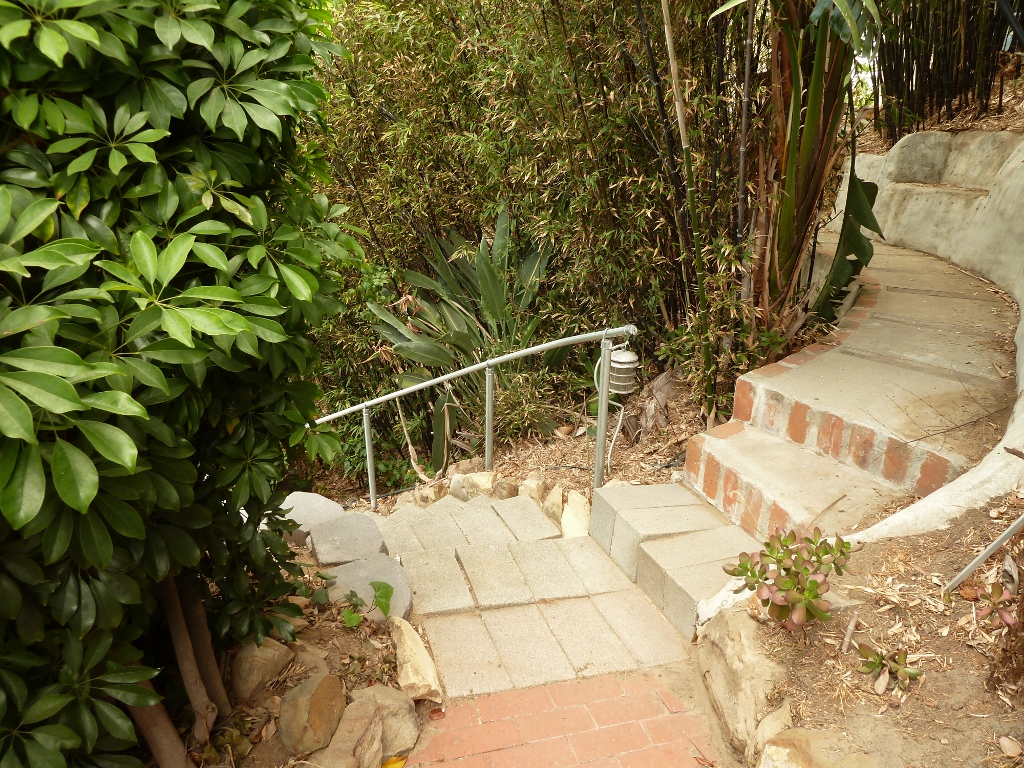 You're not quite yet in the real world as you still have to walk this street to get there.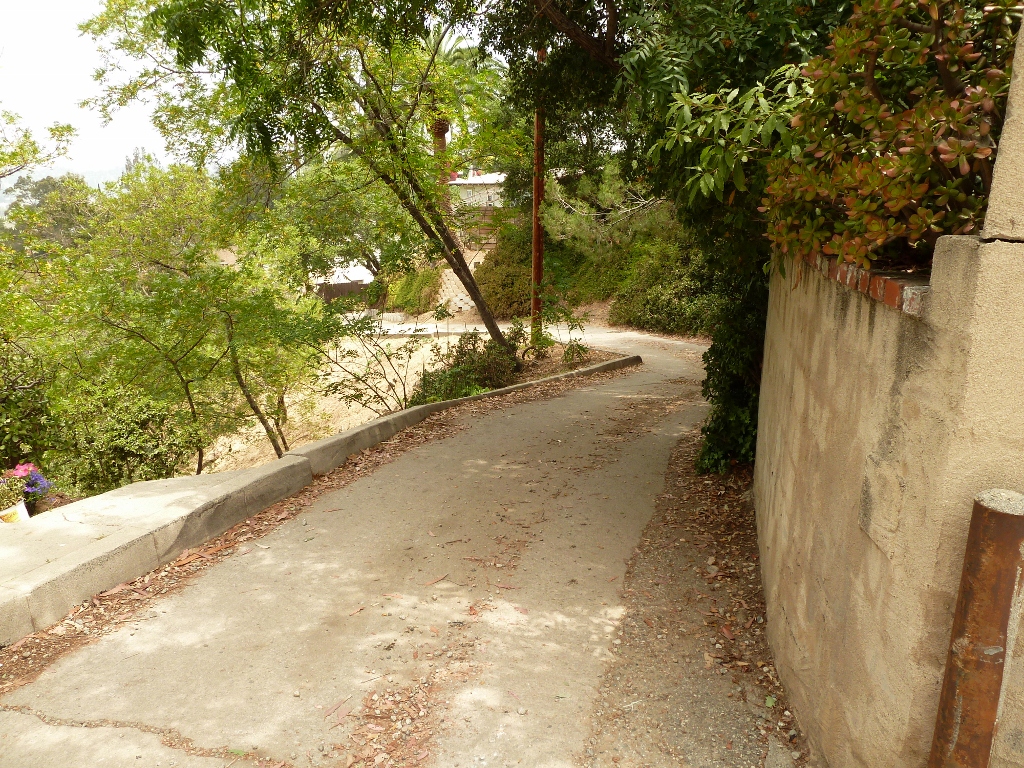 What you have seen in this blog post is only the tip of the iceberg. The whole walk was as fantastic as what you have seen. Walking through this neighborhood is like living in fairy tale where it is happily ever after. If you have a chance to visit Los Angeles, all I can say is to find the time to wander as much as you can through the stairway neighborhoods.