Exploring Galena and Dubuque on Foot: By Sidewalk, Stairway, and Path
Exploring Galena and Dubuque on Foot is a series of walking tours through two of the most scenic and historic communities in the entire country! Along the way you'll climb Dubuque and Galena stairways into historic neighborhoods, ride a funicular railroad, discover Native-American mounds, pass the finest collection of 19th century buildings in the country, trace the footsteps of Ulysses S. Grant, run into vibrant murals, and uncover many other surprises. Galena and Dubuque were built to be explored. Especially on foot!
The author, David Ryan, is a dedicated hiker, wanderer, explorer, and author of several outdoor and walking books. The author and his dog Petey developed the walking tours over several visits to the Upper Mississippi River valley. A current resident of New Mexico, David Ryan has significant Galena roots, and this book, Exploring Galena and Dubuque on Foot, combines his penchant for history, love of walking, and knowledge of the Galena and Dubuque area.
The book has 144 pages, 5 maps, and over 100 photographs.
_______________________________________________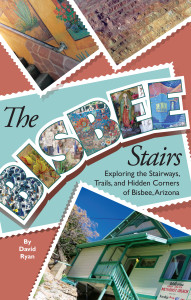 The Bisbee Stairs: Exploring the Stairways, Trails, and Hidden Corners of Bisbee, Arizona
The Bisbee Stairs is a remarkable guide to exploring America's most interesting small town on foot. This guide will lead you to the hidden corners of Bisbee. Along the way you'll climb hard-to-find stairways, pass by amazing houses with wonderful yards, discover shrines, and see works of art everywhere! When you finish your walk you'll think of Bisbee as a continuous three-dimensional folk art exhibit and find yourself wanting to come back again and again. Bisbee is that interesting!
To write this book, the author, David Ryan, made several trips to Bisbee to walk every street, most of them more than once, and climbed every stairway he found along the way. The book describes 82 stairways and mentions many others. The 82 described stairways average 78 steps. 22 of them have over 100 steps. In addition to stairways, the author shows you where to find the trailheads to continue your walk by hiking in the hills high above Bisbee.
The book's 104 pages have over 80 photos, maps, and illustrations.
_______________________________________________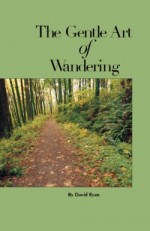 The Gentle Art of Wandering is about being mindful and connected while walking, hiking, or traveling. It is allowing yourself to see what is already here and then letting what you see guide you on where you go. The writer, David Ryan, encourages you to discover and enjoy everything around you when you go outdoors. The book provides many examples of how you can use the mindset of "wandering" to make your own amazing discoveries when you go out. Once you acquire this mindset you can apply it to all facets of your life and find yourself with a series of unending adventures. Continue Reading →
_______________________________________________