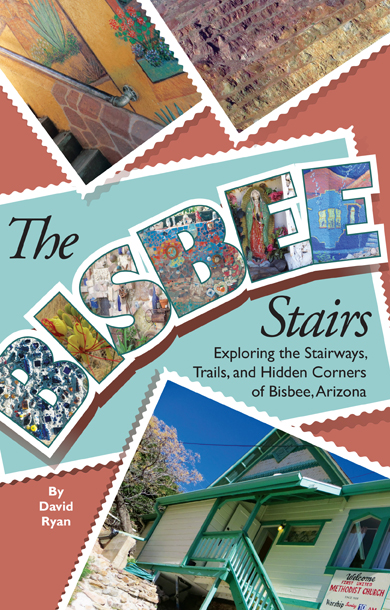 If you've been following this blog, you may recall that my dog Petey and I made many trips to Bisbee, Arizona earlier this year to climb stairs. Portions of those trips were featured in several posts in this blog. After months of research, writing, and design the Bisbee stairs book is finally here.
The book includes maps and directions for climbing 82 of Bisbee's stairways. The stairways average 78 steps. 22 of them have over 100 steps. The book also describes several hiking trails to extend your climb high into the hills above Bisbee.
Even more important, the book has over 70 pictures of what you can find along the way. Most of them are complete surprises. You will be challenged to find a town more interesting than Bisbee, Arizona. It is an explorer's delight. I hope the book will inspire you to take a trip to Bisbee and find out for yourself.
If you would like a copy of The Bisbee Stairs: Exploring the Stairways, Trails, and Hidden Corners of Bisbee, Arizona, you can order it on this website for $12.00 plus $1.50 shipping. If you buy more than one book (any title), shipping is free.
The book is also available at several locations in the Bisbee area and on Amazon. Please contact me for the nearest retailer.