A little less than a year ago Stephen Ausherman, author of 60 Hikes within 60 Miles: Albuquerque, asked me to go on a walk with him. He wanted to test one of the thirty city walks he was developing for the upcoming Wilderness Press book, Walking Albuquerque. (Wilderness Press has published several Walking "…" books for different cities across the country.)
Last year's walk was in downtown Albuquerque and it was fantastic. The book, Walking Albuquerque: 30 Tours of the Duke City's historic neighborhoods, ditch trails, urban nature, and public art, came out a little over two weeks ago, and I bought my copy on the first day it was available.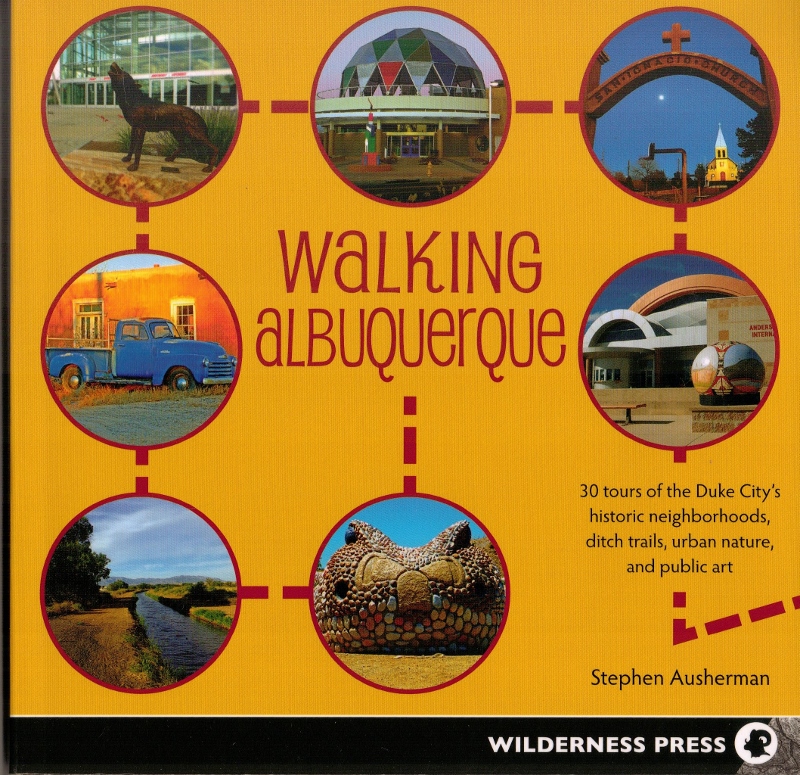 I usually cherry pick and skip sections of walking and hiking guides. But this guide had so many compelling tidbits of information that I read it cover to cover. I could stop right here and just say "get the book – you'll like it." But I would rather show you one of the walks so you can get a taste of how interesting they can be.
To that end, the dogs and I went out on a perfect seventy degree Sunday afternoon and followed the walk route that meanders through an older neighborhood east of downtown Albuquerque. According to the guide we would pass many buildings of historic and architectural interest.
We did pass interesting buildings, but we also saw and experienced so much more. And that's what a guide is good for. It is a platform to get you out. It gives you a place to start. From there it is up to you, and your experience will probably be different than mine.
Just as you can't step in the same river twice; you can't take the same walk twice. Everything changes. Vegetation changes through the seasons. The angle of light changes as the day progresses and it may highlight something completely ignored by me or the guide book. Or there may be something along the way that interests you and no one else. But that's okay because once you take that first step it's no longer the guidebook's walk it's now your walk.
Our walk began with the sound of loud motorcycles parading along Central Avenue. It soon turned quiet when we turned off of Central and onto a pleasant residential street. And true to it's word, the guide identified several interesting buildings including this one.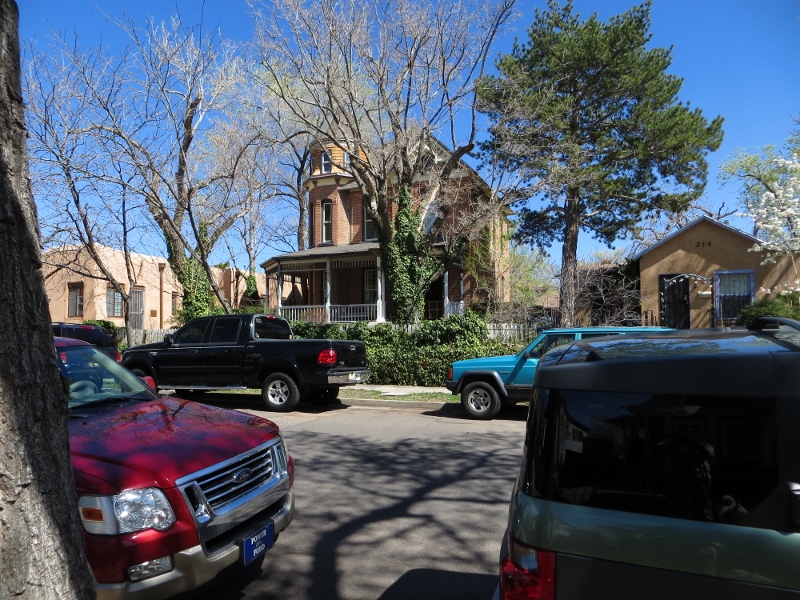 But buildings weren't the only thing that caught our attention. There was way more to our walk. I especially liked this mural of a warrior woman. Up close it's identified as "From: Burque to LA, 'Cosmic Warrior."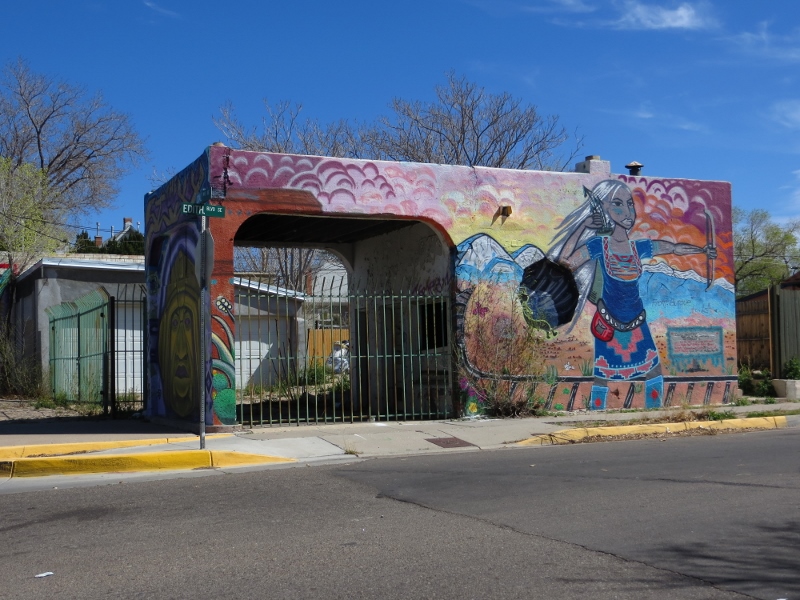 Just a few feet beyond the "Cosmic Warrior" was this mural commenting on GMO food.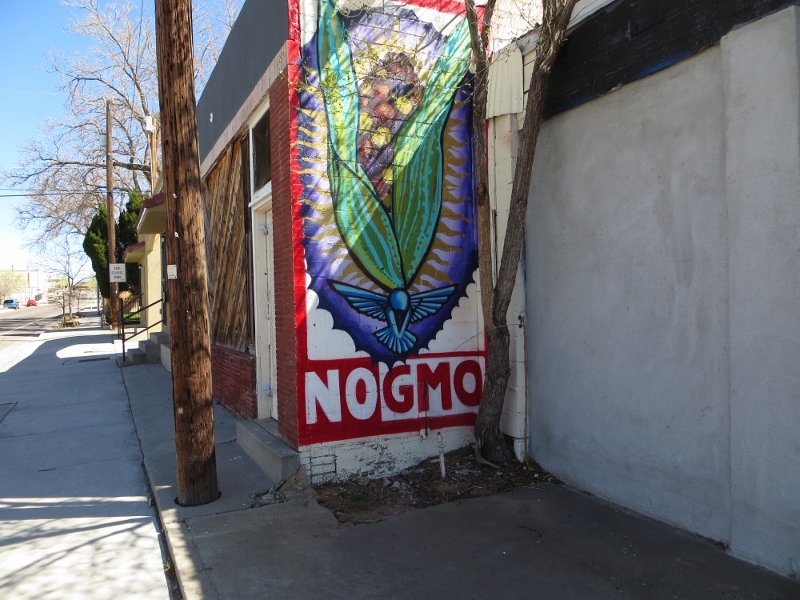 The clean lines of this house with a great tree and a red door just up the street from the murals also caught my attention.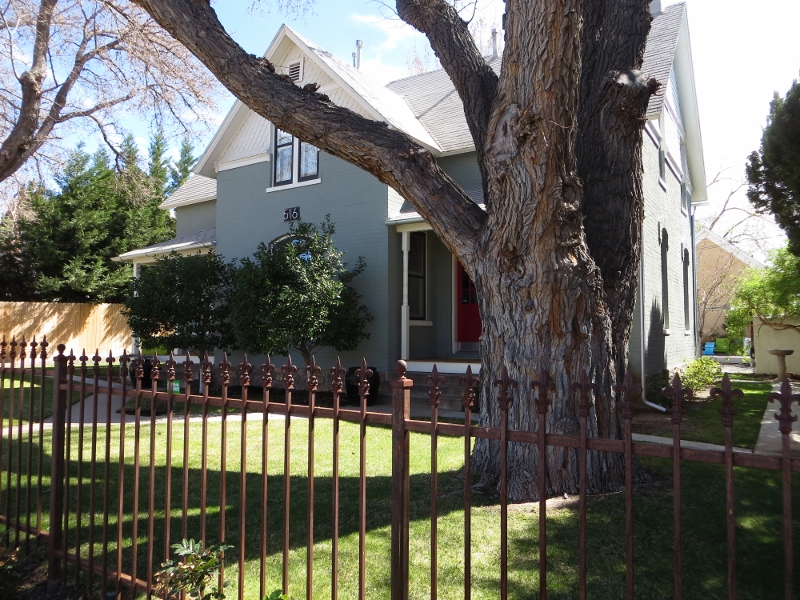 When turned onto another street, I noticed that the houses and street were at different grade levels. They were connected by a small stairway.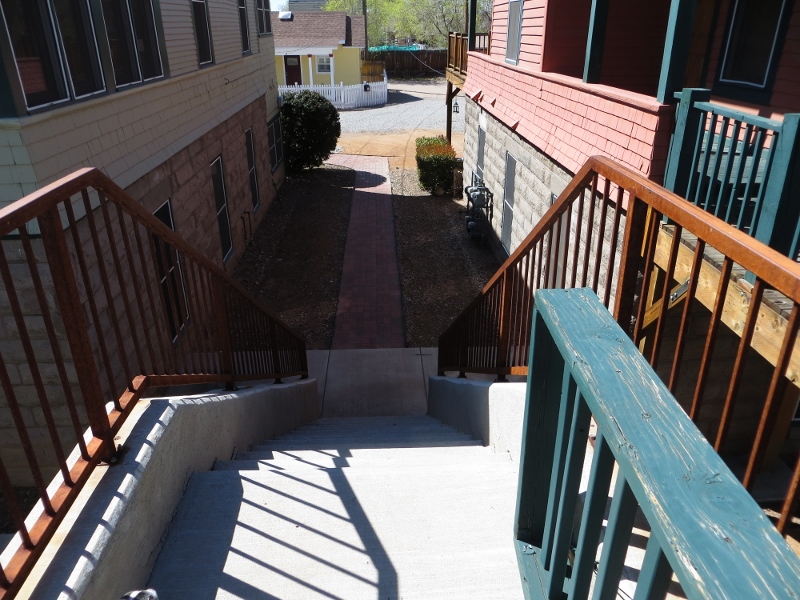 Stairways are great because they were designed for people on foot. They allow you to extend your walk in a different direction. Across the street from the stairs I noticed this interesting tree.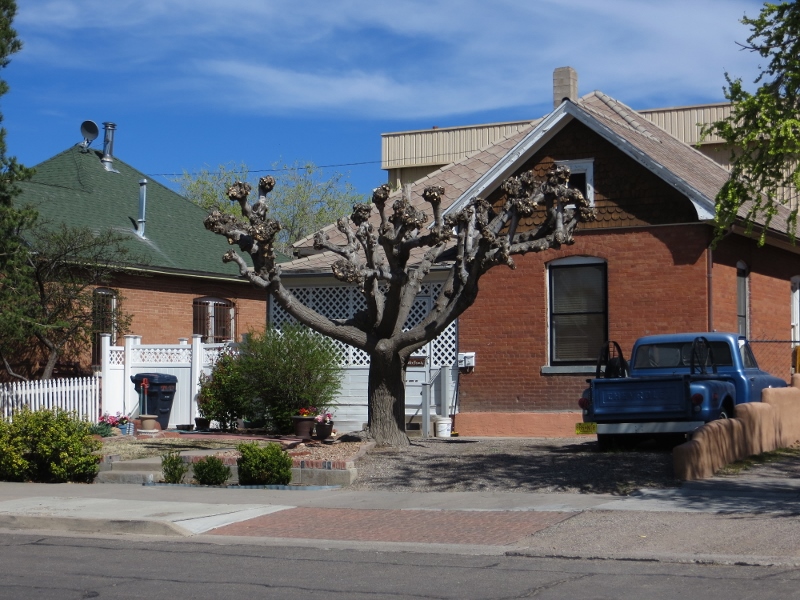 As I hope you are sensing, a great walk does have to anything particularly spectacular or have that special "it" factor. A great walk can compilation of little things continuously popping into your view such as this swan sculpture and combination of great colors in an apartment building courtyard.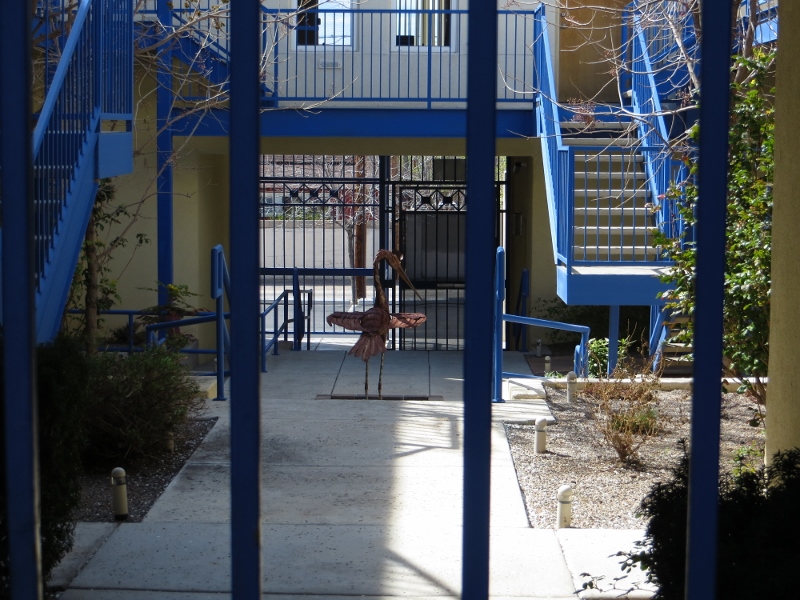 The walk route eventually took us by the Albuquerque Press Club. I had been by the Press Club before and knew of its log building. But as I walked by it, I noticed another log building behind it and decided to check it out. And when you do follow a walk route from the guidebook, feel free to wander. If you spot something, go ahead and leave the route to check it out.
When I got to the building, I noticed a stairway. I talked to a woman who lived there (she was working in her yard) and she told me that there are more log buildings with several apartment residences up the stairs. Without any further word, we climbed up the stairs, passed the other log buildings, and wound up in the back patio of the Press Club.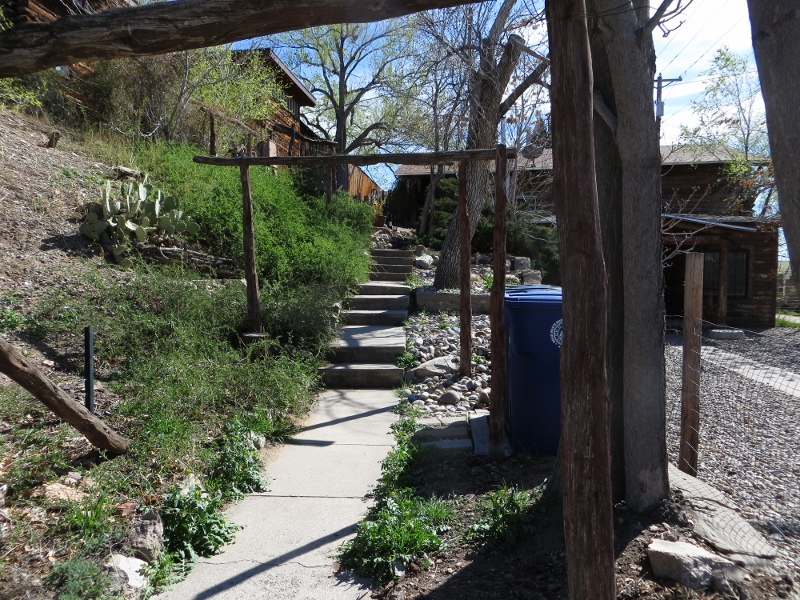 From the Press Club, we returned to the "official" route and kept making wonderful discoveries. I was especially looking forward to seeing the "Spy House." The "Spy House" was the main reason I selected this route.
During World War II it was a boarding house, and it was here that design drawings for making an atomic bomb were transferred to Soviet agents. This was the beginning of a sequence of events that led to the Soviet development of the atomic bomb and the eventual conviction of Ethyl and Julius Rosenberg. At the time it was known as the "crime of the century." Until I became aware of Walking Albuquerque, I had no idea these events took place in Albuquerque, and that's why I read the book from cover to cover.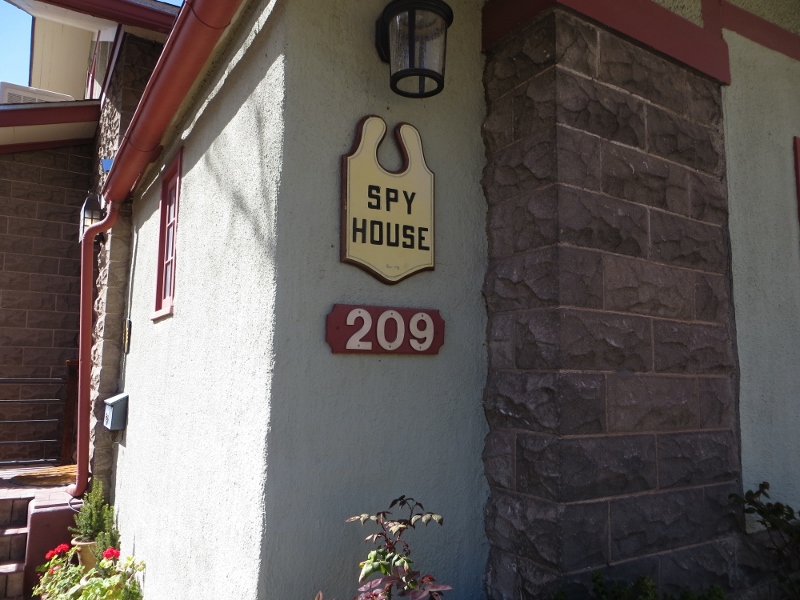 As we walked by the "Spy House" I wondered if there are still any old fashioned boarding houses still around? Why are they less prevalent and could they be a good housing option? And that's another great thing about taking a walk, you often pass something that causes you to think.
As we continued with the walk, we eventually came to the TV home of Mike Ehrmantraut of Breaking Bad and Better Call Saul fame.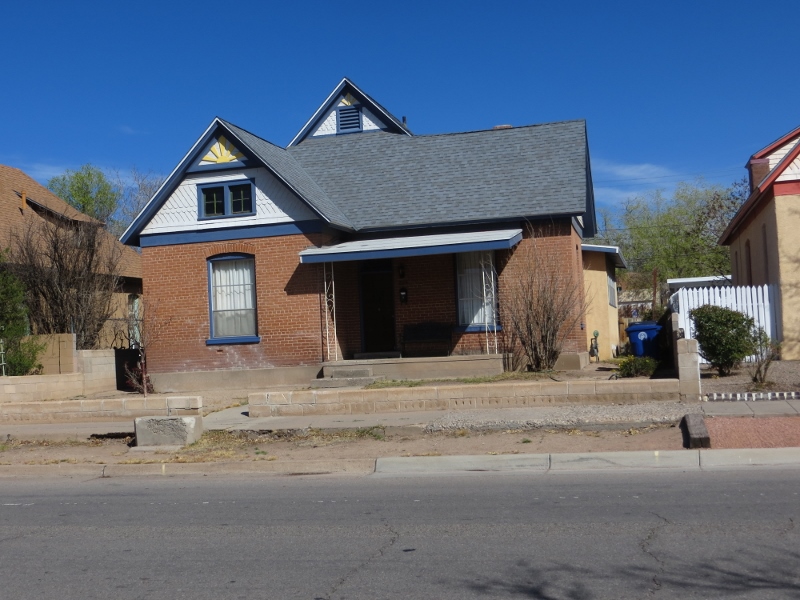 With that our walk soon came to an end. And all I can say is that it was a fantastic walk and if you live in Albuquerque and like to walk, Walking Albuquerque by Stephen Ausherman belongs in your bookcase.