Earlier this week the dogs and I headed south to spend an afternoon with birds. Surprisingly the Rio Grande valley in central New Mexico is the winter home of over ten thousand Sandhill cranes. Most of them can be found at Bosque del Apache Wildlife Refuge about ninety minutes south of Albuquerque.
You can see birds all day long at the refuge, but main event occurs near dusk when wave after wave of cranes, snow geese, and other bird species in V-shape formations return to their roost after a long day of feeding. Seeing thousands of birds fly into the Bosque, seemingly out of nowhere, within a matter of minutes is a sight you'll never forget.
On this week's journey, we cut our drive short by forty-five minutes and pulled off of I-25 at the U.S. 60 / Bernardo exit. Just east of I-25 at this exit, the State of New Mexico has planted several hundred acres in corn with the sole purpose of feeding birds. And out of gratitude the birds have been happy to pack the fields and chomp away.
Even better, the State has provided a series of dirt roads and a few short walking paths so you can plunge right into the middle of the action. With only a few cars, the dirt roads are a very nice place to take a walk. And with the fields filled with thousands of cranes and other birds the sound of their chattering is truly joyful noise.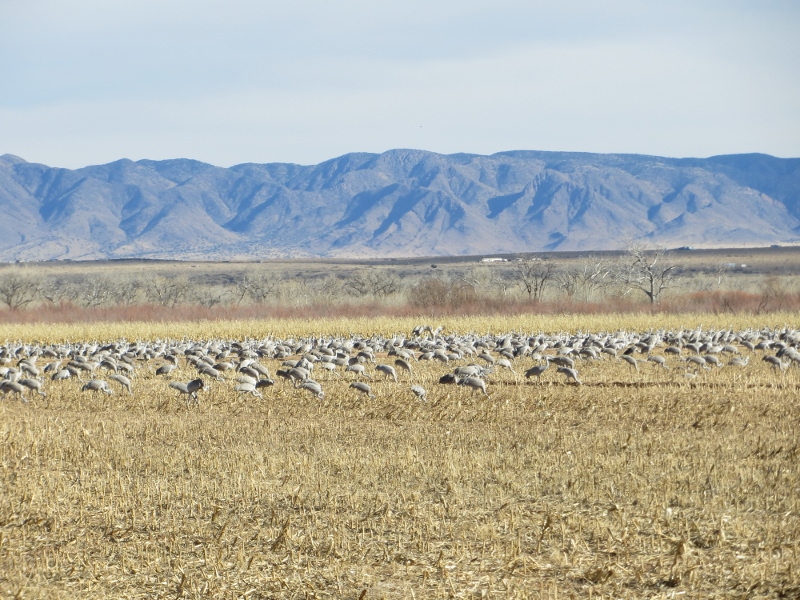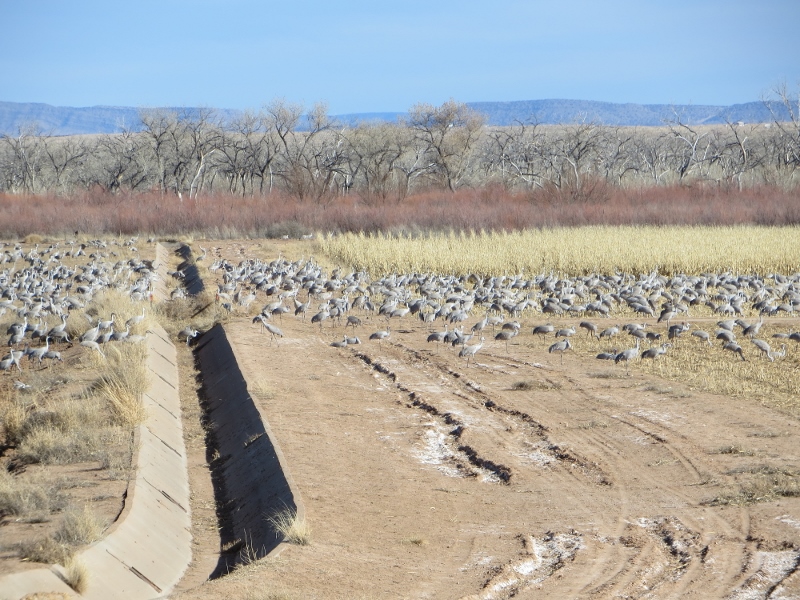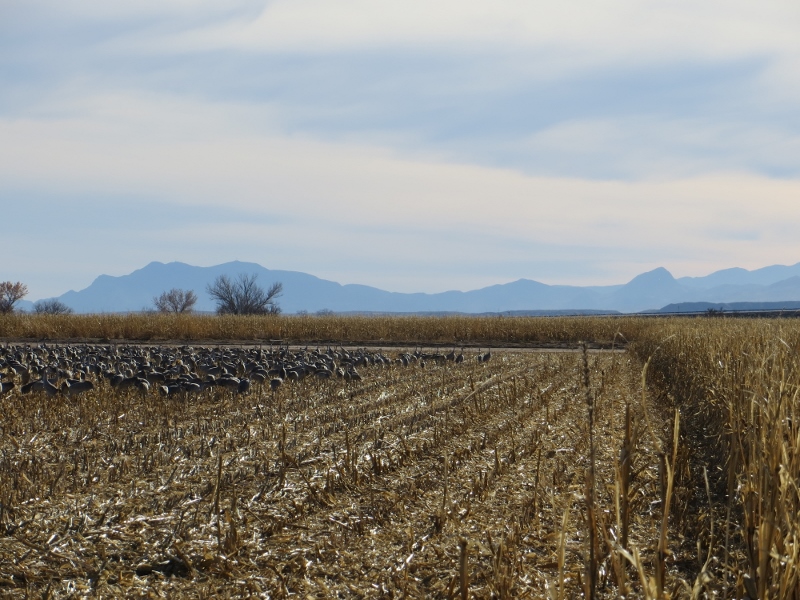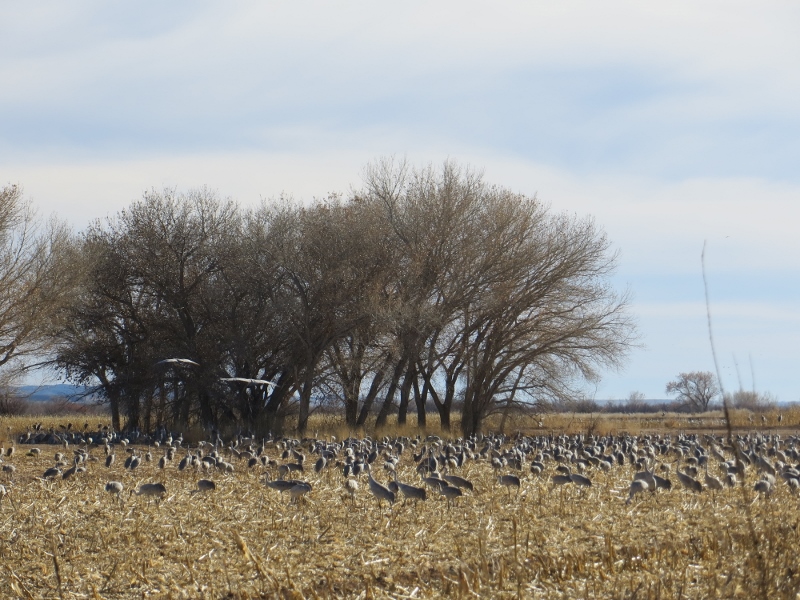 As we walked, we followed a foot path into a shaded duck blind overlooking a marsh. Inside the blind was a bench, it was a perfect place to sit and just be – gazing across the marsh while listening to and watching birds. While sitting in a place like this you can't help but to realize that the cares and frustrations in the world are trivial to the joy and beauty that is available to us if we only take the time to be with it.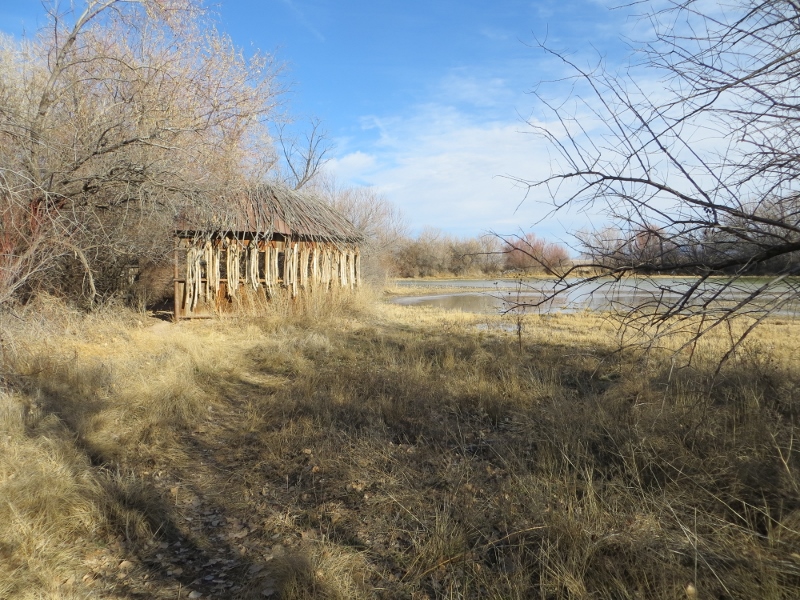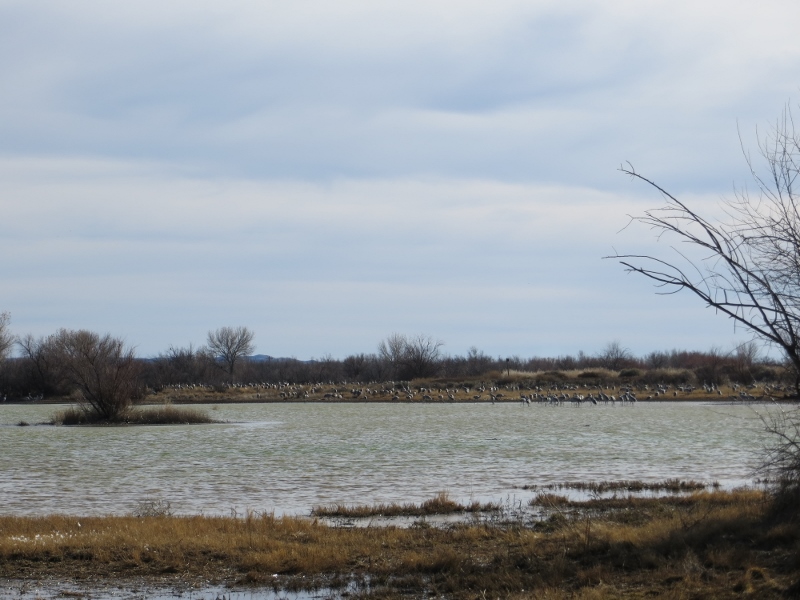 As the day got later, we noticed that in small groups the cranes were starting to fly to the south. I decided to take a short drive to see if we could find where they were headed. After a very short drive I noticed a ditch bank path going south. There was a sign that said to keep the gate closed and some notices regarding hunting, but I didn't notice anything that said you couldn't take a walk along the ditch. (It's also possible that I didn't read the fine print.) Regardless, we got out of the car, closed the gate behind us, and started walking south.
As we walked, waves of cranes flew over us in the same direction we were walking. To the right was a marsh filled with small ducks. At our feet the ditch bank was covered with small oyster shells no bigger than a thumbnail. (I'm sure the shells were deposited by the ducks after they cleaned out its contents.)
As we continued, we could see thousands of cranes up ahead to the left. And then, all of a sudden, something spooked or triggered all of them to take off. Within a millisecond, the air was full of cranes flying in all directions. We were surrounded by a swirling of hundreds if not a thousand cranes.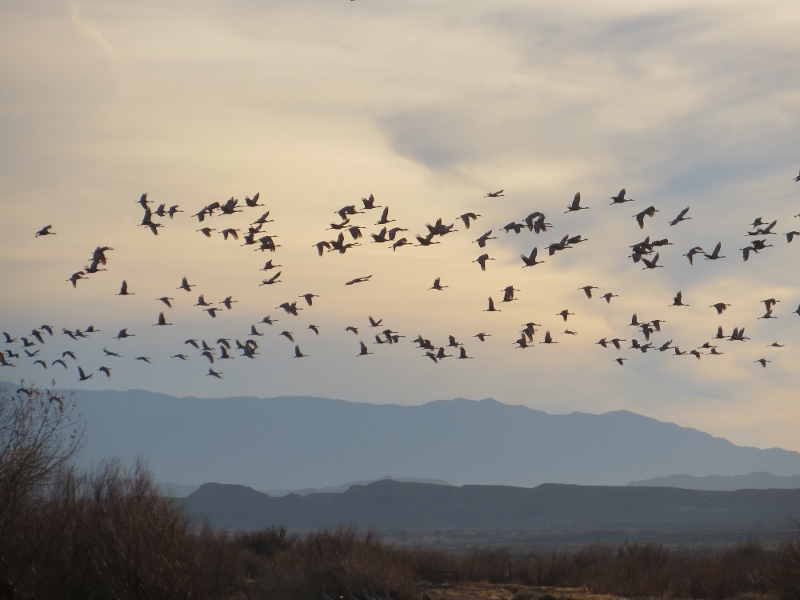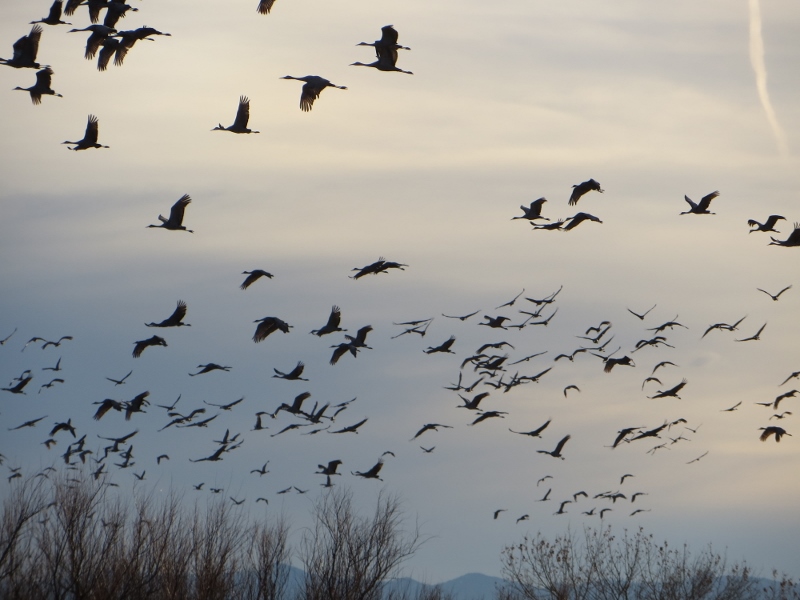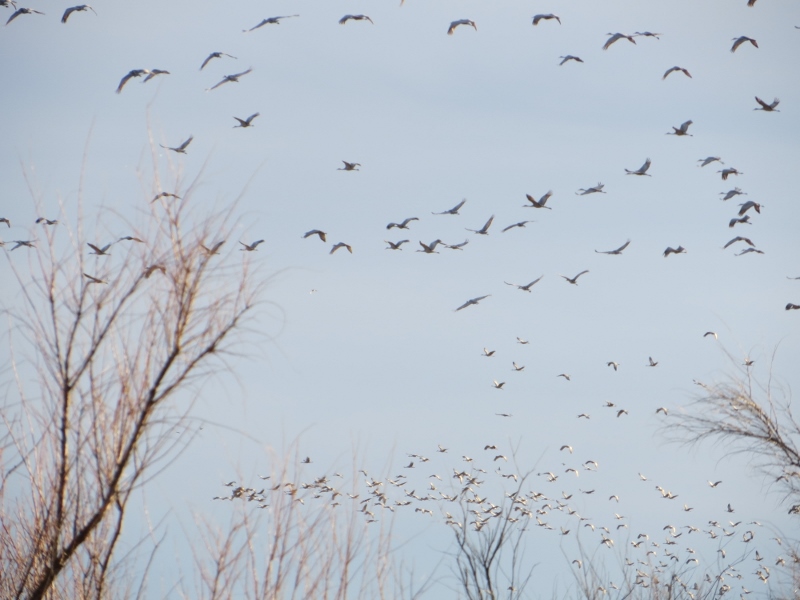 It was wonderful conclusion to a perfect day. We had wandered into pure joy! If you too would like to spend an afternoon in joy, you better act soon. As soon as February hits, small groups of cranes start heading north to their breeding grounds. By the end of February, they'll all be gone. But don't worry, they'll start coming back at the end of October.