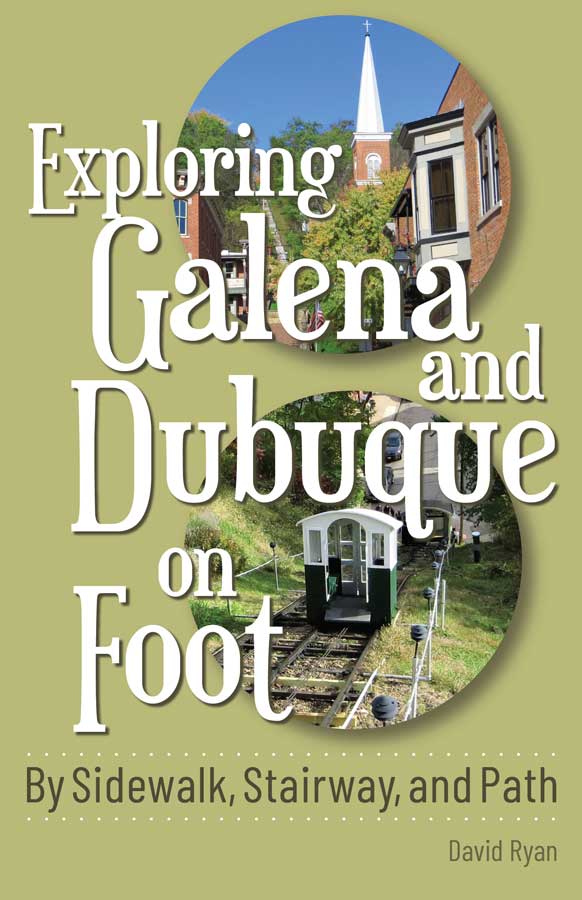 Exploring Galena and Dubuque on Foot is a new walking book about two of the most scenic and historic communities in the entire country. Rather than the flat or gently rolling landscape of most of the Midwest, Galena and Dubuque are set in the middle of tall hills, deep valleys, and steep bluffs.
Galena, with its start as a lead-mining boom town in the 1830s and 1840s, has the finest collection of pre-Civil War buildings in the country! Dubuque, too, was a lead-mining boom town. But with a later start than Galena, Dubuque has the finest collection Victorian houses from the second half of the 19th century.
This new book is the result of the continuing popularity of two posts I wrote for this blog in 2013. The first about the public stairways in Dubuque (https://www.gentleartofwandering.com/stairway-wandering-along-the-mississippi-part-1-dubuque-iowa/) and the second about the stairways in Galena (https://www.gentleartofwandering.com/stairway-wandering-along-the-mississippi-river-part-4-galena-il/).
With so many reader visits to the two blog posts, my dog Petey and I decided to take several trips to the area last fall (2019) to see if there was enough material for a public stairway or walking book. In addition to plenty of stairways we found plenty of other items to make for compelling walks. All of the walks in the book take place in areas that were meant to be walked and explored on foot.
One of the Galena walks traces the footsteps of Ulysses S. Grant and visits all the places that impacted his life during the year he lived in Galena just before the Civil War. Had Grant not come to Galena to work in his father's leather business in April 1860, Grant would never have had the opportunity to become the general who won the Civil War and who then went on to become the 18th President of the United States. To get from his pre-Civil War home to his place of work, Grant had to take a stairway that has 252 steps today.
One of the walks in Dubuque takes advantage of one of the handful of funicular (incline) railroads remaining in the country. Another walk in Dubuque climbs into a historic neighborhood on a 173-step stairway that is almost magical. You'll feel like Dorothy and Toto landing in Oz when you reach the top.
The book has 144 pages, 5 maps, and over 100 photographs. The book is available on this website (https://www.gentleartofwandering.com/get-the-books/) and will soon be available at other outlets.